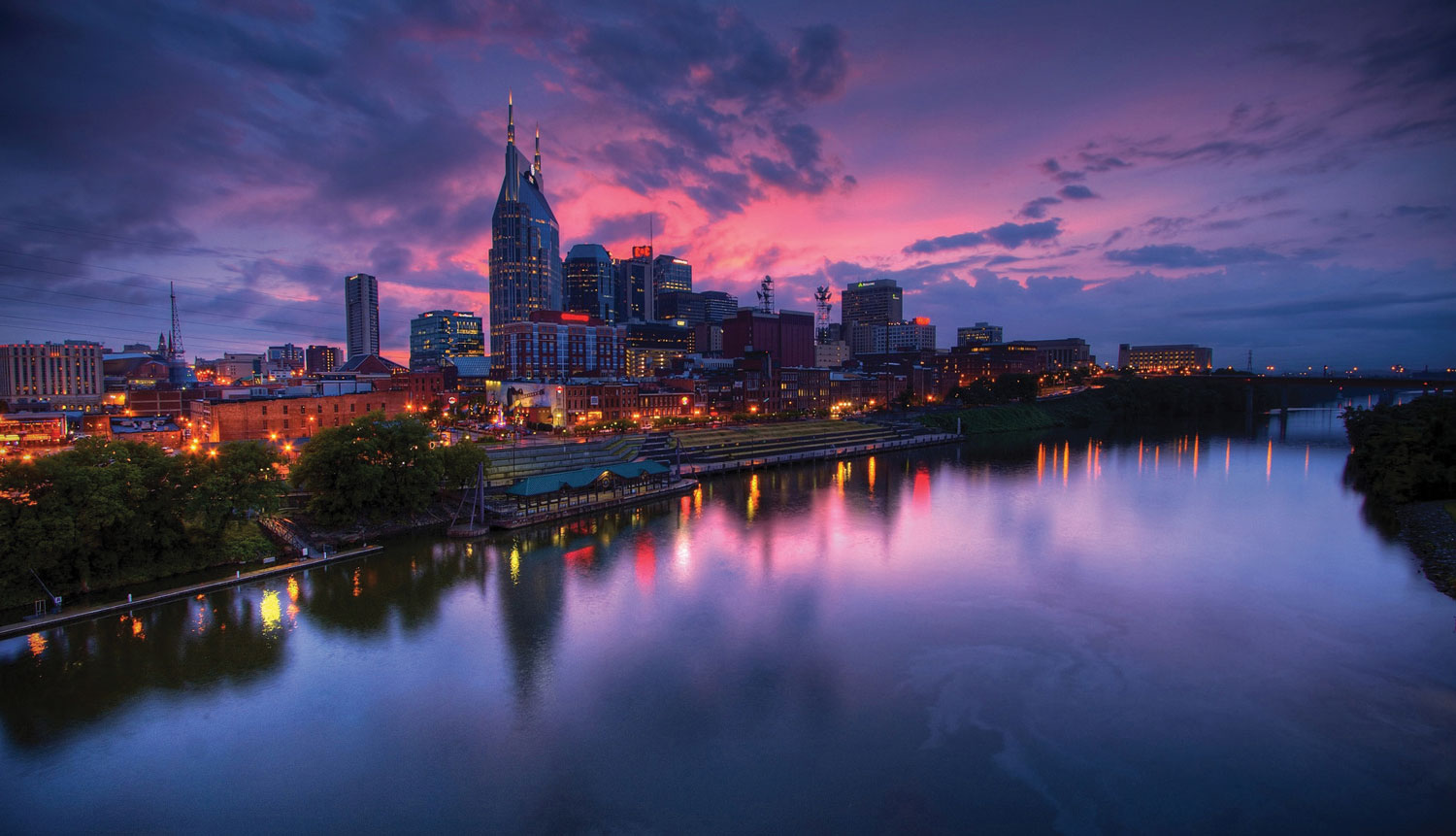 The Cumberland River reflects a technicolor sunset and the Nashville skyline. Photo: Nashville Convention & Visitors Corp.
12 Jul

Wanderings: Nashville, Tennessee

If you think Nashville is just about the music, you'd be right — and wrong. The city embraces the soubriquet "Music City U.S.A.," but it's so much more. Long before it became the home of country music, it was known as the Athens of the South. 

As early as 1850, Nashville was committed to higher education. Those institutions are now gone with the wind, but the city continues its reputation for higher learning. The oldest institution is Fisk University, a historically black university founded in 1866, six months after the Civil War ended. 

In addition to its historic campus, the Fisk art collection encompasses more than 4,000 works spanning three centuries of art history. This includes 101 works from the collection of Alfred Stieglitz, donated by Georgia O'Keeffe, which rotates through the Carl Van Vechten Gallery. O'Keeffe chose the 19th-century Victorian building for the gallery, which exhibits work by Renoir, Picasso, Cézanne, Hartley, Dove, Stieglitz, two of O'Keeffe's pieces, and many others. The Stieglitz Collection is shared and exchanged every two years with the Crystal Bridges Museum of Art in Bentonville, Arkansas; it will return to Nashville in spring 2020. Also on campus, find the Aaron Douglas Gallery and, in Cravath Hall, Douglas' murals, which offer an opportunity to view work by a significant figure in the Harlem Renaissance, who later became chairman of the art department at Fisk. 

Old Nashville was so obsessed with its reputation for erudition that in 1897, during the Tennessee Centennial Exposition, it constructed a full-scale replica of the Parthenon. The structure was designed to be temporary, but subsequent renovations turned it into a permanent icon of the city. 

In Greece, the centerpiece of the temple was a majestic sculpture of Athena by Phidias, the country's most celebrated sculptor. Artist Alan LeQuire created its reproduction in Nashville. At 41 feet, 10 inches, this Athena is the largest indoor statue in the Western Hemisphere. For perspective — the tiny figure of Nike in Athena's right hand is 6 feet, 4 inches tall. Garbed in gold leaf, this is one glittering goddess. 

Inside the replicated Parthenon, galleries on the upper floor display castings of original pediments taken to England in the early 1800s by the seventh Earl of Elgin, and other exhibits are located in the lower level of the structure. The permanent Cowen Collection features American works created between 1765 and 1923, including paintings by Winslow Homer, William Merritt Chase, Benjamin West, and Albert Bierstadt. 

In keeping with a respect for the past, Nashvillians have revived industrial neighborhoods and saved many of their older buildings, restoring or repurposing them. Find coffee shops in former car repair shops, and the Frist Art Museum, which opened in 2001, utilizes a former U.S. post office built in the 1930s that displays the period's distinctive architectural styles: classicism and art deco. Most notable is the aluminum grillwork with themes depicting cultural, social, and economic progress in America. Families love the Frist's Martin ArtQuest — chock full of colorful, interactive activities and 30 art stations. You don't have to be a kid or have a kid; you'll find lots of adults spending time here as well. 

In addition to public buildings, Nashville has several well-preserved antebellum homes. Belmont, built in the early 1850s, is the largest, most elaborate, and current home to Belmont University. The elegant Italianate and Greek Revival residence is furnished with many original pieces and supplemented with period-appropriate items. And, in 1932, the Cheek family brought ideas, architectural elements, and furnishings from England to create a 36-room mansion and estate, named Cheekwood Estate and Gardens. In addition to a permanent art collection, there are many original furnishings and architectural details. The 55-acre property also includes 12 distinct gardens and a 1-mile woodland sculpture trail that reopened this spring with renovations and a concurrent exhibit of Dale Chihuly sculptures.



Another Nashville must-see is the downtown Schermerhorn Symphony Center. It looks like a historic structure but was actually built in 2006, incorporating elements from 18th- and 19th-century European concert halls with 21st-century technology. Thirteen Grammy-winning albums featuring the Nashville Symphony were recorded here. 

When it comes to music, you really can't go to Nashville without dipping into the world of country. The Ryman Auditorium is known as the "Mother Church of Country Music," and a popular music magnet today is the Country Music Hall of Fame and Museum. Designed by Nashville architects Tuck-Hinton, the building eschews classic styles and embraces symbolism with sweeping curves. It resembles a giant bass clef, and its tall, narrow windows resemble piano keys. The tail of the clef swells up like the fin on a '59 Cadillac. Inside, you'll find music history, lots of videos and recordings, costumes, and instruments. You can't miss indulgences like Elvis' 1960 Cadillac limo with 24-karat gold trims and a finish made of crushed diamonds and fish scales. And in pride of place is a Thomas Hart Benton painting, The Sources of Country Music. The cowboy in the painting pays homage to actor and singer Tex Ritter, who encouraged Benton to accept the commission. Ritter died before the painting was finished. Ironically, so did Benton. He suffered a massive heart attack while putting the last touches on the piece. The lines to the telephone pole remain unfinished, and the painting is unsigned.

Broadway is a prime tourist area downtown, with honky-tonk bars and eateries where the music never stops. Small museums immortalizing Patsy Cline, Johnny Cash, and George Jones are found in this area. Wander to Second Street, toward the river and Nashville's oldest neighborhood, to see gracious old buildings with cast-iron fronts. Or visit the farmers' market in historic Germantown, just a few block northwest of downtown, where brick sidewalks and restored buildings-turned-boutiques are abundant. 

Being Nashville, there are music venues aplenty. Find jazz at Rudy's Jazz Room and at the Nashville Jazz Workshop; bluegrass and roots at The Station Inn in the Gulch neighborhood. Tootsie's Orchid Lounge is a famous honky tonk located across the alley from the Ryman Auditorium, and Robert's Western World serves country seven days a week. If you're lucky, you'll watch a famous musician playing or marveling at the selection of instruments at Carter Vintage Guitars.

Nashville's definitely not a two-day town. There are so many things to do and see here — and to taste. Barbecue, of course, but also the classic Nashville hot chicken and pancakes that practically float off the plate. In this Southern city, the culinary arts offer everything from grits to gourmet. 

Defined by its neighborhoods, Nashville offers a distinct character and plenty to do and see. As one of Forbes top 10 fastest growing cities in the U.S. in 2018, it's an inviting playground for any art enthusiast. 
MUSEUMS AND GALLERIES
The Arts Company | 615.254.2040 | theartscompany.com
Fisk University Galleries | 615.329.8500 | fisk.edu | (reservations required)
Frist Art Museum | 615.244.3340 |  fristartmuseum.org
Isle of Printing | 615.244.6677 | isleofprinting.com
LeQuire Studio & Gallery | 615.298.4611 | alanlequire.com
The Rymer Gallery | 615.752.6030 | therymergallery.com
Tinney Contemporary | 615.255.7816 | tinneycontemporary.com
ATTRACTIONS
Belmont Mansion | 615.460.5459 | belmontmansion.com
Carter Vintage Guitars | 615.915.1851 | cartervintage.com
Cheekwood Estate & Gardens | 615.356.8000 | cheekwood.org
Country Music Hall of Fame and Museum | 615.416.2001 | countrymusichalloffame.org
Andrew Jackson's Hermitage | 615.889.2941 | thehermitage.com
Parthenon | 615.862.8431 | nashville.gov
Robert's Western World | 615.244.9552 | robertswesternworld.com
Rudy's Jazz Room | 615.988.2458 | rudysjazzroom.com
Ryman Auditorium | 615.889.3060 | ryman.com
Schermerhorn Symphony Center | 615.687.6400 | nashvillesymphony.org
The Station Inn | 615.255.3307 | stationinn.com
Tootsie's Orchid Lounge | 615.726.0463 | nashvilledowntown.com/go/tootsies-orchid-lounge
LODGING
Gaylord Opryland Resort & Convention Center | 615.889.1000 | marriott.com/hotels/travel/bnago-gaylord-opryland-resort-and-convention-center
Hutton Hotel | 615.340.9333 | huttonhotel.com
The Hermitage Hotel | 615.244.3121 | thehermitagehotel.com
DINING
Adele's | 615.988.9700 | adelesnashville.com
The Catbird Seat | 615.810.8200 | thecatbirdseatrestaurant.com
Ellington's | 615.988.7333 | ellingtons.restaurant
Martin's Bar-B-Que | 615.288.0880 | martinsbbqjoint.com
Merchants | 615.254.1892 | merchantsrestaurant.com
Pancake Pantry | 615.383.9333 | thepancakepantry.com
Peg Leg Porker | 615.829.6023 | peglegporker.com
Rolf & Daughters | 615.866.9897 | rolfanddaughters.com
Slim and Husky's (3 locations) | 615.647.7017 | slimandhuskys.com
The 404 Kitchen | 615.251.1404 | the404nashville.com