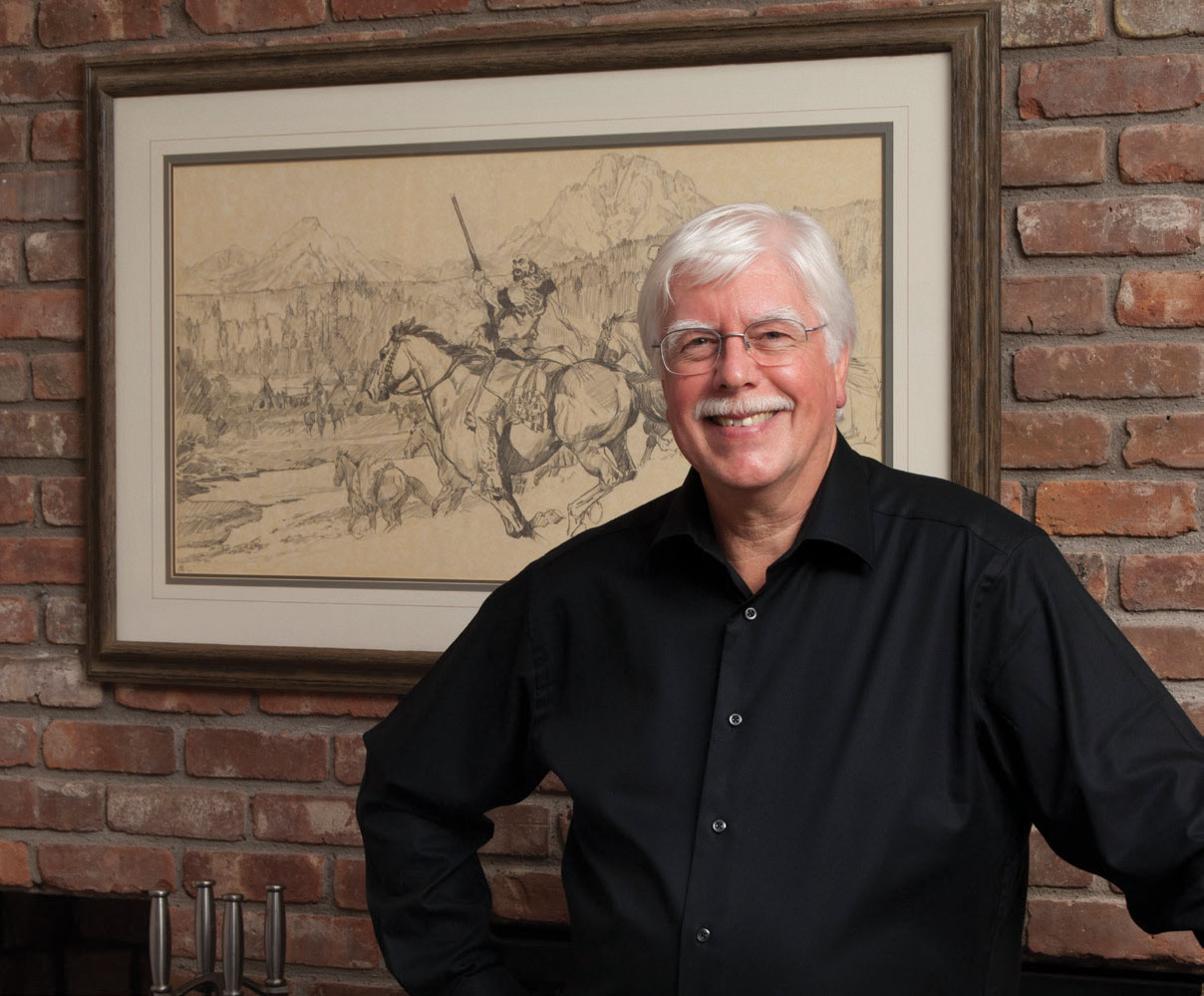 Publisher Tim Newton with the first artwork he purchased nearly 30 years ago, a sketch by Cowboy Artists of America member Gary Carter. Photo by Gary Mamay
12 Jul

Publisher's Note: To Infinity and Beyond
Full circle.
That's what happened.
In September of 1991, I flew into Bozeman to visit my best friends from high school, Dennis and Debbie Stoner, in Big Sky, Montana. On a drive into Yellowstone, we stopped to see Gary Carter (I first thought he was a catcher for the New York Mets, but that's another Gary Carter). It was a momentous occasion. Carter's studio was magical, and I bought the preparatory sketch shown here. Somehow, even then, I knew that nothing would ever be the same. It wasn't. I had begun the art journey of a lifetime!
Now, almost 30 years later, as I write this from our offices here in Bozeman, Montana, I am astonished at the beginning of this journey and where it has led. I smiled when Jared Swanson made his announcement of hiring me, closing his newsletter with "to infinity and beyond." After meeting our extraordinary Editor in Chief, Christine Rogel, and all of our terrific staff, and knowing what outstanding writers and photographers are on board, I know he is right! Thank you, Jared, for this opportunity and for the confidence you've placed in me.
Thanks in advance to you our loyal subscribers and advertisers. I will serve your interests with the same loyalty that you have shown us. Please feel free to contact me with your comments and ideas, my door is always open.
I pledge to offer our readers a perspective and an experience that is second to none. Exciting times are ahead for all of us, I'm glad to be your partner on the trip.