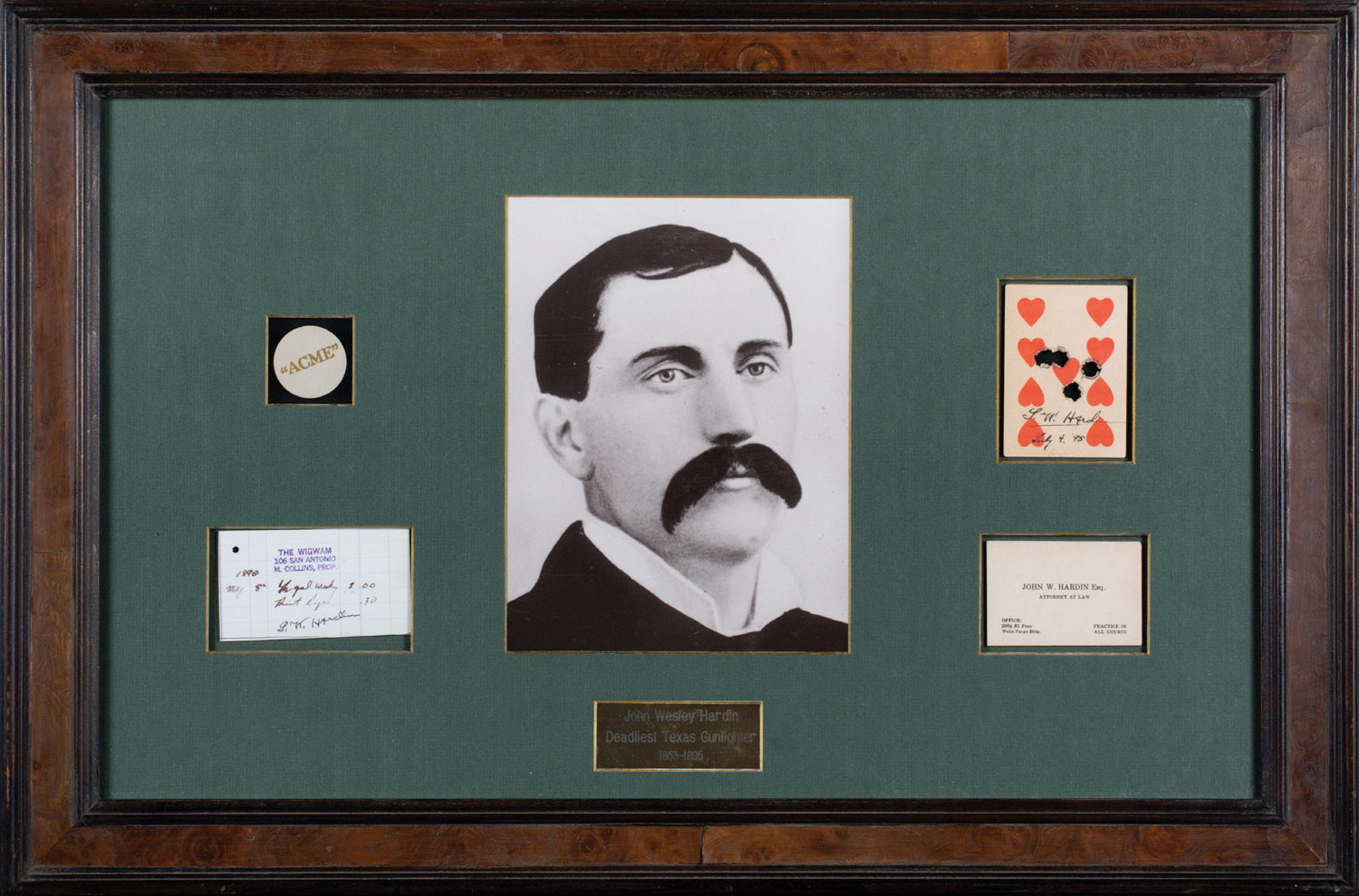 Collection of Framed John Wesley Hardin Artifacts | Sold: $23,000 | Image courtesy of Brian Lebel's Cody Old West Art Show & Auction
10 Jul

The Way of the West
Spring and early summer sales see Western landscapes and Americana hit high marks
There is a secret about art auctions, and like all secrets, it should be shared lest it loses its value: Strong prices are closely tied to the rarity of works, the degree to which they represent an artist's oeuvre, and the artistic and financial wherewithal in any given crowd of collectors.
Spring and early summer sales saw all three elements in play but not necessarily at the same auction. Sell-through rates ascended at auctions highlighting Western Americana, such as Brian Lebel's Cody Old West Show & Auction, and where works by the nation's late, great illustrators were in high relief, notably Heritage Auctions' sale of American Art. 
Sotheby's spring sale of American Art saw landscapes by mostly Western masters sell for solid and even unexpected prices. Likewise, Christie's American art auction showed resurgent interest in the traditional subjects of Western art, including depictions of Native Americans. And Bonhams' sale of indigenous artifacts indicated that collectors compose an enthusiastic buyer base for handiwork from beaded pouches to pottery. 
Brian Lebel's Cody Old West Show & Auction
June 22 – 23, 2019
Total Sales: Just under $500,000
Fast and furious describes the pace at which works by legendary saddlemaker Edward H. Bohlin sold during Brian Lebel's Cody Old West Show & Auction at the Santa Fe Community Convention Center. A decorative Bohlin silver parade saddle led the sale of Western Americana, with the ensemble fetching $26,550. It was one of two Bohlin saddles that exceeded expectations, with a second parade saddle bringing $12,980 with fees.
Artifacts tied to Old West outlaw John Wesley Hardin — whose claim to dubious fame was that he shot dead dozens and was the figure behind the title of a Bob Dylan album — stoked enthusiasm among collectors. The successful bidder paid $23,600 for a framed collection that included Hardin's mustachioed image as the centerpiece, the outlaw's signature, and a nine-of-hearts riddled with bullet holes, among other artifacts. It represented the second highest price of the evening and compares to a historic U.S. marshal badge from Arizona Territory going for $9,440, or more than twice its low pre-sale estimate.
An ink drawing by cowboy artist Edward Borein led fine art lots. The piece, depicting a rider in chaps astride a fast-trotting horse, realized $18,880, a bargain for a work that demonstrates Borein's compositional skill and firsthand understanding of his subject matter.
Stetson hats once worn by the likes of Roy Rogers, Tom Mix, and John Wayne — cowboy stars in the heyday of Hollywood Westerns — went for $3,835, $5,015, and $8,260 respectively, a pleasing outcome for owner Brian Lebel. "Everybody loves cowboy hats … and when they belonged to Roy Rogers, Tom Mix, and John Wayne, people pay attention," he says.
Bonhams, Native American Art
June 17, 2019
Total Sales: $970,589
A one-of-a-kind beaded neck pouch likely created by an artist, or artists, with the Ojibwe Tribe from the eastern Great Lakes, brought $75,075 with fees to top Bonhams' auction of Native American Art in Los Angeles. The pouch, which features a quilled panel depicting a pair of thunderbirds, is believed to have originated from the collection of the first Earl of Harrowby from Sandon Hall, Staffordshire, or his successor, according to Bonhams. The rarity of the piece and the skill of the beading and other handiwork saw its price hit the higher end of its pre-sale estimate, which ranged from $60,000 to $80,000.
A southern Plains ghost dance shirt surpassed expectations, achieving $60,075 compared to its $30,000 to $50,000 estimate. The piece, believed to be produced by the Arapaho residing in the grasslands of Wyoming and Colorado, features many of the tribe's spiritual symbols and animals.
A startlingly red, ivory, and indigo Navajo serape with symmetrical decoration sold for $43,825, or within striking distance of its high estimate, in a sale that saw Southwestern textiles, baskets, and jars fare well.
A blackware storage jar by Santa Clara Pueblo potter Margaret Tafoya shot past its pre-sale high estimate of $25,000 to sell for $35,075, an appropriate amount for a piece made more visually appealing with its simplicity of form and color. Tafoya circled the shoulders of the short-necked, bulbous jar with the impression of four bear paws in an effect that is barely there yet lends drama. 
Ingmars Lindbergs, Bonhams' director of Native American art, says excitement over the neck pouch and tribal handiwork punctuated an auction that celebrates indigenous artistry.
"We witnessed continued interest throughout the sale for pottery, basketry, and shirts, especially from private collections," Lindbergs says. 
Prix de West
National Cowboy & Western Heritage Museum
June 7 – 8, 2019
Total Sales: $3 million 
Religious figures and symbols were once the primary subjects of artistic endeavors, yet they came into disuse amid the Age of Enlightenment. So it's a reflexive nod to the past and a refreshing contemporary take on the solemnity and pageantry of the Christian tradition when an artist turns his eye — and his hand — to a work that blends both the past and present.
Such is the work that drew the prestigious Prix de West Purchase Award at the National Cowboy & Western Heritage Museum in Oklahoma City, with Oklahoma sculptor Paul Moore's bas-relief bronze The Procession acquired for $34,000 and destined to be added to the museum's permanent collection.
The piece, which jets from a wooden, desk-like base with distressed green paint, portrays a procession of believers as they file out from a Pueblo chapel. In a visual flourish previously employed by such Renaissance giants as Rembrandt, Moore has fashioned figures that appear to trail out of the frame and into reality. Moore garnered the coveted Prix de West medallion for the sculpture, which was one of four that brought him the Robert Lougheed Memorial Award for best display of three or more works.
Two landscapes exhibiting vastly different styles were given honors for their exceptional merit. Len Chmiel's Lost in Space, an exploration in color akin to that which drove Matisse and Rothko, earned the Wilson Hurley Memorial Award and bore a price tag of $36,000. 
Selling for $62,500 was A Chasm of Sublime: Plateau Point, an oil by Curt Walters depicting multi-hued canyonlands. The work received the Jackie L. Coles Buyers' Choice Award and achieved that accepted definition of the sublime in art: that which is at once beautiful and terrifying.
Phippen Museum
Western Art Show & Sale
May 25 – 27, 2019
Total Sales: N/A
The Phippen Museum celebrates the diversity and versatility of roughly 90 artists who participated in the Western Art Show & Sale. The three-day extravaganza, conversely, marks the value of the genre's traditions in subject and depiction. This year, the event included a miniatures sale, a quick draw auction, the offering of small works by last year's award winners, and an awards ceremony, which saw local Prescott, Arizona, artists gain honors alongside Chinese-born artist Wei Tai.
Tai led in two categories, garnering Best of Show with a drawing of a Native American entitled Chief, and first place in the watercolor competition with a portrait of a young American Indian in Navajo Girl. The charm of Tai's works is only equaled by his talent for line drawing, a skill showcased in Chief.
Prescott artist Steve Atkinson likewise gained a pair of awards for works that demonstrated his range. One for the Road, a nocturne depicting a rider and his horse drinking from shallow waters, is a vision in blues and restful greens. It was the winner of the Western Heritage Foundation Award and garnered second place in oil painting. Atkinson's bent for color enhances, rather than diminishes, his compositional skills, with his second place award in watercolor, Make the First One Count, virtual proof of Monet's contention that color is pervasive, tinting the very air with hues of violet.
Phippen Museum Executive Director Edd Kellerman says the awards ceremony at the 45th annual sale capped several days of artist-centered events that bring painters back to north-central Arizona year after year.
"Our artist surveys tell us they like the hometown and family environment, the camaraderie, and our dedication to authentic Western art," he says.
Christie's, American Art
May 22, 2019
Total Sales: $32,668,750
Western works showed strength at Christie's spring sale of American art, with a small oil by Henry Farny achieving a large bid. The Day is Done is a 1911 painting showing a trio of Native Americans seated around a fire that tilts light and shadow over the snow-covered rock enclosure where the group has made its camp. Nearby is the carcass of a freshly killed mule deer and a pair of leather-worked snowshoes. The piece realized $735,000, outperforming pre-sale expectations of $400,000 to $600,000.
The same sale saw a new auction record for artist Kenneth M. Adams, with his spare portrait of a Native American, Taos Indian — Evening, going for $519,000 with fees compared to estimates ranging from $200,000 to $300,000.
To say Taos Indian is beautifully rendered is to fail to do it justice. While its price cannot compare to that achieved by the top seller, Marsden Hartley's Abstraction, which brought $6,744,500, the Adams piece is comparable in the Western art genre to Hartley's happy excursion into geometric design. The price for Abstraction was likely to push higher than expected, with pre-sale estimates ranging from $400,000 to $600,000.
The auction saw a painterly depiction by E. Irving Couse of an American Indian at work on a loom. The Weaver realized $52,500 with fees, an amount on par with its high estimate. That compares to another painting by Couse, one of the founders of the Taos Society of Artists, featuring a Native American engaged in art but which sold low. The Potter went for $25,000 compared to estimates of $30,000 to $50,000. The sale of two paintings of nearly equal merit speaks volumes about the role serendipity plays in prices that are achieved, whether high or low of the mark.
Sotheby's, American Art
May 21, 2019
Total Sales: $19 million
A world auction record was set for artist Sanford Robinson Gifford with Sotheby's sale of A Lake Twilight, which brought $2.9 million with fees, or roughly $1 million more than its high estimate, to rank as the top seller. The serene setting depicted in the 1861 oil is in stark contrast to the turmoil which soon roiled the U.S., as the nation readied to go to war with itself.
Gifford's was one of several striking 19th-century paintings depicting American landscapes. An oil by Thomas Cole, who left his native Britain to find a new muse in America's wildernesses, raced past its pre-sale estimates of $80,000 to $120,000 to bring $162,500. 
In a sign that masters of landscape art still work their magic on collectors, a miniature by Albert Bierstadt, Mountain Lake, easily climbed past its high estimate of $80,000 to achieve $112,500. The painting is a gem, a small reminder of the magic Hudson River School artists like Bierstadt can work with two elements: light
and landscape.
American modernists would not be denied at Sotheby's spring sale, with Milton Avery's Two Figures on Beach selling for $1.9 million, edging above its estimates of $1.2 to $1.8 million, to gain the second slot in the auction. 
A Georgia O'Keeffe painting, Waterfall, No. 2. Iao Valley, that similarly represents the creative output of an artist at the height of her powers, realized $932,000. The piece stemmed from O'Keeffe's travels in Hawaii, courtesy of what is now the Dole Pineapple Company, according to Sotheby's.
L.A. Modern Auctions (LAMA)
Modern Art & Design
May 19, 2019
Total Sales: $2.8 million
It's pretty clear that Keith Haring liked to play, and play he did with Untitled, a 1984 chalk on plywood piece whose light tone commanded a serious response at L.A. Modern Auctions' Modern Art & Design sale, where the piece, originally drawn on the street, drew a winning bid of $262,500. That compares to pre-sale estimates of $150,000 to $200,000.
Pieces that surpassed pre-sale estimates were in plentiful supply at the sale, with De Wain Valentine's acrylic sculpture, Untitled (Ring), bringing $100,000, or two times its high estimate.
In the same vein, Magic Rain, a colorful acrylic on aluminum by Yaacov Agam, jumped to $137,500 with fees compared to expectations that ranged from $60,000 to $90,000.
Coming in at three times its high estimate to elicit a surprising $78,250 was Joe Good's Untitled, an oil on canvas composed of neutral color and texture. And a curious addendum attends the notes on the work; it reads: "This work is being sold to fund new artwork for UCLA's hospitals, medical centers, and clinics, along with much-needed repairs and upkeep of artwork in the collection" — a statement that confirms the painting's value.
The new pieces and names behind LAMA's spring sale represent its push "to be on the forefront, as artists go through a period of market re-evaluation or begin to establish themselves on the secondary market," says LAMA's fine art specialist Clo Pazera.
Heritage Auctions' American Art Sale
May 3, 2019
Total Sales: $7,294,250
The top sellers at Heritage Auctions' American Art sale represented early and late myths: Artist N.C. Wyeth's take on Camelot and the Knights of the Round Table in book illustrations that ornamented Thomas Malory's history of the legend and its storied figures, and Norman Rockwell's nostalgic take on everyday America in a Saturday Evening Post cover called Girl at Mirror.
Wyeth's visual rendition of the Knights and their derring-do saw I am Sir Launcelot du Lake, King Ban's son of Benwick, and Knight of the Round Table, the 1917 oil on canvas, lead sales by fetching $615,000, well below its high estimate of $1.2 million but nearer its low estimate of $800,000.
Another work by Wyeth tied to an entirely different tale — that of Butch Cassidy, America's beloved outlaw — claimed the second slot, with an oil painting for a magazine illustration selling for $555,000 with fees. Mr. Cassidy … saw a Crimson Rider Sweep Down upon him … Heralded by a Blazing .41 had been expected to bring between $700,000 and $1 million.
Rockwell's Girl ranked as the third-highest seller at $399,000, the midpoint of its pre-sale estimates of $300,000 to $500,000.
Yet, not all the works of the great American illustrators fell short of the price mark. Joseph Christian Leyendecker's painting, New Year's Baby, a December 1918 Saturday Evening Post cover, brought $275,000, or nearly twice as much as its high, pre-sale estimate. And a nature scene by Milton Avery, Untitled (Landscape), defied expectations by achieving $112,500, with eight bids driving the price paid to more than double its high estimate.