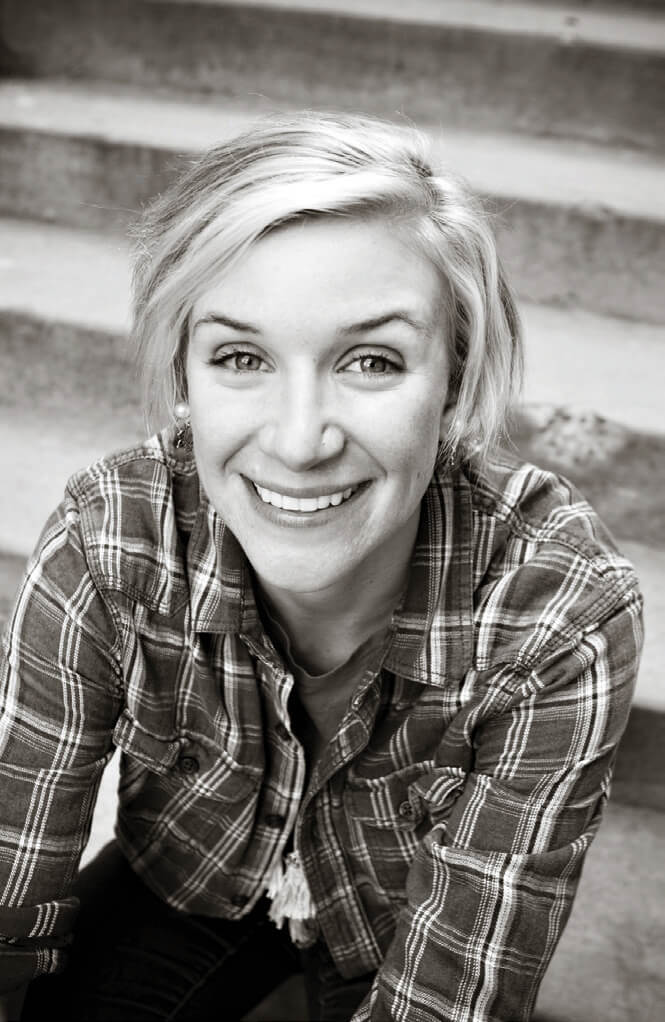 09 Jul

Artist Spotlight: Maeve Eichelberger

Maeve Eichelberger grew up with "a lot of art supplies around," thanks to her architect and sculptor father and her mother who pursued interior design and fashion. So it long seemed a foregone conclusion that the Colorado native would be an artist herself. "I never really wanted to do anything else," she says.

She pursued that goal first through a Bachelor of Fine Arts degree from Regis University in Denver, Colorado, and then by earning a Master of Fine Arts in 2009 from Miami International School of Art & Design. That's where she began exploring a new approach to collage art, a medium that had long fascinated her. "Wanting to add more depth into these images, I discovered that I could transfer imagery from my own photography and drawings, as well as from other sources including magazine cutouts and fabrics, directly onto transparent plexiglass and then layer them." Gradually, she also began to etch the material and, with the help of a heat gun, soften it. She then bent the acrylic pieces, drilled holes, and connected them into her desired sculptural forms.

The culmination of that process has been the sculptural Western saddles that the Denver-based artist creates, harkening back to the ranch in Larkspur, Colorado, some 40 miles south of the state capitol, where she moved with her family at the age of 10. The works first received serious recognition with their inclusion at the Coors Western Art Exhibit & Sale in January 2015. Since that time, her saddles have been corralled by many private collections, including UMB Bank in Denver.

With the same innovative spirit that first drove her to create them, Eichelberger continues to explore new ways "to play with the abstract form of saddles." Bandito, for example, based on a traditional Texas-style saddle, features transparent plexiglass without any image transfers. Instead, the artist created intricate drawings based on meticulously researched basket-weaving and floral leather-tooling patterns. "Then I placed the plexi on top of my drawings and used a grinding tool to etch the surface, creating a lacelike white imagery," she explains, adding that afterward, she bent and attached the pieces to complete the saddle. The etching process alone may take her as many as 48 hours of work.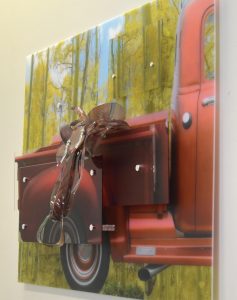 While Eichelberger normally displays the saddles on wooden stands, recently she has also been exploring imaginative new ways to present them. In Chasing Colors, for example, she took photos of an old, weatherworn, red pickup truck and a grove of aspen trees — "conglomerations of adventures I've had," she says — and printed them onto an assortment of large, flat plexiglass panels that she'd assembled as a background. Then, over the sideboard of the truck bed, she hung a miniature version of one of her acrylic saddles, its pieces printed to look like leather before they were bent and put together. The overall effect seems simultaneously hyper-realistic and surreal, beckoning viewers to look afresh at these everyday Western icons. "It's my way of capturing and honoring the history of the West," Eichelberger says.
Eichelberger's work is represented by Vail International Gallery in Vail, Colorado, and A RARE Gallery in Jackson Hole, Wyoming.