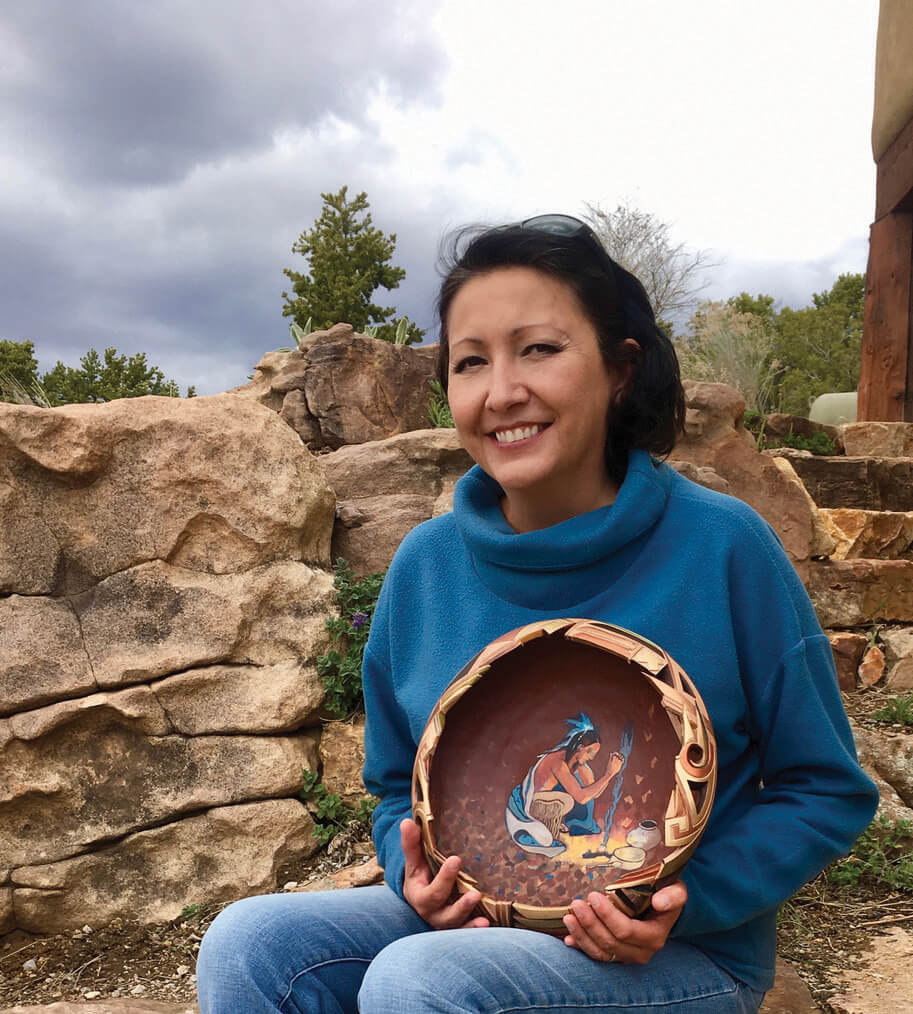 09 Jul

Artist Spotlight: Susan Folwell

Susan Folwell may be following in the footsteps of her ancestors as at least the fifth generation in her family to make pottery. But one glance at her creations, which thoughtfully, wittily, and sometimes provocatively comment on subjects ranging from political and social issues to New Mexican art history, makes it clear that she is also forging her own innovative path.

Though she always wanted to be an artist, Folwell didn't seriously consider pottery while growing up in northern New Mexico's Santa Clara Pueblo, known for its deeply engraved blackware and redware. Her mother, renowned potter Jody Folwell, is one of 10 brothers and sisters, all of whom have worked in clay. "My brother and sister and cousins and I all had to get our chores done, digging clay or chopping wood to fire the kilns, before we could go to the movies or the mall," she says. "So why would I want to do chores for a living?"

Instead, Folwell, who completed high school in 1986 at the age of 16, dreamed of becoming a painter like her father, Henry Folwell. But during a one-year post-grad course at the Idyllwild Arts Academy southwest of Palm Springs, California, she fell in love with photography and went on to study it for two years at Detroit's College for Creative Studies. After moving to Kansas City and supporting herself for a year with a dispiriting job at a photo-processing lab, she despondently called her mother one day and asked, "Would you send me some clay?"

In her early 20s, Folwell began teaching herself pottery. She returned to New Mexico a year later, settling in tiny El Rito, north of Abiquiu, where she could regularly visit Santa Clara to make pottery with her mom. "I really enjoyed the solitude, being by myself with nature," she says.

One early summer day in 1994, while building a pot in her little home, "some dragonflies entered through the open door, dive-bombing each other." Inspired, she built a 15-inch-high pot, covered it in a network of X's and airplanes, and placed one big dragonfly in relief at its neck. The piece won first place in pottery at Santa Fe's Indian Market that August.

Moving forward, Folwell literally broke free of tradition by shattering her pots and reassembling them. In others, she added political or social commentary, including a Crybaby series which reinterprets a familiar image by Pop artist Roy Lichtenstein to comment on "Native women finding themselves in precarious situations."

In 2010, while living in Tucson, Arizona, Folwell married Davison Koenig, who in 2016 became executive director of the Couse-Sharp Historic Site in Taos. The couple's move there led her to study the Taos Society of Artists, who celebrated Southwestern Native peoples and crafts in their artwork. Since then, Folwell has wittily incorporated visual references to their paintings in more than 100 pottery pieces in her Taos Light series. During recent trying times across the nation and the world, she notes, "Looking at these beautiful paintings and getting creative ideas from them has been a real salve for the soul."

Folwell's work is represented by King Galleries in Scottsdale, Arizona, and Santa Fe, New Mexico. She'll be showing new work at the latter location during the Santa Fe Indian Market, August 21 and 22.