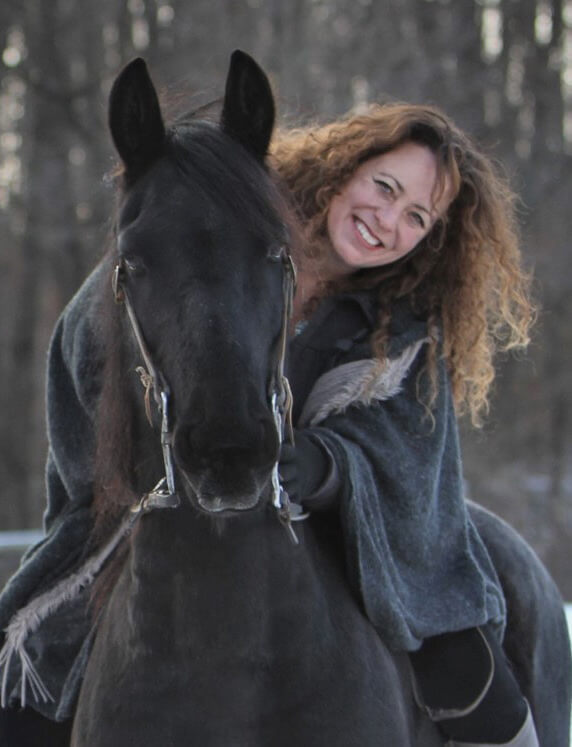 09 Jul

Artist Spotlight: Susie Gordon

Anyone wondering where Susie Gordon finds inspiration for her realistic yet fanciful animal paintings need only look at what she calls "our little bit of heaven." She's referring to the 1804 farmhouse on 50 acres in northeastern Ohio where she raised her three children — 22-year-old Tristan; Miriam, 19; and Landon, 16 — and still lives today with the younger two. They share their farm with one Irish wolfhound, two silken windhounds, three schipperkes, 10 horses, four Belgian hares (plus however many babies they might have), Miriam's pet ferret and hedgehog, four ducks, three chickens, and one recent addition: a captive-bred fox kit named Loki, who is currently being raised in the house, with eventual plans to move into a secure 200-foot enclosure in the nearby woods.

Gordon has always found animals to be an irresistible subject. She still has the sketchbooks she filled when, at 6 or 7 years old, she spent as much of her spare time as possible "outside drawing the horses." She kept making art all through high school and studied at the Columbus College of Art & Design. Even while raising and homeschooling her kids, Gordon's dedication to art remained unwavering. She sought out workshops with artists she admired, including Belgian wildlife painter Carl Brenders and, sometime next year, she will train with Swedish figurative master Nick Alm. She has also deepened her knowledge through studying books by other greats, including revered American Realist and teacher Richard Schmid and Dutch nature painter Rien Poortvliet, whose credo, "to show what the good Lord has made," resonates with her own Christian faith and artistic practice.

In 2009, Gordon's work attracted the attention of horse owner Jane Lyon, who asked her to illustrate the children's book Skipingo Home, a true story of a champion hunter-jumper. Its success led her to create the images for two more books on horses, and she's currently writing and illustrating her own animal-themed counting book.

Meanwhile, Gordon's sense of divine gratitude led her, beginning in 2019, to pose herself a challenge she entitled "100 Paintings in 100 Days." It came about one day while she was studying watercolors by the creator of Peter Rabbit, Beatrix Potter. "I was amazed by her linework and decided to do a 5-by-7-inch copy of one of her mice — every stroke. And I said to myself, 'I could do this every day.'"

The very next day, based on her own reference photos, she painted a watercolor of a donkey, posted it on Facebook, and was delighted to discover it had sold by day's end — as have all of her subsequent daily efforts, each priced at just $125. As of now, while still also working on larger-scale oils, Gordon has completed four sets of 100 daily watercolors and one sequences of 30. And in September, she intends to begin another 100 to wrap up before the holidays.

While painting so many works under such strict deadlines might seem burdensome, Gordon characteristically considers the process a blessing. "I've met so many neat people who buy these little paintings," she says. "And I'm finding many are collectors who might actually prefer smaller pieces of art."

Gordon is represented by Berlin Creek & Blue River Galleries in Berlin, Ohio.