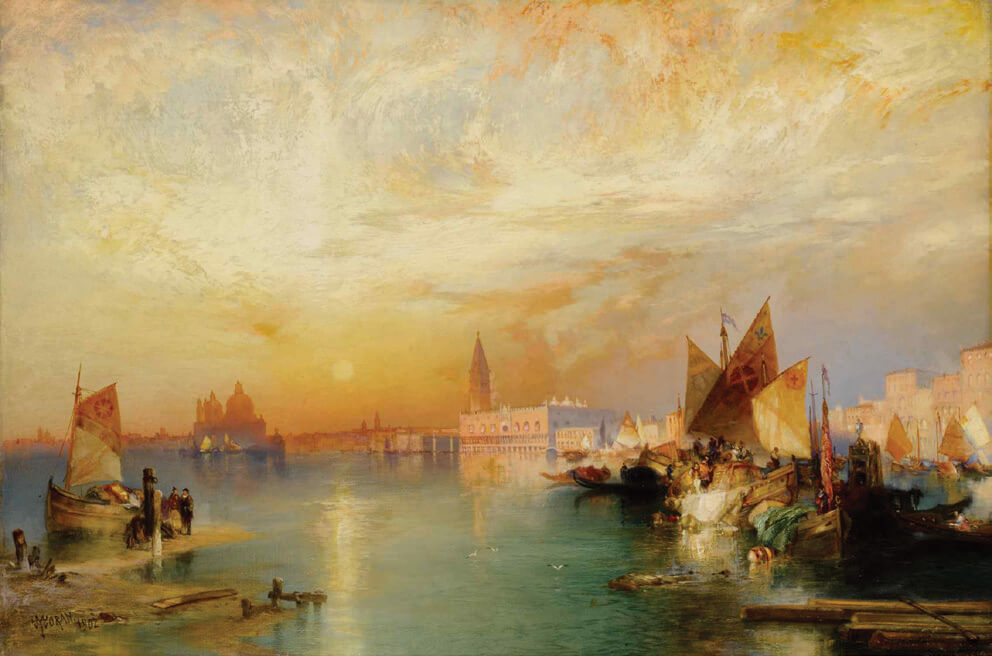 Thomas Moran, Sunset Santa Maria and the Ducal Palace, Venice | Oil on Canvas | 20.25 x 30 inches | Sold: $352,800 | Courtesy of Sotheby's
09 Jul

Auction Block: Happy trails

Art sales in late spring brought collectors together, saw a few new auction records for artists, and overall showed that the market for American, Western, and Native American artworks is faring well.

Two top-selling items at Sotheby's American Art sale in early May included paintings by Mary Cassatt and Georgia O'Keeffe, which were consigned by museums to support their collections. Such sales, which have appeared to grow in recent months, come as some museums seek to recover from coronavirus-related closures in 2020.

Auctions at Sotheby's and Christie's included works by Thomas Moran that were not the Western landscapes typically associated with the artist. A Venetian landscape by Moran sold handsomely at Sotheby's, as did the artist's depiction of the Grand Canal in Venice, Italy, during Christie's auction.

Christie's also saw two figurative pieces by Western artists go for twice the amounts anticipated; these included a bronze sculpture by Charles Schreyvogel and a portrait of a Taos, New Mexico, leader, by Joseph Henry Sharp.

Hindman Auctions' sale of Western works was led by Fritz Scholder. And the auction set records for artworks by several women and showed continued interest in art made by Native Americans.

The Phippen Museum's Western Art Show & Sale returned to downtown Prescott, Arizona, on Memorial Day weekend after a virtual event last year, and the American Women Artists expanded their awards this year and presented the grand prize to artist Lynette Cook.
The Phippen Museum's Western Art Show & Sale
 May 29 – 31
 Total: Undisclosed
The Phippen Museum in Prescott, Arizona, celebrated the return of an in-person Western Art Show & Sale over Memorial Day weekend. The outdoor event drew thousands and welcomed collectors back after last year's virtual show.
"It was such a welcome relief to be back in downtown Prescott this year," says the museum's executive director, Edd Kellerman. "And after the unprecedented year we've all just experienced, the sky seemed just a little bit more blue, the grass was a little greener, and the artwork seemed more impressive than ever."
Sarah Phippen, granddaughter of George Phippen, the museum's namesake and founder of the Cowboy Artists of America, won first place in oil and Best in Show with A Mixed Bunch. The painting depicts a herd of cattle, including several that winsomely gaze back at the viewer.
Mario Cespedes captured first place in acrylic with a stunning portrait, titled A Place Where the River is Pristine, that expertly employs color to evoke a painterly form of magical realism.
First place in drawing went to Steve Atkinson for Renegade, an image of a smiling cowboy. But that was not Atkinson's only top placement; he also led in the watercolor category with Smoke 'em if You got 'em, and he received the Montgomery Frames Award.
Joe Robertson's Finders Keepers, a tableau of two bears, was awarded first place in mixed media, while Dale Martin won first place in pastel for Heads Down, a tranquil scene of horses grazing in a sun-flecked field. And Rooftop Maiden by Randy Galloway earned first place in sculpture.
American Women Artists: Lifting the Sky
Onward and Upward, an acrylic by California painter Lynette Cook, garnered the $10,000 grand prize during the American Women Artists' virtual awards ceremony. The vertical piece depicts a photorealistic rendering of a building's facade with spare ornamentation.
The 2021 event, titled Lifting the Sky: Elevating the Works of American Women Artists, offered two Gallery Showcase Awards, granting winners the opportunity to have solo gallery shows. One of these, courtesy of the Principle Gallery in Virginia, went to Carmen Drake for her oil Rusty Enamel and Violets, and the other, provided by the Savanna Gallery in Arizona, went to Wyoming wildlife painter Laney for On a Gray Day.
Diana Reuter-Twining captured the Distinguished Achievement in Sculpture for her airy work Carousel Rabbits, while Kim VanDerHoek's They Made Maps of the Sky received The Distinguished Achievement in Landscape, Seascape, or Cityscape. Both awards came with a prize of $1,000.
Other awards went to Dolores, a colored pencil work of a vase with flowers by Megan Seiter, which took the Distinguished Achievement in Still Life and $1,000. And Emily and the Ram by Annie Murphy Robinson earned the President's Award and $1,000, while Flamingo Flamenco by Krystii Melaine won the Frances Trachok Memorial Award of Excellence and $750.
Sotheby's American Art Sale
May 19
Total: Nearly $15 million
Sotheby's Form as Foundation, a special section of their American Art Sale that explores the role of figuratism in art, saw certain seminal works exceed top estimates and set auction records.
Two celebrated female American artists vied for placement in the top 10 during the spring auction. Impressionist Mary Cassatt's charming tableau, Baby Charles Looking Over His Mother's Shoulder (No. 3), led bestsellers at more than $1.59 million, against estimates of $1.5 million, while a piece by Georgia O'Keeffe captured the third slot with Green Oak Leaves selling for more than $1.169 million, compared to estimates of $500,000 to $700,000. Both works were among paintings sold by the Brooklyn Museum of Art and the Newark Museum of Art to support their collections.
The sale also saw robust prices for Norman Rockwell studies, including Study for 'Freedom of Worship,' a precursor to one of four paintings in the artist's Four Freedoms series, which echoed a 1941 address about human rights by former President Franklin D. Roosevelt. It sold for $625,000, outpacing its estimate of $250,000 to $350,000.
Deceased Western artists fared well overall during the auction. Although a famed Thomas Moran painting of the Grand Canyon didn't sell, his work Sunset Santa Maria and the Ducal Palace, Venice brought $352,800, instead of the estimated $120,000 to $180,000.
One of John James Audubon's earliest known works, Coot, flew to $214,200, or more than twice its high estimate, even as an oil by Frederic Remington, Hands Off, brought $119,700, landing within expectations of $100,000 to $150,000.
A happy six-digit surprise unfolded with John F. Clymer's Zion Canyon, Utah, an oil on panel replete with red rock walls and recreationists. The painting sold for $163,800, or more than twice its high estimate.
Christie's American Art Auction
May 18
Total: More than $9 million
Norman Rockwell's illustration for a short story that appeared in a May 1939 edition of The Saturday Evening Post topped Christie's sale of American art. The work titled Jeff Raleigh's Piano Solo sold for more than $2.9 million, against estimates of $1.5 to $1.8 million.
The auction also saw paintings by Western artists do well, some of whom explored landscapes far from the region for which they are known. For example, a Thomas Moran painting, The Grand Canal, Venice, achieved its high estimate of $100,000, and an Albert Bierstadt work entitled The Fishing Fleet went for $43,750, against estimates of $40,000 to $60,000.
Landscapes demonstrating the grandeur of the American West fared well, while figurative Western works elicited a stronger response among collectors. Mount Hood, a Bierstadt that examines a familiar theme and enchanted light, realized $87,500, while Thomas Hill's Yosemite landed within estimates and sold for $137,500.
The popularity of figurative work was demonstrated with a bronze by Charles Schreyvogel of a rider offering his horse water from his hat. The Last Drop was anticipated to bring $40,000 to $60,000, but instead sold for $97,500. And Joseph Henry Sharp's portrait of a former governor, Lorenzo Martinez (Ex-Governor of Taos), rose to $62,500, or more than twice its high estimate.
Also of note, a Sharp landscape, titled Spring, The Desert and Mt. San Jacinto at Palm Springs, California, bucked the trend by bringing $35,000, against estimates of $12,000 to $18,000.
Prior to the American Art sale, Christie's hosted Fields of Vision: The Private Collection of Artists Wolf Kahn and Emily Mason, which achieved sales of more than $8 million. The auction was led by a Georgia O'Keeffe painting titled Autumn Leaf with White Flower, which brought more than $4.9 million.
Including the works sold during Fields of Vision, the auction house saw a combined total of more than $17.146 million.
Hindman Auctions' Western Paintings and Sculpture
A work by Fritz Scholder, replete with the painter's stylized figures and signature colors, led Hindman Auctions' Western Paintings and Sculpture, including Contemporary Native American Art by achieving $100,000, soaring above estimates of $10,000 to $15,000. Indians on Horseback by the late Native American artist was just one surprise in an event that featured 22 works. The sale benefited The Couse Foundation in Taos, New Mexico — named after Taos Society of Artists' member Eanger Irving Couse — and the construction of a research center there.
Several women, whose Western art offerings have galvanized collectors, realized record-setting sums for their paintings, including Eve Drewelowe. Reflected Range, which packs action into a landscape through bold brushstrokes, brought $46,875, exceeding expectations of $2,000 to $4,000. Louisa McElwain's Anvil IV, a depiction of a cloud formation swallowing the sky and dwarfing mountains, reached a new auction high for the late artist by bringing $43,750, compared to estimates of $20,000 to $30,000. Reflected Range and Anvil IV proved the second and third top-selling items.
Ed Mell's angled Red Rock, a large-scale oil that toys with shadow even as it shines with light, climbed to $37,500, against estimates of $15,000 to $25,000, to become the sale's fourth best-seller.
A piece by sculptor Dave McGary, Walks Among the Stars, followed at $28,125, or more than twice its high-end estimate, while Eanger Irving Couse's nocturne An Indian Boy garnered the same amount to tie for the auction's fifth top slot. The Couse painting had been expected to bring between $15,000 and $25,000.
The sale featured 114 pieces of Native American art that brought a total of $471,000 and achieved a sell-through rate of 95 percent, constituting an actively growing market, auction officials said. The collection included a sculpture by Luis Tapia, Chama Altar IV, which sold for $15,000, or $9,000 more than its top estimate.