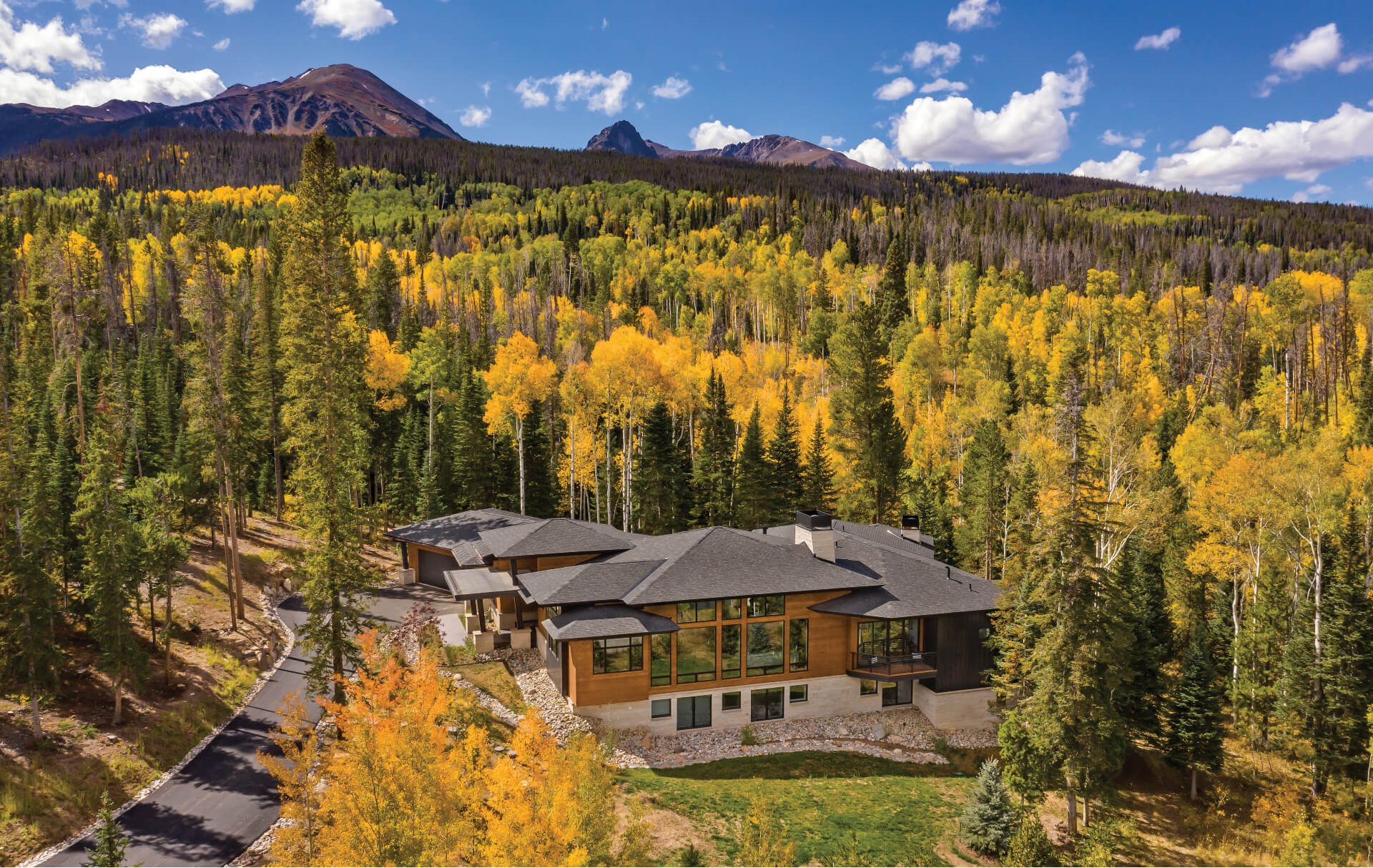 https://westernartandarchitecture.com/wp-content/uploads/2021/03/333-scaled.jpg
09 Jul

Roundup in the Rockies

Jay and Sandra Mesinger cherish the times their whole family is together under one roof. In fact, they cherish it so much that they even have a term for these occasions: "Fam-O-Lam" is what they call it when their four grown children, five grandchildren, and two beloved golden retrievers all convene. And it's the reason they built a custom weekend home near Breckenridge, Colorado, to serve as a venue. "The purpose was to build a home that we could all get to in an hour and a half or less, and the vision was to all come at the same time," Jay says.

With their primary residence in Boulder, and their children spread between there and Denver, the Mesingers chose a 4.5-acre lot with forest and mountain views in a subdivision in Silverthorne. The location was perfect for easy getaways, and they quickly started planning their Fam-O-Lam dream home.

After talking with a handful of architects and builders, the Mesingers settled on Gayle Berkey, of the Denver-based Gayle Berkey Architects, and DJ Schappert, owner of the Breckenridge-based Rockridge Building Company. They also called on their daughter Hillary Perera, owner of the interior design firm BoHill Studio in Denver, and brought her into the fold from the get-go. "We selected people we felt like we could really work with and who would listen," Sandra says. "And we knew we had Hillary; she's so talented and worked closely with Gayle."

The couple desired a contemporary home and relayed a few other special requests to Berkey. They wanted five bedroom suites to accommodate themselves and each of their children, and a  bunk room where all the grandchildren could sleep. As avid art collectors, they wanted their works to stand out. And they also wanted to use stone in the interiors. "We knew we didn't want heavy log beams, just a slicker style," Sandra recalls. "And other than that, we stood back."

Although Berkey has designed more than 900 homes over the course of his career, this was his first contemporary structure. Adding to the challenge was the neighborhood homeowner's association (HOA) board, which had the final say on all projects. "Frankly, they didn't have contemporary homes here," Sandra says, explaining that many of their initial design elements were rejected. "But eventually, we embraced them and they embraced us."

After the architect's plans were complete, Perera added more contemporary touches. "I took it to the next level, picking finishes and pushing mountain modern," the interior designer says. "We took the HOA standards and contemporized them. We didn't want to be a sore thumb in this place, but we wanted to push it a little bit."

The HOA, which dictated everything from the color palette to the overall style, also required more traditional touches, such as window headers, and Perera created innovative ways to incorporate these. "Color palette was a big thing — it had to be within a certain hue," she says. "We looked for a whiter stone, one that still brought in warmth but took it up a notch." Perera also matched the headers with the wood siding, camouflaging them while still following the rules. "We worked closely with Rockridge to meet criteria in a seamless manner," she adds.

Rockridge Building Company, led by Shappert, has built a number of contemporary custom homes in the area, and the Mesingers explain that his extensive experience in that realm helped make the project a success. Not only was he able to incorporate Perera's visions, but he also added his own ideas. "Modern designs are intended to look simple, but that look is often achieved by overcoming complexities," Shappert says. "The idea is to provide all the necessary structure — wiring, tubing, and infrastructure for a complicated home — in such a way that it remains discrete. You want the design, décor, and exterior views to be the highlights, and achieving this look required focusing on the details from the day we began moving dirt."

During the building process, Perera helped select furnishings, fixtures, and décor, while the Mesingers focused on the art. Throughout the home there are works by a varied collection of artists, including Troy Evans, Wopo Holup, Alejandro Abat, Carol Spielman, Richard Harrington, Michael Swearngin, Shawn Rivett, Sandy Graves, and many more, much of which was sourced from RARE Gallery in Jackson Hole, Wyoming.

Perera chose muted tones to contrast with the crisp, white walls, achieving a gallery-like effect that allows the art to stand out. For the furnishings, she blended style and durability. "With the grandkids visiting, we needed it to be family-friendly but not look that way," she says. "And being timeless was important to my parents. They're not looking to renovate this home, they wanted it to be classic."

When it came to the bedroom suites, Perera helped each one of her siblings and their spouses choose design elements, creating individualized spaces. "Ours is a little bit bigger, but don't tell them," Sandra jokes.

For Perera, being deeply involved in this project from start to finish was a great learning experience, and also a meaningful one. "It was such a personal project. It was different for me knowing I'd be staying there, and that it's also my parents' dream home."

The Mesingers now spend most of their weekends there, either on their own or with a few other family members, and on occasion, one of their kids uses it for ski trips or family getaways. "I love the outside-inside aspect when we can open the doors in the summer," Jay says. "And we love the openness of the master living area; it just has a great feel."

Sandra agrees. "The whole house is wonderful in general for entertaining and being here all together," she says.

Staying at the home also allows Perera to see how clients interact with the setting she created. "My parents knew they wanted this to be a family home," she says. "And now the kids run in and out, the doors are open. It's great to see that come to fruition, and without collaboration, it never would have happened. This was their dream house; they just love it, and it makes them very happy."

"Between the collaboration, and with Hillary's help, there wasn't a thought untouched," Jay adds. For the whole Mesinger clan, the property is the perfect venue for many Fam-O-Lams yet to come.