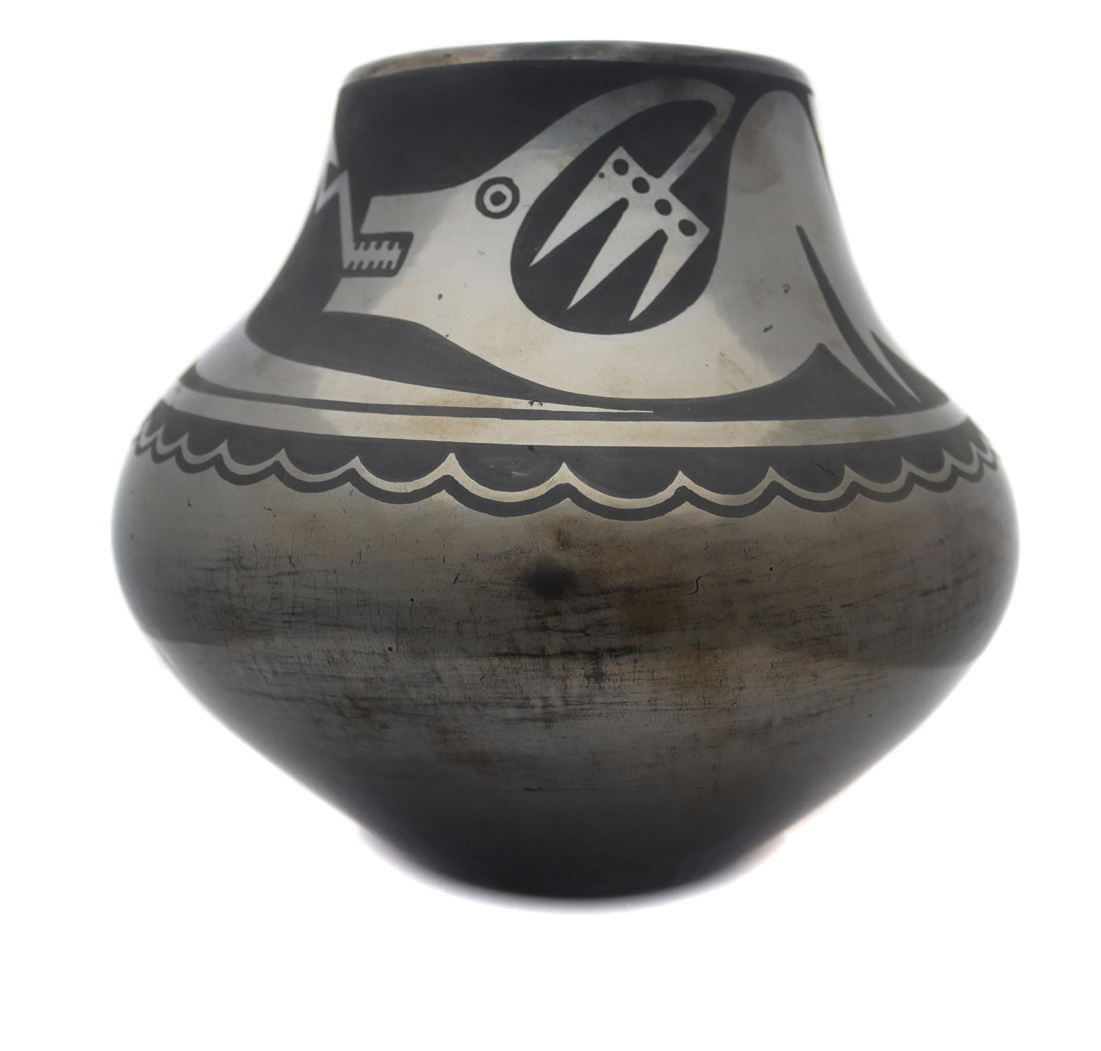 Maria Martinez [1887-1980] and Popovi Da [1922-1971] | San Ildefonso Black on Black Gunmetal Vase with Avanyu Design | c. 1967 | Courtesy of Mark Sublette Medicine Man Gallery in Tucson, Arizona
11 Jul

Publisher's Note: San Ildefonso Pueblo Potter Maria Martinez [1887–1980]

Maria Martinez was destined to become one of the most famous potters of all time. Her work is exquisitely simple but elegant: jet-black pots, coiled by hand and burnished to a soft, beautiful shine.

Martinez initially created polychrome pots, decorated in multicolored patterns. In 1918, however, she and her husband, Julian, discovered that adding volcanic ash to the clay they harvested from the ground near San Ildefonso Pueblo would create a rich black color that became the coveted choice of collectors worldwide. According to the National Museum of Women in the Arts, her blackware starkly contrasted with the all-red or polychrome pots that had dominated the Pueblo art scene for generations. This black-on-black style left an indelible mark on American art and can be found in major museums worldwide.

Martinez learned ceramics from her aunt at a young age, and her career spanned more than 80 years. She frequently worked with her family members and subsequently trained three generations in this beautiful art form. Her efforts helped preserve the traditional pottery-making techniques of her Pueblo.

Today, her legendary ceramics are among the most desirable objects of the American West. Martinez's pots are highly sought after by knowledgeable collectors and frequently sell at a premium. Of note is a significant pot made by Maria and Julian in 1940, which sold at auction in 1999 for an astonishing $255,500.

Despite her immense talent, Martinez displayed wonderful humility, saying, "I just thank God because [my work is] not only for me; it's for all the people. I said to my God, the Great Spirit, 'Mother Earth gave me this luck, so I'm not going to keep it.'"

This issue of Western Art & Architecture proudly celebrates the 100th anniversary of the Santa Fe Indian Market and all of the extraordinary beauty that comes with it. As we focus on the gifted artists that exhibit their work in Santa Fe today, we remember those that established and revived the art traditions of the past, and we honor the legend that was Maria Martinez.