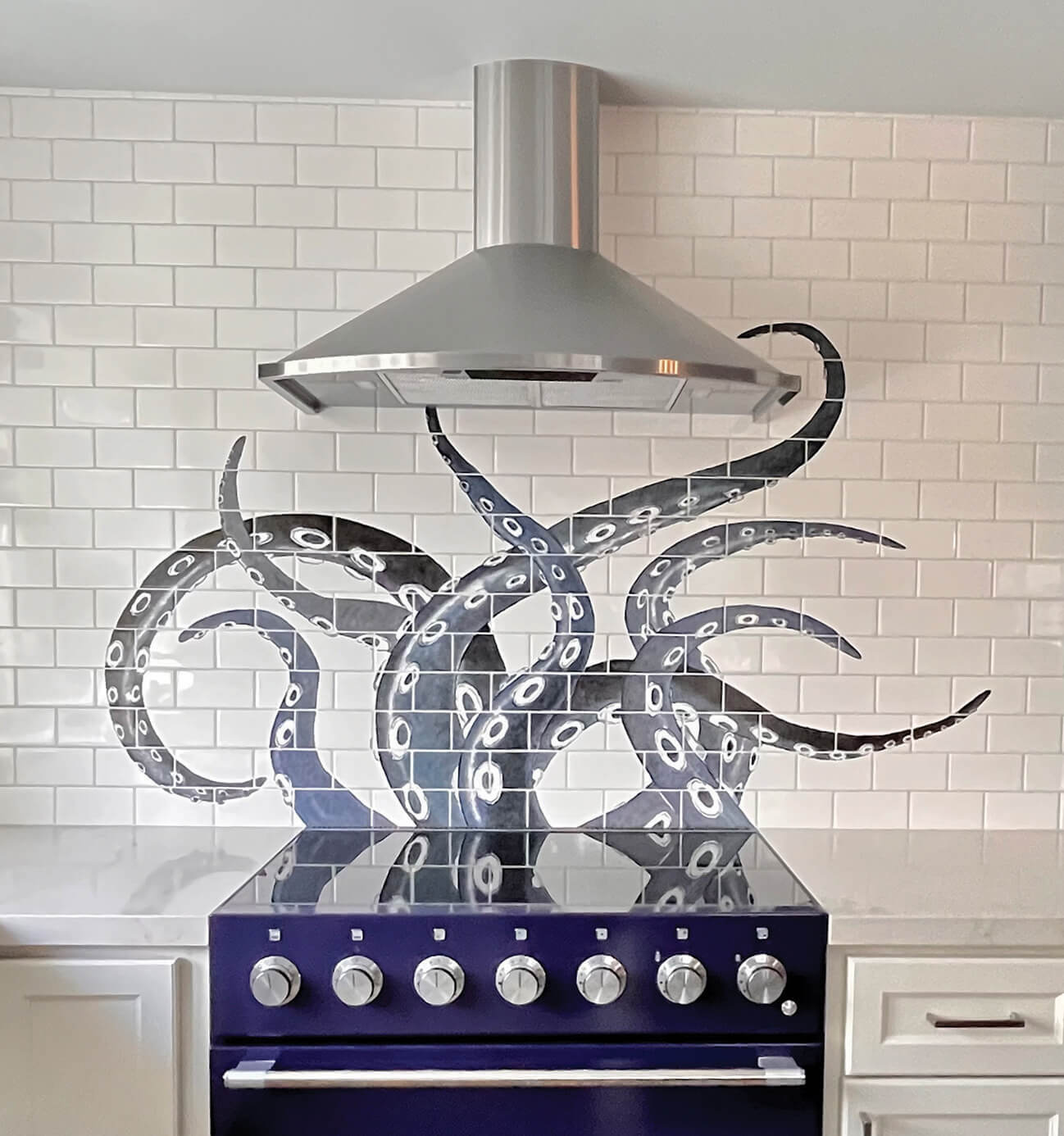 Kraken | China Paint on Ceramic Tile | 39 x 72 inches | 2023
06 Jul

Artist Spotlight: Paul Lewing

Paul Lewing, whose glazed ceramic tile art has long been appreciated in private residential settings such as home bathrooms and kitchens, debuts as a public artist this September 25 through 30. That's when, during homecoming weekend for his alma mater, the University of Montana in Missoula, the new Montana Museum of Art and Culture opens. Its Western entrance will be decorated with The Artist's Tool Belt, a colorful 23-foot-long tile frieze by Lewing — who graduated there with a Master of Fine Arts in 1972 and received its Distinguished Alumni Award in 2018. The piece depicts more than 70 different artists' tools through the ages. "It's the only time in my entire career when I've had a client say you can do anything you want," laughs the artist.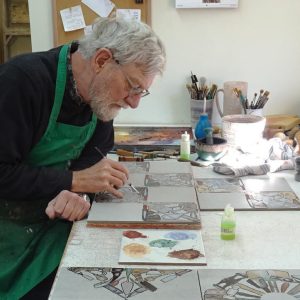 A Midwestern native who "escaped" to Montana right after high school, Lewing enrolled in the university intending to become a landscape painter, a dream that began with a paint-by-numbers kit his parents gave him for Christmas when he was 8 years old. "I just kept painting," he says. 
But his path soon changed direction. "I wallowed in every medium imaginable" at the University of Montana in an enthusiastic immersion that led him to take a class from, and ultimately do his graduate studies under, Rudy Autio, "one of probably the 10 most famous ceramic artists in the world." Autio was also a gifted teacher, "although he didn't really teach. He gave you everything you needed, answered all your questions, and just turned you loose. And Rudy never said a negative word about anyone."
Lewing and his wife Ruth, whom he met in the university's pottery lab, moved to the Seattle area in 1972 and made a living creating decorative ceramic tableware they sold in Pike Place Market. By the mid-1980s, he felt the resurgent call of his original love for painting, though he didn't want to give up ceramics. "But the biggest platters I could throw were just 16 to 18 inches in diameter." So, he decided to pursue commissions as a tile muralist, glazing commercial white ceramic tiles with original scenes in china paints, traditionally used to decorate porcelain. 
Now, almost four decades later, he's a widely acknowledged expert in the medium, having published a definitive hardbound book on the subject and executing a steady stream of realistic, lushly beautiful, often witty home commissions. Kraken, for example, depicts the giant tentacles of the mythical sea monster writhing up the backsplash behind the glass-ceramic cooktop of a client's California kitchen. By contrast, the entirely realistic Bears features a momma and two cubs fishing for salmon in a mountain forest stream. Having completed what he estimates to be more than 1,500 such commissions, Lewing has now begun re-exploring his initial love of painting, this time through acrylic scenes of rural Washington and its wildlife, along with portraits — all expressing his lifelong joy in portraying the world around him.
See Lewing's latest work at paullewingtile.com and paullewingart.com.