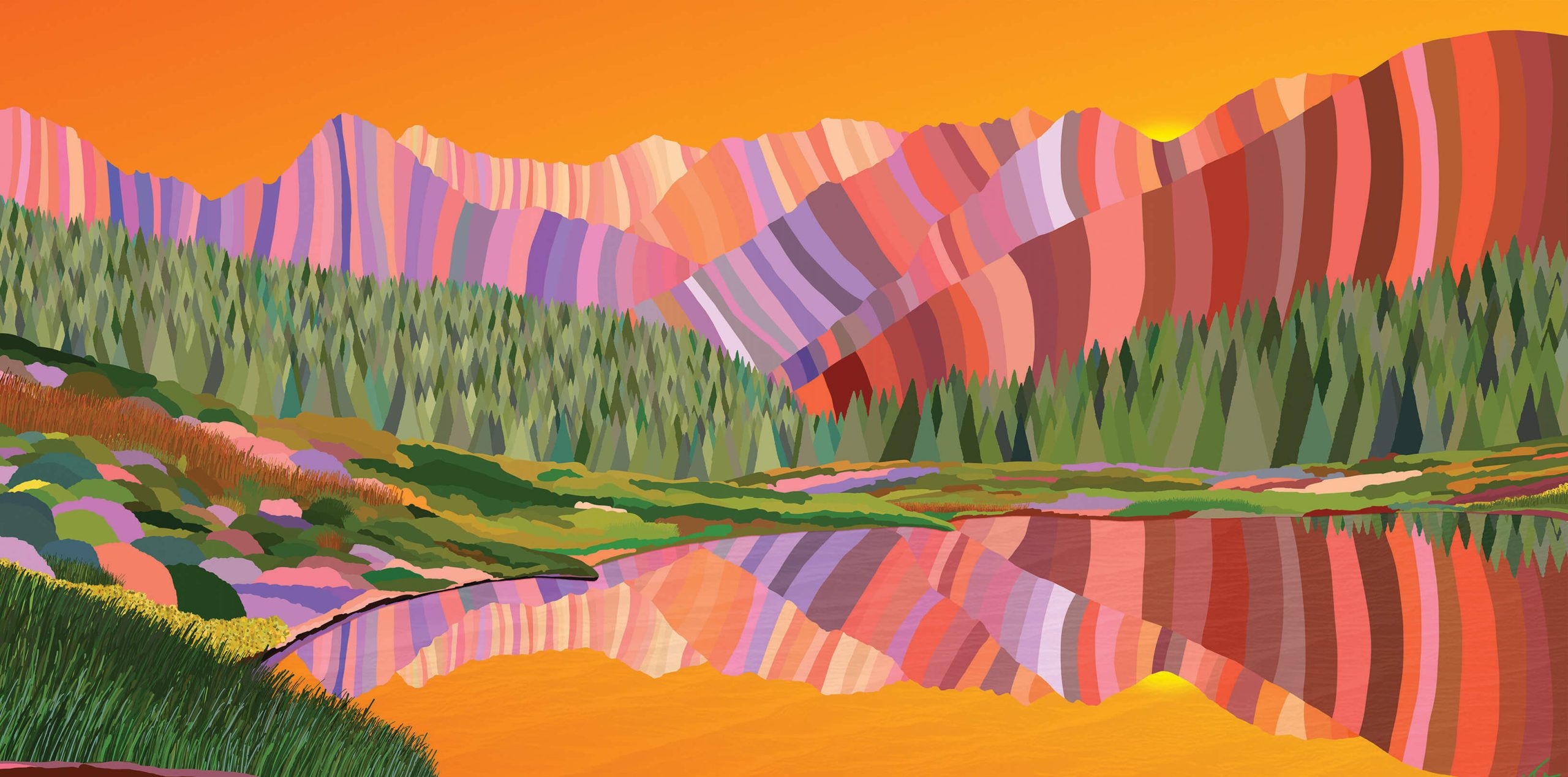 The Grand Traverse | Oils Sublimed on Aluminum | 60 x 120 inches | 2023
06 Jul

Artist Spotlight: Topher Straus

Topher Straus has found a simultaneously bold and surprisingly nuanced new medium by which to capture the radiance so often possessed by iconic landscapes of the West — from the Maroon Bells that tower over Aspen, to the volcanic cone of Maui's Haleakala, the craggy peaks and sparkling lakes of the Teton Range to the sinuous path of the Colorado River through the sere Southwest.

In his studio in Golden, the multigenerational Coloradan starts by producing stunning, digitally altered images that he collages from multiple photos he's taken, using "multiple Adobe products, really pushing their boundaries." The scenes can seem at once realistic and abstracted, and can range in style from meditatively mellow to as bold as a psychedelic still from the Beatles' "Yellow Submarine." Then, Straus immerses himself in the scene by donning virtual reality goggles.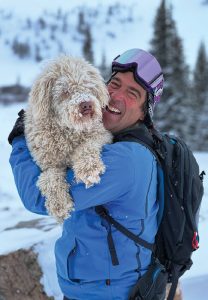 "All of a sudden," he says, his boyishly enthusiastic voice hushing with awe, "I'm 80 feet tall in my VR world, standing at the bottom of Teton National Park, looking up. And I say to myself, 'You know what? This blue is a little too light next to that navy.' Then I take the goggles off, run over to my computer, and make some adjustments. It's a really fun dance of creation."
Once Straus' dance has reached a conclusion that feels just right to him in its vividly heightened play on reality, he prints the image in a large format onto oil-rich transfer paper. He then permanently binds the print onto recycled aluminum panels using a sublimation printer, a device that simultaneously heats his materials to 400°F and subjects them to the intense pressure of about 40 pounds per square inch, molecularly binding the oil colors with the metal's substrate. 
Finally, he coats each work — which he produces as a single large-format original piece as well as limited editions in a range of sizes — with a special, highly reflective, high-gloss polymer finish. "As the light changes throughout the course of the day, or the lights in the room where it's displayed change, the tone of the piece actually changes, too." And viewers, the artist adds, "actually feel immersed in nature themselves," much as Straus himself did when he put on his goggles.
Straus has followed a delightfully meandering path to arrive at this innovative destination. "I've had multiple lives professionally," says the 49-year-old artist. After graduating from Syracuse University with a BFA in film, he headed to Hollywood, where he stayed for a decade, first working for legendary director Robert Altman, and then directing his own documentary and narrative films, as well as creating video games. Next, he spent some time in New Zealand, where he became a father, directed television ads, and began painting. "But whenever people would come over to my house, I would take them off my walls, because I wasn't ready yet to share my heart with others."
Finally, back in his home state in 2016, his diverse experiences gradually coalesced into the innovative artistic approach for which he has quickly come to be appreciated by an ever-growing base of collectors. 
With that success has come a deep sense of gratitude and purpose. "Mark Twain said, 'The two most important days in your life are the day you are born and the day you find out why.' I've come to realize that a big part of my purpose is giving back to my community." With that in mind, he and Vail International Gallery have earmarked 10 percent of the profit from the auction sale of the original large-format version of Straus' recent The Bells — a portrayal of the Maroon Bells, an iconic pair of peaks in the Elk Mountains between Colorado's Pitkin and Gunnison counties — to benefit Roundup River Ranch in Gypsum, Colorado, a nonprofit dedicated to providing a genuine camping experience in the Rocky Mountain West to seriously ill children and their families.
For Straus, such an act of gratitude simply seems right. "Right now," he says, "I'm doing exactly what I was meant to be doing, sharing my work and my heart with other people. This is a culmination of everything that has happened in my life."
Straus' work is represented by The Topher Straus Gallery by Breckenridge Gallery in Breckenridge, Colorado; Aspen Art Gallery in Aspen, Colorado; R Gallery in Boulder, Colorado; Slate Gray Gallery in Telluride, Colorado; Vail International Gallery in Vail, Colorado; Uptripping in Winter Park, Colorado; RA Modern in Crested Butte, Colorado; Meyer Gallery in Park City, Utah; and at Whistler Contemporary Gallery in both the Hilton Grand and the Four Seasons Whistler in Whistler, British Columbia. His work can also be viewed in the Jenny Lake Visitor Center inside Grand Teton National Park in Moose, Wyoming.