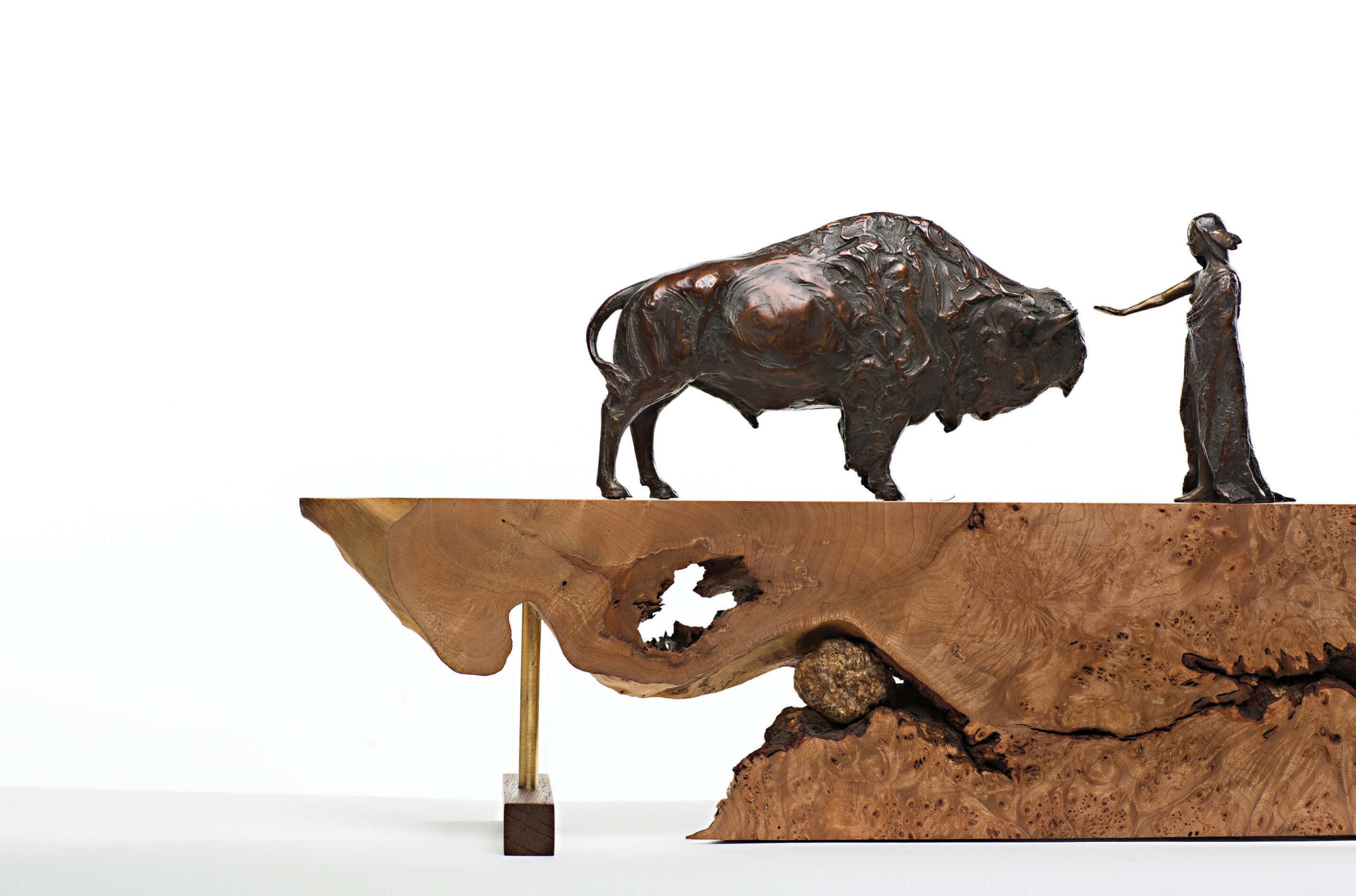 Gratitude | Bronze, Maple Burl, and Wenge | 13 x 22 x 6 inches | 2016 | Edition of 50
06 Jul

Artist Spotlight: Tyrel Johnson

Tyrel Johnson might best be described as a poet in bronze, using sculpture to express deep, complex meanings through art. His Undivided Love, for example, captures the deep human-equine bond by portraying a young woman and a horse, each leaning into the other across a gulf of two wooden stands connected at their bases. The sculpture is inspired by the work of Angel Horses, a charity based in Billings, Montana, that provides rescued therapy horses and other animals to help seniors with Alzheimer's, at-risk youth, special-needs children, and others in need. "I wanted to convey the meaning of what they do, and that what we see as barriers aren't really obstacles," Johnson says.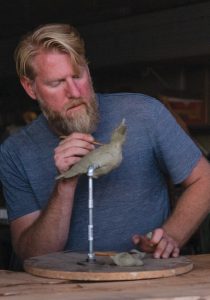 Johnson grew up immersed in the world of sculpture. His father, Lyle Johnson, was best known for the bronze monuments he created across the West, including the larger-than-life horseback sculpture of Plenty Coups — the last chief of the Crow Nation — that since 1999 has marked the entrance to Red Lodge, Montana. "I was involved in that one when I was in high school," Johnson says. "And I did most of the bronze pours when it was cast." 
As the youngest of 16 kids, along with a steady procession of Native American foster children who passed through their home in Big Timber, Johnson was always clear about his career path. "Probably around third grade, the first time my teacher asked me what I wanted to do when I grew up, I said I was going to be a successful artist."
Soon after enrolling as an art major at Montana State University in Bozeman, he dropped out because he found the sculpture program lacking. "So, I chose to further my own personal education by acquiring specific skills." 
Johnson spent the next seven years sculpting anatomical studies, "starting with the skeleton and working my way outward from the innermost muscles all the way to the surface." By that point, he admits, "I had a really rigid way of sculpting." So, after putting his three young daughters to bed, Johnson would stay up late "until 1 or 2 a.m., doing quick, crazy sculptures just to loosen up. And then, after I was happy with that, I studied design for a couple of years." 
Finally, he discovered a personally expressive approach that combines his bronzes with impeccably crafted companion elements in wood, stone, glass, or even leather. Johnson's recent work Gratitude, for example, portrays a bison standing, its head bowed, before a Native American woman. Her open-palmed hand reaches out to the animal in thanks while her shoulders are draped in a bison-hide cape that flows over the edge of a wood-burl base. "The traditional symbiotic relationship between the animals and Native peoples is moving to me, and I wanted to find a way to convey it that doesn't need explaining," he says. "That's how I feel about life in general. Everything we see is a beautiful aspect of this world in which we get to thrive."
Johnson's sculptures are represented by FoR Fine Art in Whitefish and Bigfork, Montana, and Tucson, Arizona. He'll be participating in Sculpture in the Park in Loveland, Colorado, August 11 through 13; and The Russell Summer Sale at the C.M. Russell Museum in Great Falls, Montana, August 16 through 19.