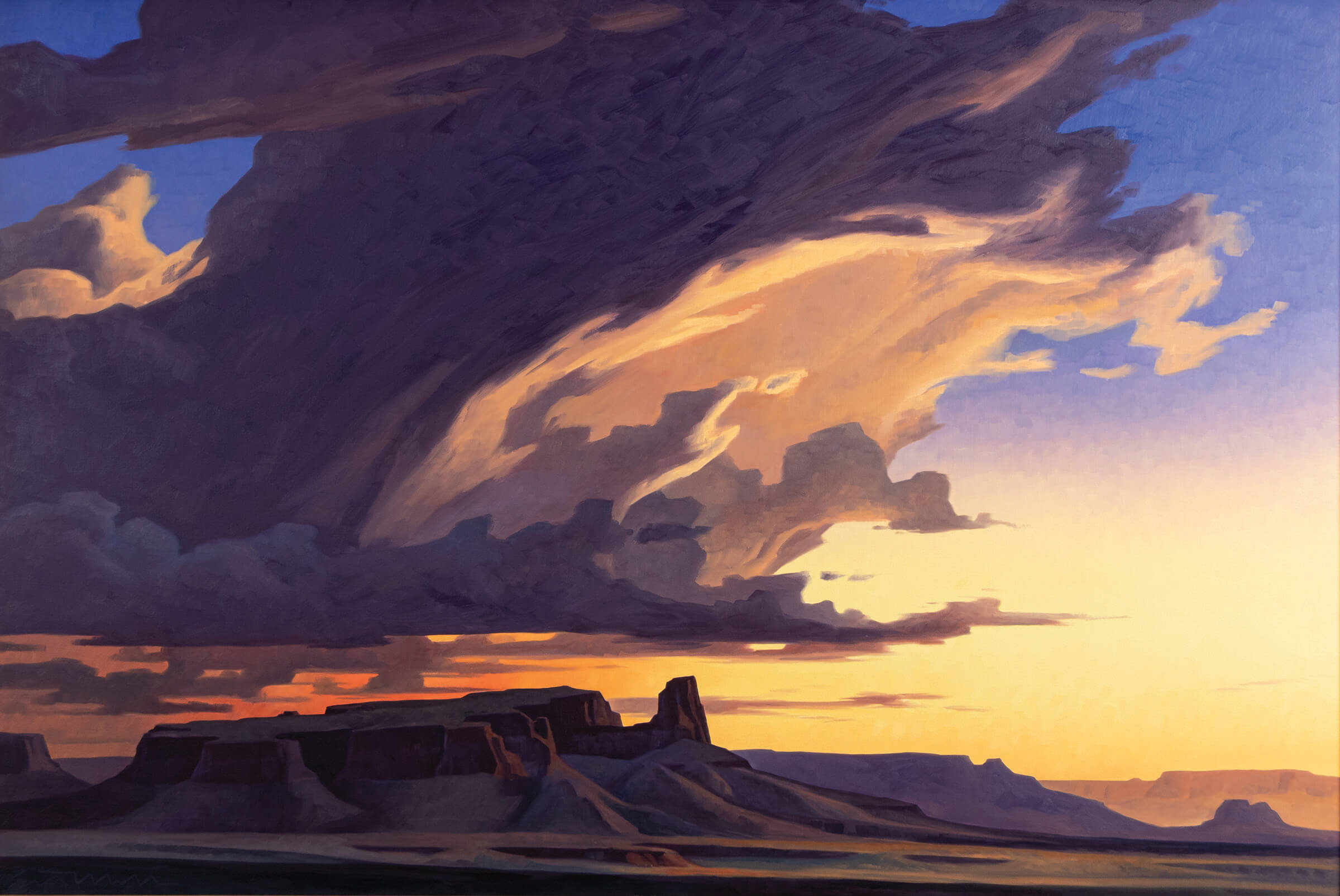 Ed Mell, Vaulting Clouds | Oil on Canvas | 36 x 54 inches | Sold: $69,300 | Courtesy of Hindman: Western & Contemporary Native American Art
06 Jul

Auction Block: WESTERN OASIS

This spring, auction houses offered works by living artists and historic greats in a wonderful showcase of diverse talents depicting the spirit, landscapes, and stories of the West. The results demonstrate an abundant legacy of beauty, and sales figures suggest an enduring affection for the genre.

Sculpture had a big moment during the 2023 Prix de West at the National Cowboy & Western Heritage Museum. A bronze by Walter T. Matia captured the prestigious Purchase Award, and a majority of the open-award categories, including Buyer's Choice, Wildlife Art, and Best Portrayal of a Cowboy Subject, went to works in 3D.

Hindman's May auction of Western & Contemporary Native American Art sold $2 million and set world auction records for multiple living artists. Jaune Quick-To-See Smith was among them, with her Kalispell Series #40 soar-ing above its anticipated high estimate and setting a record for a work on paper by the artist.

"The auction clearly demonstrated that the market for works by Western artists, both contemporary and historic, remains incredibly strong," comments Alexandria Dreas, Hindman Associate Specialist of Western & Contemporary Native American Art. "There was a great energy in the saleroom [that] week, and we were thrilled to see the interest remain strong across multiple categories."

Bonhams' Western Art Auction offered 148 works by the talents that shaped Western lore. The April sale featured such revered names as Dixon, Remington, and Russell, among others.
Bonhams Skinner: Native American & Tribal Arts
June 1
Total: $274,000
The early summer auction of Native American and Tribal Art by Bonhams Skinner featured 265 lots from several private collections. Offerings included African art, Plains Indian beadwork, early Southwest polychrome pottery, Southwest jewelry, California baskets, Navajo textiles, and Hopi katsinas, among other items.
The top-selling lot was an Apsáalooke (Crow) beaded hide mirror bag, which sold for $12,000, above the high estimate of $5,000. The fully beaded bag was created circa 1900 with multicolored geometric patterns in colors that range from pink, turquoise, red, white, and green.
Vessels from the Southwest sold well during the auction. The second top-selling was a large Acoma polychrome olla, which brought $11,000 amid estimates of $8,000 to $12,000. Next, a San Ildefonso black-on-red polychrome vessel achieved twice its high estimate, selling for $10,000. Made circa 1900, the pot includes abstract floral designs amid more traditional geometric patterns.
A Voania ceramic artwork of a couple sold for $7,000, above its high estimate of $6,000. The African sculpture shows two figures: a man holding on tight to a woman.
National Cowboy & Western Heritage Museum: Prix de West Invitational Art Exhibition & Sale
June 2 – August 6
Total: $3 million+
The National Cowboy & Western Heritage Museum hosted the 51st Prix de West Invitational Art Exhibition & Sale this June, showcasing nearly 270 juried works by living Western artists. This year's guest artists were Daniel J. Keys, Don Oelze, Peregrine O'Gormley, and Gladys Roldan-de-Moras. Sales totaled more than $3 million during opening weekend.
The Purchase Award was given to Walter T. Matia for his bronze sculpture Molly is a Working Girl. The work now resides in the museum's permanent collection. Matia received the $25,000 purchase prize, a $5,000 award, and the Prix de West medallion sponsored by Roberta M. Eldridge Miller.
When Matia accepted the awards, he described his relationship with the region. "The West is a lot of things to a lot of people. To me, the West has always been behind a bird dog, or in a stream with a fly rod, or in some marsh looking at birds with binoculars. This is a part of what the modern West is. When the committee chose this piece, I was really happy because it spoke to a part of the West that I don't think is always acknowledged: the role of hunters and fishermen, who opened up the West and are now conserving it."
John Coleman's bronze work Warrior Spirit, Crazy Horse was acknowledged with two awards that evening: the Jackie L. Coles Buyers' Choice Award and the James Earle Fraser Sculpture Award. The sculpture depicts the Lakota war leader who took up arms against the U.S. federal government to preserve his people, culture, and the land they lived on. Additional castings remain available for purchase for $150,000.
Gladys Roldan-de-Moras received the Frederic Remington Painting Award for Chinas Poblanas. The painting was sold for $24,500.
Tim Cherry won the Major General and Mrs. Don D. Pittman Wildlife Award for his bronze sculpture Against the Wind. Additional castings remain available for purchase for $34,000.
Blair Buswell was given the Express Ranches Great American Cowboy Award, honoring the finest portrayal of cowboy subjects, for his three bronze sculptures Risky Business, Hey, Over HERE!!!, and Showtime. Additional castings of each are available, priced at $12,000, $4,800, and $4,500.
Joseph Bohler received the Donald Teague Memorial Award for exceptional work on paper. His transparent watercolor painting Prairie Rose depicts a little girl sitting on a covered wagon with three chickadees flying or sitting nearby. The painting sold for $8,600.
Len Chmiel received the Wilson Hurley Memorial Award for outstanding artistic merit for a landscape for West I Know: Summarizing Solitude, Utah. The painting, priced at $36,000, is available for purchase.
Huihan Liu won the Robert Lougheed Memorial Award for his collection of four oil paintings: Autumn Breeze ($23,000); Heading to Ceremony ($29,000); A Watchful Gaze ($17,000), and Golden Feather ($12,000). The award was given by Prix de West exhibiting artists for the best display of three or more works. All four paintings sold.
Unsold art remains on display and is available for purchase through August 6. As the museum's largest annual fundraiser, sales from Prix de West fund exhibitions and family programming.
Phippen Museum: 49th Annual Western Art Show and Sale
May 27-29
Total: Undisclosed
The Phippen Museum's 49th annual Western Art Show and Sale drew thousands of visitors, art collectors, and tourists to sunny Prescott, Arizona, on Memorial Day week-end, where they came to mingle with artists and perhaps bring home a new beloved work.
Nationally recognized and up-and-coming artists participated in the outdoor show downtown at the Yavapai County Courthouse Plaza. "We have accomplished [professional artists] who come from all over the nation and the world, including South Korea, China, Siberia, and several tribal nations," says Edd Kellerman, the Phippen Museum's Executive Director. "We also have sisters, husbands and wives, mothers and daughters, and fathers and sons participating, some having created art for most of their lives, and others have just recently discovered a newfound artistic talent."
Awards were offered in seven categories. This year's Best of Show went to Lia Bardin Bomar, an Arizona artist who also won First Place in Drawing for her charcoal work Nuzzle.
Artist Steve Atkinson won three awards for works in watercolor, drawing, and oil. He also received the Phippen Foundation Award for Wyatt & Doc Play the Palace.
People's Choice Award went to Carl Wolf for On the Range, which also won second place in mixed media.
Additional award winners included, in descending order: for oil, Sarah Phippen, Steve Atkinson, and Bill Cramer; acrylic, Valeriy Kagounkin, Randy Morris, and Susan Hemm Zivic; drawing, Lia Bardin Bomar, Steve Atkinson, and Wei Tai; sculpture, Cheryl Carlstrom, Michael Murphy, and Russell Parker; pastel, Dale Martin, Gary Ward, and Julie Howard; mixed media, John Shepard and Carl Wolf (second); and watercolor Wei Tai, Ian Russell, and Steve Atkinson.
Hindman: Antiquities Annual Spring Sale
May 25
Total: $1.3 million+
Hindman Antiquities Annual Spring Sale started in exciting fashion, with 57 lots from the collection of Stephen Albert, a renowned American composer. Nearly 100 percent of the items sold.
The top-selling lot was A Greek Bronze Right Arm, created by an unknown artist circa 4th Century B.C. According to Hindman, "the arm likely belonged to a full statue of a nude male heroic figure at the pinnacle of his physique" and displays incredible anatomical precision. The bronze work sold for $94,500, amid estimates of $80,000 to $100,000.
The second top-selling item was an Egyptian Green Jasper Plaque from circa 1427 – 1425 B.C. The jasper plaque was a bezel on a ring, inscribed in hieroglyphics for Pharaohs Tuthmosis III and Amenhotep II. It was estimated to sell for between $80,000 to $120,000 and went home for $63,000.
The third top-selling lot was Attic Black-Figured Neck-Amphora from circa 530 to 520 B.C., which sold for $63,000 above its high estimate of $60,000. The Greek vase depicts Hercules towering over the fallen Amazonian Queen Hippolyta, while warriors approach to aid their fallen queen. It's attributed to the Antimenes Painter, an unknown artist in Athens working in 530 to 510 B.C. When many artists were using red figures in their works, the Antimenes Painter used black and was one of the most prolific artists of his time. More than 140 of his vases survive today.
A Roman marble torso of the Goddess Venus was also among the top performers. The nearly life-sized sculpture was created by an unknown artist in the 1st century A.D. The statue sold for $63,000. Venus, the goddess of sensual love, is depicted as if emerging from the sea nude. The nearly life-sized sculpture of the iconic goddess was one of many impressive results achieved for Roman marbles.
Achieving another top price, a Middle Kingdom faience hippopotamus from Ancient Egypt brought $56,700 amid estimates of $40,000 to $60,000. Also noteable, a Cycladic marble torso, created circa 3000 to 1050 B.C. soared past its estimate of $7,000 to $9,000, realizing $56,700.
Hindman: Western & Contemporary Native American Art
May 4
Total: $2 million+
Western artists ranging from historic painters such as Albert Bierstadt, William R. Leigh, and Leon Shulman Gaspard to contemporary names such as Ed Mell, Jeremy Lipking, and John Nieto achieved outstanding prices during Hindman's Western & Contemporary Native American Art auction this May. The auction realized more than $2 million, with 94 percent of 269 lots sold.
The top-selling item was Indian at the Bar, painted by Fritz Scholder in 1969. The Luiseño artist became known for his work with color and pop-art-influenced compositions that addressed the challenges of modern Native American life. This painting is a strong example of everything Scholder did well, according to Hindman. Indian at the Bar soared past its $50,000 to $70,000 estimate, bringing $239,000.
Additional Scholder highlights included Mystery Woman in Mission Chair, which sold for $69,300, above the high estimate of $15,000, and Winter Incampment, which sold for $23,940, above a high estimate of $18,000.
The second top-selling lots were Albert Bierstadt's Untitled Landscape, bringing $75,600 above a high estimate of $40,000. His 19th-century landscape paintings are some of the most celebrated depictions of the West. Winold Reiss' Plenty Treaties also sold for $75,600 amid estimates of $70,000 to $90,000.
Next, Birger Sandzén's Autumnal Landscape sold for $69,300, amid estimates of $60,000 to $80,000. The painting shared the third top-selling lot with artist Ed Mell, whose 1993 panoramic landscape Vaulting Clouds is instantly recognizable for the color palette and stylized appearance. The painting sold for $69,300 amid estimates of $50,000 to $70,000. A group of Mell's bronzes and paintings performed well at the auction.
The fourth top-selling lot was John Nieto's Poised Coyote, which sold for $63,000, surpassing its high estimate of $30,000.
Also ranked among top-selling lots was Jaune Quick-To-See Smith's Kalispell Series #40. In serene earth tones, abstract figures and shapes form a visually stimulating and pleasing composition. The work soared above its anticipated high estimate of $8,000 to bring $63,000, setting a world auction record for a work on paper by the artist.
Auction records were also set for works by Jeremy Lipking, Dan Young, Sari Staggs, and Beatrice Mandelman. Kay WalkingStick was also among the top-selling living artists. Her work Emblem Series, #172 set a world auction record, realizing $25,200 above the high estimate of $7,000.
Bonhams Los Angeles: Western Art
April 26
Total: $885,000
In April, Bonhams' Western Art sale brought a total of $885,000 for 148 lots. Leading the sale was a painting by Maynard Dixon, Abandoned House, Contra Costa Co., Cal. The work was painted during a difficult time for Dixon, when tastes were leading toward Modernism and sales had slowed significantly due to the Depression. A month after painting this, the artist moved his family to Taos and painted from a studio belonging to art patron Mabel Dodge Luhan. The work sold for $61,000 amid estimates of $60,000 to $80,000.
The second top-selling item was The Bronco Buster by Frederic Remington, which brought $57,000 amid estimates of $50,000 to $70,000. Modeled in 1895, The Bronco Buster was Remington's first sculpture and arguably his most famous.
In keeping with tradition, Charles Russell's Bucking Bronco and Rider was the third-top selling lot, bringing $51,000, above its high estimate of $50,000. The painting shows a bucking horse ridden by a cowboy with a red bandana tied around his neck, his white hat tossed high in the air by the rowdy animal.
Also of note and among he top-selling items was Bert Geer Phillips' Tudl-Tur (Sun Elk), which sold for $42,000, well above the high estimate of $8,000.
Born and raised in Gallup, New Mexico, it wasn't long before writer Christine Rogel developed a passion for the people and culture of the West. She is the editor in chief of Western Art & Architecture; christinerogel.com.