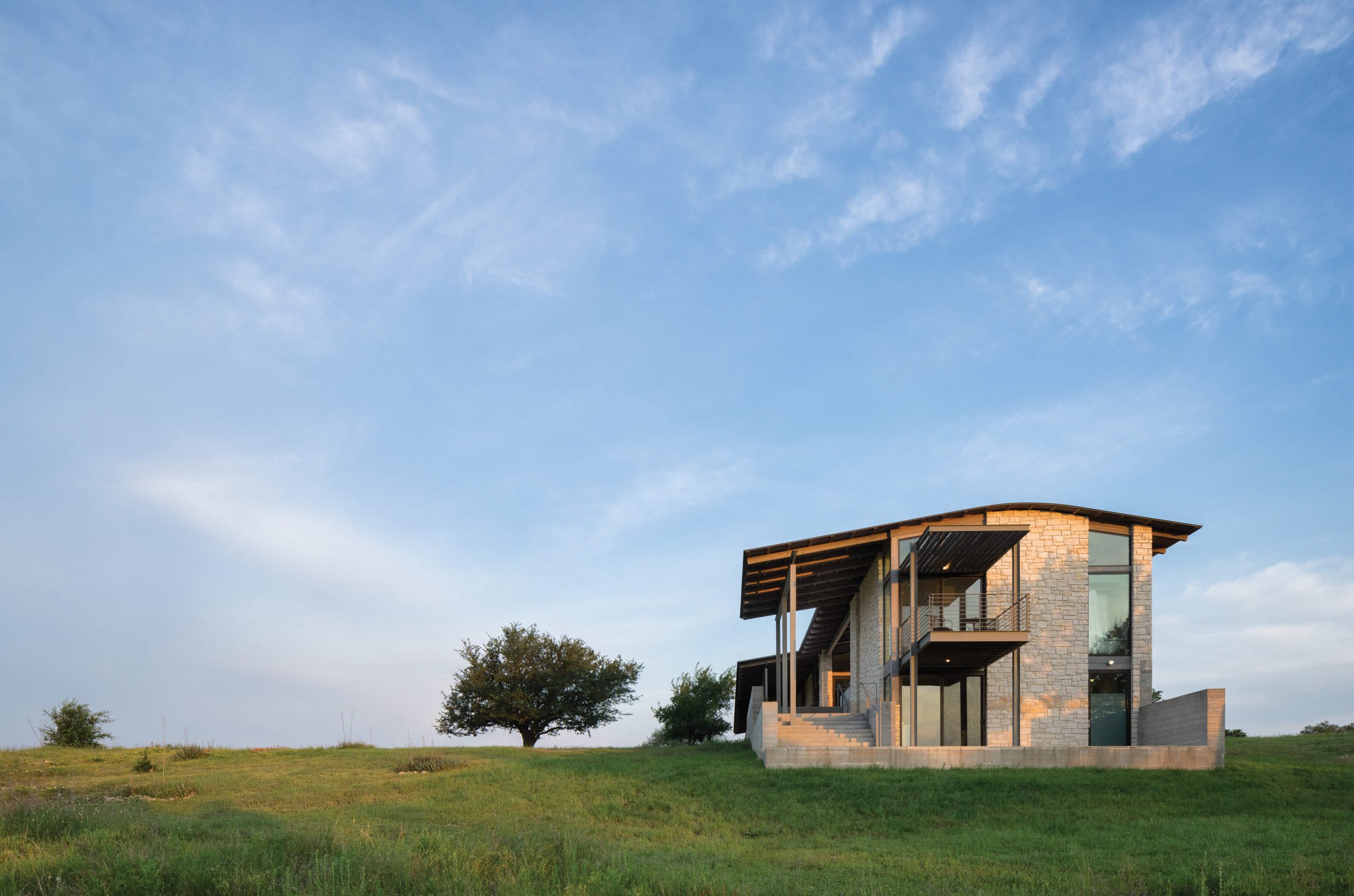 At sunrise, light shines off the local-quarried limestone walls of Owl Creek Ranch. The nearly off-the-grid house employs solar panels augmented by a wind turbine, and the heating is geothermal.
06 Jul

Rendering: Dynamic Duo

Architect Nick Deaver worked as a sole proprietor in Austin, Texas, for nearly two decades. But five years ago, he was joined by his daughter Jessica, who'd left a career in film, television, and writing to pursue an architecture degree, then worked for Pfeiffer Partners in Los Angeles before uniting with her father.

The two have formed a partnership of cross-generational approaches that, rather than clashing, enhance and inform one another. Neither seems too proud to learn from the other. They work as co-designers, and then one takes over as project manager. 

Deaver describes himself as detail-oriented, a drafter who loves to see things built. Along with new construction, he's won numerous awards for remodeling historic Austin homes. His elegant, modern designs give new life to houses that might otherwise have been torn down. Instead, they blend into their neighborhoods while providing all the conveniences and beauty of contemporary architecture.

While an architecture student at Texas Tech University, Deaver was influenced by postmodernists Charles Moore (known as the father of Postmodernism) and Robert Venturi (who flipped Ludwig Mies van der Rohe's "less is more" into "less is a bore"). 

"At the time," Deaver says, "they were cutting-edge — this idea that architecture was about human beings and not just form and sculpture and technology. So they had an impact on modern architecture by reintroducing the human qualities. It was kind of okay again to think about historical precedents, and it was okay again to think about, essentially, some of the messier aspects of life."

Jessica Deaver, known as Jes, has always been a storyteller: first in film and writing; now in her design work and relationship with clients. Her influences include Samuel Mockbee, who led his students at Auburn University to consider transforming rural poverty through architecture, often using reclaimed and found materials. 

"I felt very inspired by his use of limited resources," she explains. "He was presenting something not only meaningful to the person who needed shelter but something really meaningful to the community that also impacted the students who were building it. And I realized that your impact can go both ways."

Meaningfulness is a recurrent theme in the Deavers' discussion of architecture. It goes beyond the individual design to the neighborhood, community, and city. The firm also has a unique approach to working with clients. Yes, like all good architects, they work to set up a relationship that will allow them to plumb their clients' needs and desires. But the Deavers go a step further: They regard their clients as part of the design team.

Before computers, Deaver was known for his beautiful renderings. "One of the ways that I used to make money was to work with a lot of my old bosses doing renderings for them," he says. "This was all hand-work, where we would communicate our ideas using watercolors; some beautiful drawing to show a compelling representation of the design to the owner. So I had a lot of experience communicating design to people."

Today, in addition to using computer programs, Jes adds, "We mostly use a combination of hand-drawing, sketching, and then also 2D drafting, so the process is very iterative. We go back and forth through all of these methods, sometimes overlaying them on one another, and it produces some unique outcomes that are surprising and allow us to communicate with each other."

"One of the things we've done a bit differently here," Deaver says, "is that we tell our clients how easy it is to fall in love with an image. We try very hard not to do that. 

"Clients who go along with us on this journey have agreed to let us show them enough and in the right order. It's just very easy for an architect to come up early with a solution that can convey a beautiful image that might be very compelling. We work very hard to not be fooled by those things. What we want is to spend time in the design trenches. So we'll say, 'Let's make sure that the design works well before we start to perfect the way it's going to look and feel.' Then, as we've prepared our clients, they become familiar with the design process, and that allows it to evolve and change. We want the design to get better and to be connected to them. That's much more important than getting it right the first time. Or that they love everything that we do."

In fact, Deaver says, from time to time they present a design they hope a client won't like. "It's a provocative process," Jes explains. "We make something that provokes them to have an emotive response, or an immediate response, or even a delayed response, and if there are things they want that we don't think are right, we'll tell them that, too. Which means that sometimes they have to come back and say, 'No, but I really want it.' And we have to investigate further why, and that deeper investigation helps them to solidify their priorities, as well as understand how it does and does not work, and that feeds into the careful design process."

For Jes, with her love of storytelling, it's the ultimate satisfaction to watch a client enter a house that's been specifically designed and crafted for them. "It's like having something so bespoke that it speaks to them. And it's at that high level of design that we would like to craft," she says. The Deavers pride themselves on making houses so carefully designed for each client that it's impossible to recognize their projects as "a Deaver design."  

Another somewhat unique method employed by the Deavers is to involve the neighborhoods in their projects. "We're saying, 'We're here. What are you concerned about?'" Jes says. "'Can we assuage that concern?' It allows the neighbors to feel heard and to have a voice. It's creating a new relationship between our owners and their neighbors, and it's allowing them to be a part of the community in a way that we understand has deep value. 

"Cities are really just big cocktail parties where everyone's having a conversation," she says with a laugh. "When you're in these neighborhoods, it's fine to imagine that this is my land, with my plot lines where I'm designing my house with my architect, but the reality is, we're all connected."

In the case of LeanToo, a project on a plot restricted by a water easement — on which the neighboring houses depend to prevent flooding — the Deavers also sought involvement with the city. The solution was cantilevered terraces over the water channels and careful preservation of old-growth trees, maintaining adequate open space for their roots. The result is a house that appears to be a period cottage in a historic neighborhood but is, in fact, a compact but spacious-feeling modern house of considerable beauty. 

Deaver doesn't think of the firm as having a single philosophy. But it becomes clear that both architects' core aim is to create memorable houses — not showy projects, but designs that are memorable for their connection on a human level. 

And part of that is responsible design. They help clients pare down to what they need, which involves choices the clients find surprisingly satisfying. Spaces can be designed to appear much larger than they are. One firm rule the Deavers use is placing plumbing fixtures at least 4 feet apart so that bathrooms never feel cramped. No one, Deaver says, has ever come back to him wishing they'd added more space.

"And renovating is one of the biggest sustainability measures, rather than scrapping everything for a landfill and building new," Jes says. "But it also has to do with the idea of belonging, or meaningfulness, because when something is meaningful to the client, it's lasting. It's not a temporary, trendy kind of fix that they can get tired of or grow out of. It's something lasting in their mind and their life, and can also transition and have its own mind, so the architecture goes on and on, because it's meaningful to the owners, to the neighborhood, to the community."

Now that they've become partners, Deaver sees Jes taking more authority in the firm. For a lone architect who spent years wanting to be in control of every aspect of a project, change is in store. The possibility of growth is on the table. And Jes wants to move beyond simply designing residences to a mixed practice with commercial projects. It will be exciting to see what they do next.