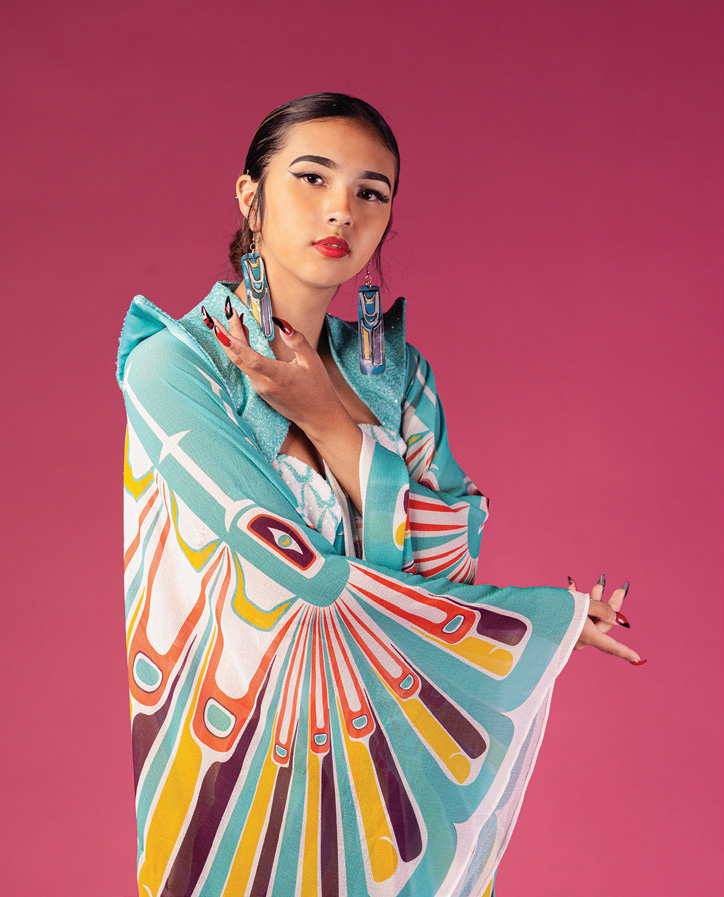 Clothing designed by Himikalas Pamela Baker, photographed by Tira Howard for SWAIA
06 Jul

Santa Fe Indian Market

What does one do after a momentous 100th anniversary? Start the next 100 years, of course!

The Santa Fe Indian Market ushers in its second century this August 19 and 20 with an extended roster of exhibitions, programming, new spaces and partners, and a newly named executive director.

Organized by the nonprofit organization Southwest Association for Indian Arts (SWAIA), the juried market is the country's largest annual Native American art event held on the Santa Fe Plaza and surrounding areas. Over the last century, it has been responsible for launching the careers of many prominent artists, providing exposure, community building, and new business opportunities.
Jamie Schulze was named executive director of SWAIA in April 2023 after serving as the interim director for the past year. Schulze (Northern Cheyenne/Sisseton Wahpeton Oyate) is originally from Montana and has worked for the nonprofit organization since 2019.

"It is a great honor and privilege to be appointed executive director," says Schulze, "and it's a great responsibility. I will take my mandates from the board of directors and SWAIA artists. My intention is to create continuity within the organization and to be an ally and partner with our artists and visitors to ensure that the Indian Market experience is the best it can be."

A continual challenge for SWAIA has been the need to accommodate more artists. This year's solution was to expand exhibition space to Cathedral Park, located alongside Palace Avenue east of the IAIA Museum of Contemporary Native Arts. An additional 50 artists will show their work in these smaller booths, bringing vitality to the park's fountains, grassy spaces, and hollyhocks.

"We really wanted to highlight that we have an unprecedented number of applicants this year, and we are so grateful for that response. Our decision to open Cathedral Park for artists shows our gratitude for these artists and just allows us to bring even more participants into the SWAIA family," says Schulze.

For visitors attending Santa Fe Indian Market, remember that this weekend is quickly becoming an Art Basel of sorts for Native art. While the market is the anchor, over the past few years, a variety of smaller shows have popped up all over town during the weekend. Organizations like IllumiNative (a Native woman-led racial and social justice organization), Sovereign Santa Fe (a curated Contemporary Native American Arts exhibition), and Shy Natives (a handmade apparel company owned by Northern Cheyenne sisters Madison and Jordan Craig) all have events planned the week leading up to the market. Throw these into the mix of the museums, galleries, and other cultural institutions hosting events, and you have a weeklong extravaganza of Indigenous art, culture, fashion, food, and film that can not happen anywhere else but in Santa Fe.

The Indigenous Fashion Show on Sunday afternoon is a must-see event, highlighting the best in Indigenous design from across North America. In celebration, Native American television and music celebrities walk the runway for their favorite designers. Otherwise, the best way to approach Santa Fe Indian Market is to have a game plan. Sure, there's beauty in randomly walking from booth to booth, discovering new artists and mediums, but with a short amount of time and an overwhelming amount of artists, some pre-planning can help.