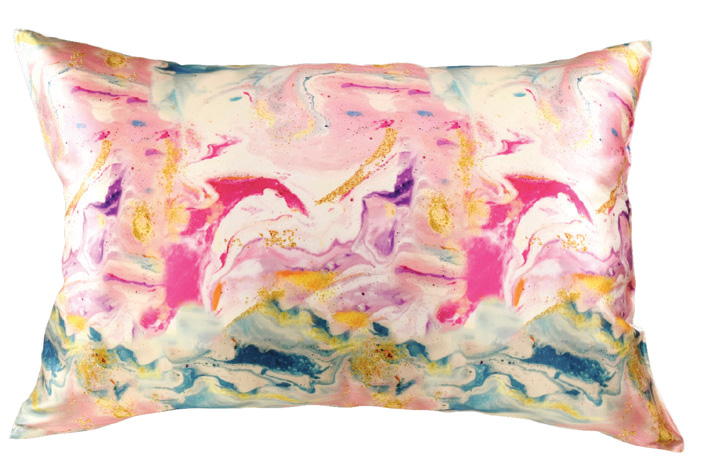 06 Jul

Things We Love
Abstract Dreamscape Pillowcases by Celestial Silk
Making an artistic and opulent statement in the bedroom, these Abstract Dreamscape Pillowcases by Celestial Silk are also luxuriously soft. That's because they were created by beauty writer Danielle Jackson, who, after discovering the benefits of silk for hair and skin health, set out to create affordable, high-quality silk products for self-care. This resulted in the company's proprietary "buttery soft" DiamondSilk, made from 25-momme pure mulberry silk. The whimsical printed pillowcases feature colorful designs made from non-toxic dyes and have a convenient zippered closure. Since its inception in 2014, Celestial Silk has developed a range of silk products and accessories, like eye masks, gemstone beauty rollers, and sleep mist, among other things.
$46.99
celestialsilk.com
Charlie Dining Chairs from House of Léon
Twin brothers Jordan and Steven Neman noticed that many companies producing moderately priced furniture and décor put little emphasis on design and self-expression. With this in mind, the duo founded House of Léon, a Los Angeles-based company "harmoniously bridging the gap between style and accessibility." Working closely with a family-owned atelier in Turkey — where the mastery of woodworking has been passed down through generations — the Nemans conceptualize and produce high-quality collections based on designs from around the world. We love the contemporary, natural look of the Charlie Dining Chairs, which feature a white oak finish, tapered legs, and off-white bouclé upholstery.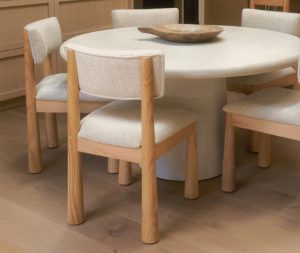 33 x 19 x 20 inches
Seat height: 18 inches
$1,580 per pair
house-of-leon-furniture.com
Beaded Dog Collars by Sambboho
Caroline (from Brazil) and Antonin Gaillou (from France) met in college at San Diego State University in 2016, and quickly bonded over their love of dogs and fashion. When she gifted a beaded collar to Antoin's dog Louie — handmade by artisan women from the Araxa community in Minas Gerais, Brazil — he was blown away by the vibrant designs. That was the start of Sambboho. Made with high-quality full-grain leather that's durable, flexible, and water-repellent, the seed bead designs come in unique color combinations to match your pooch's personality. We love that they're made following the ancient Brazilian tradition of tear beading while also financially empowering the skilled artisan women of Minas Gerais.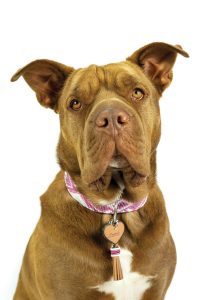 Various sizes
From $59.85
sambbohoshop.com
Butterfly Rainforest Basket by Wounaan and Emberá Artisans
The Wounaan and Emberá tribes of Panama are known for weaving artful, high-quality baskets, often sought by collectors and museums. Living in small villages deep in Panama's Darién Gap rainforest, near the Colombian border, they have passed down this skill through generations, and it has helped them to stay on their land and preserve their tribal cultures. Woven from wild palm tree fibers and dyed with extracts of bark, leaves, and fruit, the baskets feature pre-Columbian geometric designs and pictorial motifs inspired by the animals, insects, and natural elements in the rainforest. We love the deep colors and whimsical designs on this butterfly basket, and how they reflect Indigenous culture while supporting their way of living.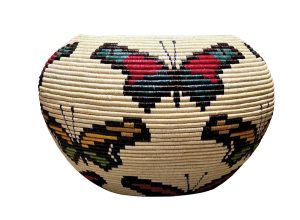 7 x 10 inches
$1,400
glenngreengalleries.com
Tides Cuff by Hello Adorn
Disenchanted with their corporate jobs, Jess and Adam Gardner found a happy balance when they started Hello Adorn, designing and crafting delightfully delicate, sophisticated jewelry for everyday wear. Today, more than 20 artisans work at their Eau Claire, Wisconsin, studio — where a flagship store opened in 2022 — helping to craft 14-karat gold-filled and sterling silver earrings, necklaces, bracelets, and more. The lovely Tides Cuff in gold-fill or sterling silver merges a classic chain with a hammered cuff bracelet for a layered look. We love the minimalist simplicity of this and other Hello Adorn pieces that can be mixed and matched with other favorite jewelry.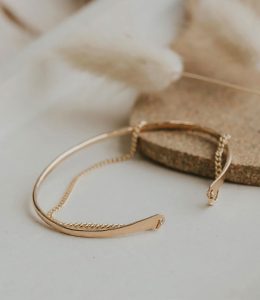 Adjustable, from 6.5 to 7 inches
$88
helloadorn.com
Shelf Tub by WETSTYLE
This stand-alone tub is certainly functional, but it's also beautifully sculptural — destined to be a bathroom centerpiece. Handcrafted in Montreal, Canada, it's part of WETSTYLE's Be Collection, a series of freestanding tubs and vessel sinks rooted in nature. The collection's design inspiration comes from the shells of exotic fruits and walnuts. We love the simple, contemporary style and organic curves, along with the contrasting color of the utilitarian wooden surround shelf. These come in gloss or matte finishes and with two backrest positions: seated and reclined. As the company says, a soak in this just might spur memories of "dipping into a hidden pool in an ancient forest glade."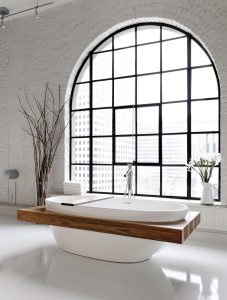 70 x 38 x 22 inches
$10,185
wetstyle.com
Vintage Bank Table from MENO Home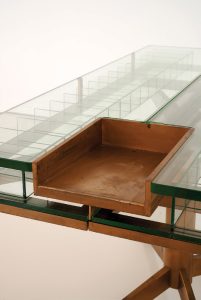 This mid-1900s steel, brass, and glass table once sat in Greeley National Bank in Greeley, Colorado. It comes with a few dings as a historic remnant, but that's the nature of vintage finds and the idea behind MENO Home. "Meno" is of Greek origin, meaning "to stay, remain, live, dwell, abide; to be in a state that begins and continues, yet may or may not end or stop." Jerri Hobdy founded the Denver-based company to reflect that idea by promoting sustainability through "circular product life cycles within the built environment." Their showroom features vintage pieces and serves as a design studio for original works. We love the authenticity of this unconventional historic gem.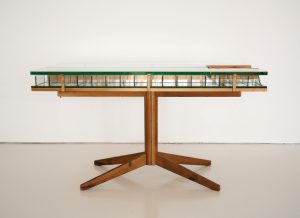 72 x 39.5 x 36 inches
$16,000
menohome.com