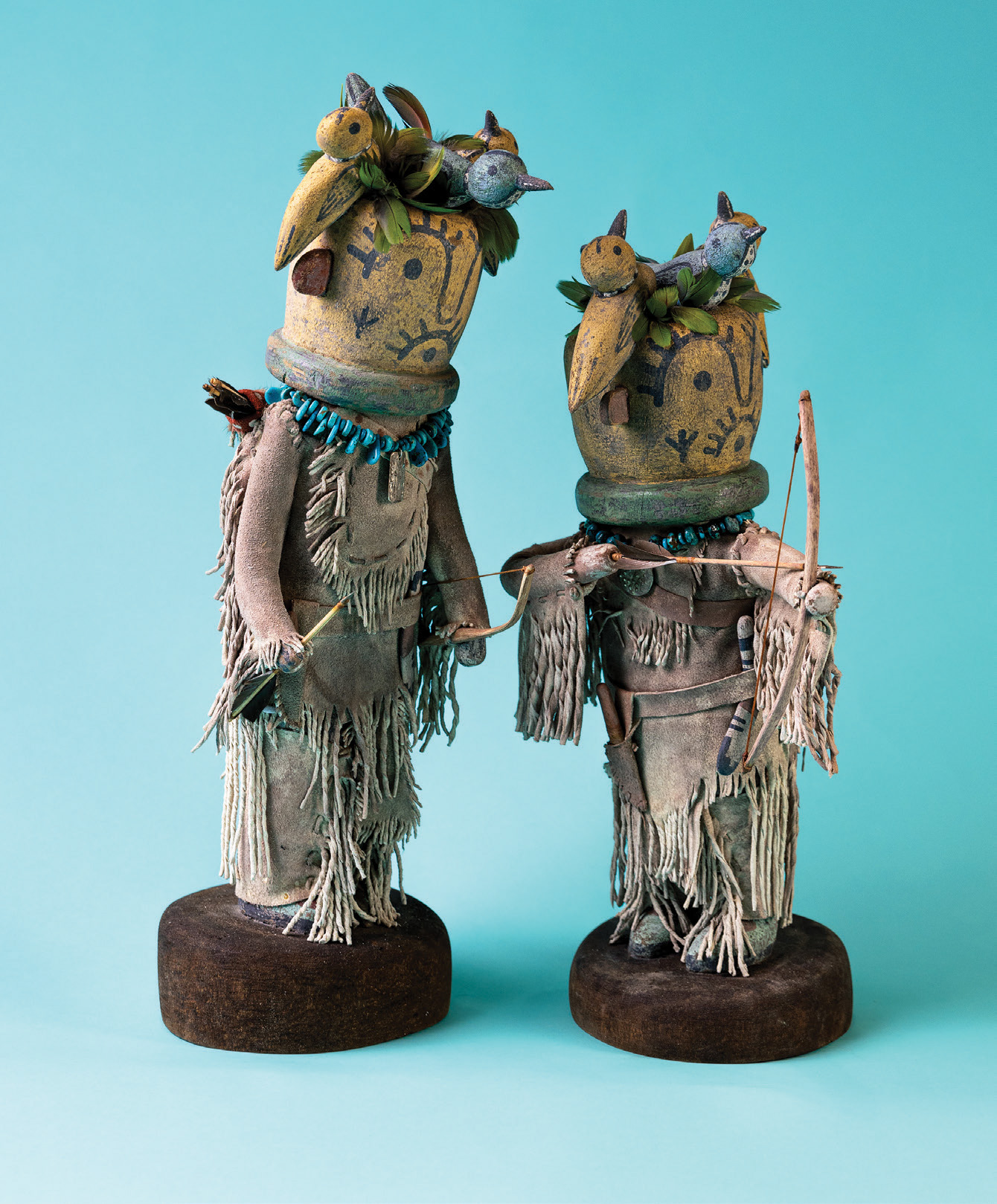 Manuel Chavarria, Qooglee Storyteller Hunters | Leather Cottonwood Root, Pigment Paint, Parrot Feathers, Leather Attire, Sinew, Copper on Knives and Arrow Tips, Cotton String, Turquoise Necklace, and Sterling Silver Pendants | 15 x 4.5 and 15.5 x 8.5 inches | 2022 | Photographed by Tira Howard for SWAIA
06 Jul

Three Dimensions
Manuel Chavarria | Booth LIN W 736
Manuel Chavarria is a traditional Hopi Katsina carver from Polacca near First Mesa, Arizona. He learned carving from his grandparents and renowned traditional carvers Walter Howato and Manfred Susunkewa.
Chavarria works in the "old style" of carving, and he selects large, imperfect pieces of cottonwood that extenuate the look and feel of the piece. His works will also incorporate pigment paint, leather copper, turquoise, and cotton string. They often carry miniature katsina dolls as gifts.
A decorated artist, Chavarria won the best in his class during the 2022 Santa Fe Indian Market.
Russell Sanchez | Booth LIN E 711
Russell Sanchez, from San Ildefonso Pueblo, won Best of Show at Santa Fe Indian Market last year with his pot titled 100 Years in the Making! The ceramic pot is inlaid with sleeping beauty hematite and lone mountain turquoise and was created and fired in the traditional ways of the San Ildefonso artists.
Sanchez learned his art from his great-aunt, noted potter and pottery matriarch Rose Gonzales [1900-1989], and began his art form at age 12, hand-coiling and stone polishing his pots.
The best-of-show award adds to a long list of recognition that Sanchez has received over the years. He was awarded the 2017 New Mexico Governor's Award for excellence, and is also a curator and artist in the monumental exhibition Grounded in Clay: The Spirit of Pueblo Pottery that opened at Santa Fe's Museum of Indian Art & Culture and is now at the MET. His work resides in the collections of the Museum of Natural History in Los Angeles, the Smithsonian Institute in Washington, D.C., and the Heard Museum in Phoenix, Arizona, among others.
Jennifer Tafoya |Booth PAL N 255
Jennifer Tafoya's distinctive renditions of sgraffito Santa Clara pottery begin with hikes into the mountains of her native New Mexico. It is here where she literally encounters the elements the pots are made of.
"I was in Silver City hiking with my sister around an old abandoned iron ore mine," says Tafoya. "I looked down and saw something, possibly iron ore or hematite, so I picked it up, brought it home, ground it, and that became the dark purple you see in my work."
As for the subject? It's animals. And fish. And not just any fish. The trout Tafoya has caught herself in New Mexico, in places like Glenwood, Eagles Nest, Heron, and the Chama River. Along with other traditional animals like mountain lions, skunks, and deer, Tafoya also utilizes beautifully detailed Chinese dragons, dinosaurs, and brightly colored birds.
Jazmin Novak | Booth SFT P 526
Jazmin Novak (Diné) recently graduated from the Institute of American Indian Arts and is already known for her bronze animal figures. This is her second time participating in Santa Fe Indian Market.
She grew up in Albuquerque before moving to Santa Fe to attend university. Her work is influenced by the desert environment. She uses both glass and bronze and focuses on the interactions between the animals of the Navajo Nation and their surroundings. "Through my sculptures, I often use animals as narrative devices to remind viewers of shared experiences and the connections between the natural world," says Novak. "My inspiration comes from the environment around me. I have always spent as much time as I can outside and have been surrounded by animals."