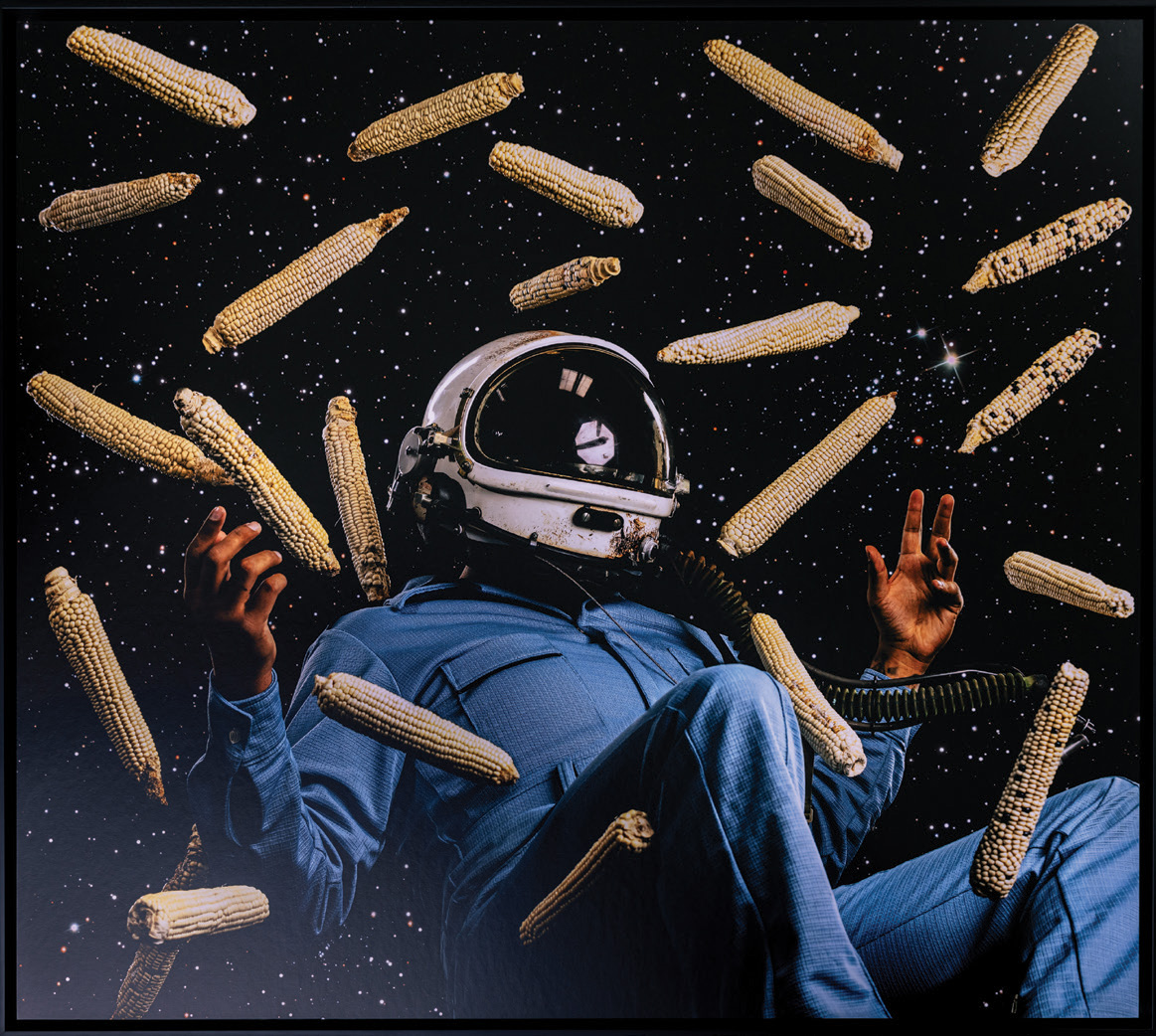 Cara Romero, The Zenith | Archival Pigment Print | 43 x 48 x 3 inches | 2022 | Photographed by Tira Howard for SWAIA
06 Jul

Two Dimensions
Cara Romero | Booth PLZ 50
Cara Romero (Chemehuevi) is a contemporary fine art photographer who explores themes of environmental and social justice. She received international recognition after three of her photos, Jackrabbit, Cottontail, and Spirits of the Desert, were blown up billboard size as part of the Desert X Art Fair in Palm Springs in 2019.
Romero's latest work comes from her series Americana, which explores how Native American oral histories are known in Native communities but absent from American history. "The series explores the retelling of history from a Native point of view," Romero says, adding that it also counters the absence of Native representation in film, which typically casts them as villainous or unintelligent.
Romero's photograph Water Memory Series is also currently on loan to the MET.
Avis Charley | Booth LIN W 738
Avis Charley (Spirit Lake Dakota/DinÉ) was born and raised in Los Angeles and worked as a ledger artist before attending the Institute of American Indian Arts in Santa Fe, where she studied painting. Her work focuses on Native identity and empowerment, using the female form as her main subject. "I capture our people's struggles, triumphs, and the vibrant strength of our present communities," she says. "I craft figurative drawings and paintings that chronicle our evolving story from the ancestral epoch to the contemporary urban context."
In 2019 Charley's ledger drawing Hope received the Harrison Eiteljorg Purchase Award during the Eiteljorg Museum's Indian Market and Festival. The drawing is now a part of the museum's permanent collection.
Norma Howard | Booth PAL N 206
Norma Howard is a self-taught watercolorist who documents the lives of her Choctaw and Chickasaw ancestors in Oklahoma. Collectors love these detailed paintings because they give a glimpse into the past.
Howard grew up in the small town of Stigler, Oklahoma, and some of these scenes are from moments she witnessed as a child. "I began drawing when I was 5 years old and created my first watercolor at age 13," says Howard. "I developed a style and technique of my own in watercolor called 'basket weave' strokes. Painting layer upon layer of small, cross-hatched strokes creates a unique, three-dimensional effect in my artwork. As a self-taught artist, I find inspiration to paint from family stories, traditional dances, and our Native lifestyle."
Howard's work is in many museums, including the permanent collection of the Gilcrease Museum in Tulsa, Oklahoma.
George Alexander | Booth LIN W 772
George Alexander is a Muscogee Creek painter who grew up outside of Tulsa, Oklahoma, in Okfuskee County. Alexander signs his paintings "Ofuskie" in homage to his small-town upbringing.
The artist later moved to Santa Fe to attend the Institute of American Indian Art. He then traveled to Florence, Italy, where he received his Master of Fine Arts in painting from the Studio Art College International. Today, from his studio near Santa Fe's Plaza, Alexander explores "contemporary Indigenous culture with imagery that challenges the boundaries of what is considered 'Native art.'"
One of Alexander's most famous series of paintings depicts a figure wearing an astronaut helmet, which is a metaphor for humanity. "When astronauts look at the Earth, they do not see religions, races, or borders; they just see the wholeness of the world," says Alexander. "Today, it seems as if we look at people based on these labels — now more than ever — and we judge them because they might be something different than what we pertain to be."