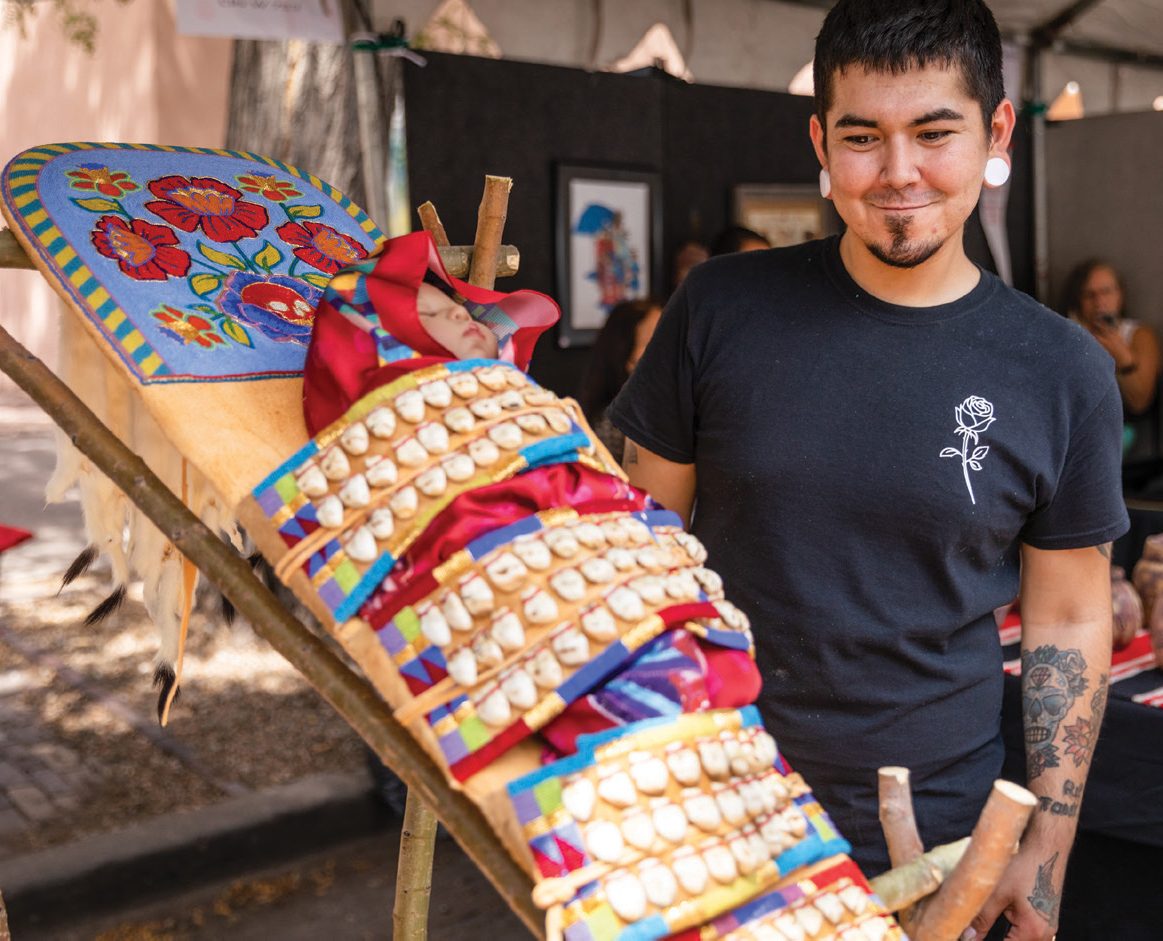 Elias Jade Not Afraid, Life After Death | Two-Needle Applique and Crow Stitch, 200 Bull Elk Ivories, | Smoked Hide, Antique Italian Glass Seed Beads | 46 x 16 x 5 inches | 2021
06 Jul

Wearable Art
Elias Jade Not Afraid | Booth PLZ 94
Beadwork is quickly becoming one of the most popular categories at Santa Fe Indian Market, as younger artists from tribes across the country are creating innovative designs that have pushed the medium into the contemporary world.
One such person is Apsaalooke artist Elias Jade Not Afraid. Not Afraid was already selling out his market booth in the first hour, and then, in 2022, the Metropolitan Museum of Art (MET) purchased his cradleboard during the Heard Museum Guild Indian Fair & Market.
Not Afraid is known for his bright bold colors, blood-red skulls, gold spikes, stormtroopers, and elk teeth. Lots of elk teeth. In fact, his cradleboard purchased by the MET included 200 elk teeth, 100 perfect sets, extracted from 100 different bull elk.
Jamie Okuma | Booth PAL N 218
Elias Jade Not Afraid's mentor and teacher in the beading world is Jamie Okuma, who will participate in the market's Indigenous Fashion Show. Okuma has been creating exquisite and detailed beadwork and fashion designs since she was a student at Santa Fe's Institute of American Indian Arts. In the last five years, she has also created a popular fashion line.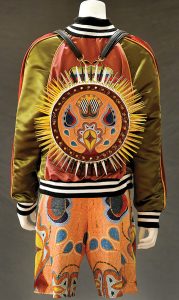 Okuma's beaded pair of Christian Louboutin shoes are legendary in the fashion world, and her beaded boots, called Horseshoes, are currently on loan at the MET.
Astoundingly, Okuma has won seven best in show awards, four from the Heard Museum's market and three from the Santa Fe Indian Market. She is also the first Indigenous designer to become a member of the Council of Fashion Designers of America.
Lauren Good Day | Booth PLZ 07
Lauren Good Day is one of the most recognizable names in contemporary Native fashion design; her clothing has appeared in Vogue, InStyle Magazine, The New York Times, and Cosmopolitan. Good Day's work is a composite of all the different art styles and techniques she's developed. While fashion is currently occupying her creative faculties, she has previously worked in quillwork, ledger drawing, rawhide, and parfleche.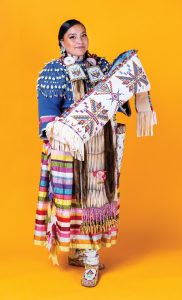 "Creating collections of cultural works and expressing my visions through art is what I do," says Good Day. "The Good Day to be Indigenous Collection highlights my traditional name, Good Day Woman. Most importantly, it celebrates the beauty of all shades of Indigenous peoples, represented by the natural color palette and the complexity of our histories, stories, and familial ties with our greater communities and ancestors."
Olin Tsingine | Booth PLZ 82
Olin Tsingine (DinÉ and Hopi) loves history and quality turquoise. Drawing inspiration from artists like Charles Loloma and Kenneth Begay, he creates traditional silver jewelry and uses tufa casting. Tsingine is known as a deft technician and spends most of his day in his studio in Phoenix, Arizona, where he works with high-quality turquoise, rare corals, and complex designs in both silver and gold. "I work with both my mind and my heart open," says Tsingine. "I'm always looking for new techniques to learn, new patterns to create, and new artists to collaborate with."
Jackie Larson Bread | Booth PLZ 52
Jackie Larson Bread has won best of show at the Santa Fe Indian Market twice, once in 2013 and again in 2019. Of Indian Market's 100 years, Larson Bread has witnessed 50 markets, presenting work in her booth for half of those. She works mainly in portraiture, creating detailed objects adorned with beaded photographs from the history of her family and the Blackfeet Nation.
Juanita Growing Thunder Fogarty | Booth WA W 417
Juanita Growing Thunder Fogarty creates her one-of-a-kind work with her mother Joyce and daughter Jessa Rae. The three collaborated on the much-acclaimed Give Away Horses which was a major part of the Hearts of Our People: Native Women Artists exhibition that was touring the country for the last few years. For the piece, they used deer hide, glass beads, canvas, thread, leather, moose hide, German silver, porcupine quills, feathers, elk hide, brass bells, ribbon, silk ribbons, and brass thimbles. Growing Thunder Fogarty's work has also been featured in Vogue, and her 2008 creation Horse Mask is currently on loan at the MET.