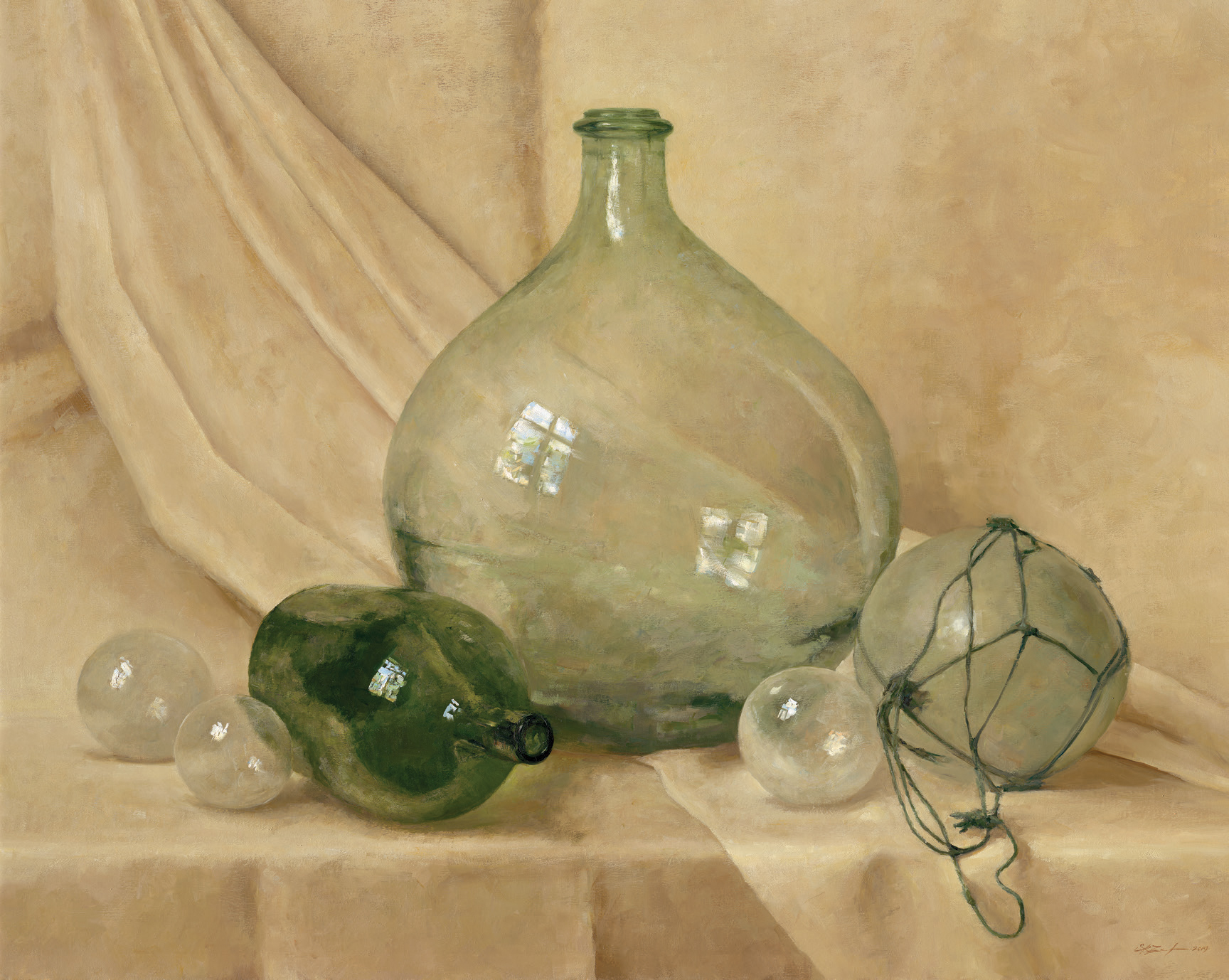 Glass Menagerie | Oil on Linen | 38 x 47 inches | 2019
08 Jul

Artist Spotlight: Sarah Lamb

Sarah Lamb first discovered the appeal of still life paintings more than three decades ago as a teenager in Atlanta, Georgia, while taking three-hour-long group classes two nights a week from local artist Sarah Brown. Early on, Lamb says she realized she "just loved depicting the textures of objects."

Texture remains a vital element in Lamb's still life work. Consider the delicate softness of petals against the plush nap of velvet in Two Magnolias; the sheen of antique bottles in Glass Menagerie; or the crinkliness of a raffia strip binding a sheaf of purple flowers, so lifelike you can practically smell them, in Lavender.

Lamb's uncanny ability to evoke touch and other senses by almost synesthetic extension comes not merely from innate talent but also from prolonged training. Those early lessons transitioned into studio art studies at Brenau University in Gainesville, Georgia. As a graduation present to herself, she attended a workshop taught in Santa Fe, New Mexico, by Jacob Collins, then a young artist forging a reputation as an atelier-style realist painter, who introduced her to oils and their ability to capture color, depth, and, yes, texture. "I'd been afraid of them," Lamb says. "But once I started, it was life-changing."

Lamb went on to study for two summers and a winter with Collins' mentor Ted Seth Jacobs in France's Loire Valley. Then, in the summer of 1996, she moved to New York to become a founding member of the Water Street Atelier in Brooklyn, a group of painters exploring a contemporary approach to Classical Realism under the guidance of Collins.

Two years later, Lamb presented and sold three still lifes in a Water Street group show at Meredith Long & Company in Houston, Texas. She enjoyed two successful solo exhibits over the next two years, first in San Francisco, and then at Long's gallery, where she continued to show until Mr. Long's recent passing. Long — who also represented Lamb's husband, portraitist David Larned — convinced the couple to move to Houston, where they currently live while their 9-year-old daughter, Sadie, is in school. In the summers, the family lives on a farm in Pennsylvania's Brandywine Valley, near the homes and studios of the late great artists N.C. Wyeth and his son Andrew.

Regardless of where she works, still life offers Lamb a compelling mix of pleasures and challenges. "I'm often drawn to objects that look like they might be fun to paint," she says. Occasionally, when that fun involves subjects that can perish, like fresh flowers or the crab and lobster she recently portrayed in Happy and Elizabeth, the fun begins to feel like sport. "I'm squinting; I'm holding my breath; I'm painting as fast as I can because I've only got six hours or so to capture it all before it changes," she says.

Though still life remains her first love, such exertions occasionally lead her to dream of unwinding with a more leisurely subject. "I love painting landscapes. In the summer, I like to get out and do plein air sketches, and then come back into the studio and transfer them to the canvas," she says.

Lamb is represented by Ann Korologos Gallery in Basalt, Colorado, which will host an exhibition of her work August 4 through 16. She is also represented by Grenning Gallery in Sag Harbor, New York.