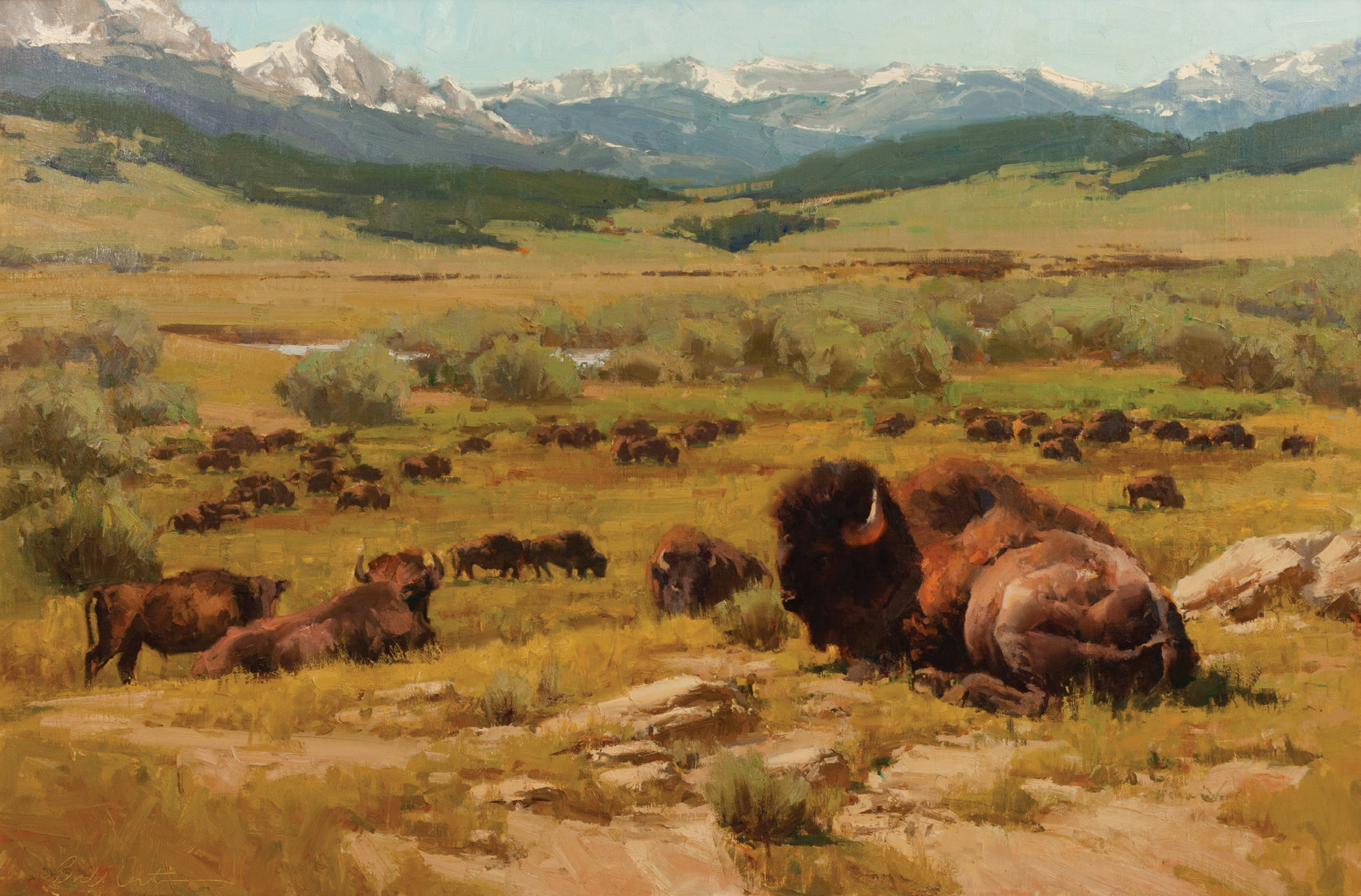 Bill Anton, Montana Monarchs | Oil on Canvas | 40 x 60 inches | Sold: $47,500 | Courtesy of Hindman Auctions
08 Jul

Auction Block: Dream Weavers

Western and Native American art sales so far for 2020, a year slated to be remembered for a global pandemic and economic challenges, prove that you can't keep a good auction down.

Events carried on amid difficulties, with some venues opting to go entirely online and others combining remote platforms with safety-enhanced live spaces. "We were certainly challenged this year, but we were determined to bring this collection of art to market for our consignors and collectors," says Brad Richardson, a Scottsdale Art Auction partner, in a statement. That particular sale set an auction record for Native American artist Allan Houser and saw a raft of Western works sell above expected prices.

Modern Native American art showed strength amid Hindman Auctions' live and online sale in June, with tidy amounts brought in for hand-worked jewelry and other items. It was one of two sales — the other hosted by Bonhams — that saw a painting by the late John Nieto go for much higher than anticipated, underscoring a trend seen by Danica Farnand, Hindman's director of American Indian art. "I love that we continue to see the market embrace modern and contemporary Native artists," she says. "It's remarkable how quickly this has gone from a niche subcategory to some of the most in-demand pieces in the marketplace."

The Hindman sale and Los Angeles Modern Auctions' Modern Art & Design event featured art being sold by two of the nation's leading institutions — the Buffalo Bill Center of the West and the Los Angeles County Museum of Art respectively — to benefit acquisition funds.
Scottsdale Art Auction
June 13, 2020
Total: $10 million-plus
William R. Leigh's painting, Pony Express, galloped into the lead among bestsellers at the Scottsdale Art Auction. This premier sale in Arizona usually occurs in early spring, but due to COVID-19, it was rescheduled. The auction, affiliated with Legacy Gallery in Scottsdale, used the extra time to put procedures into place designed to enhance safety, including the distribution of masks and boxed lunches, as well as creating the recommended distance among attendees.
The painting by Leigh, one of America's great illustrators, is a dramatic depiction of a horseman riding at breakneck speed across moonlit snow beneath a starry Western sky. It brought a handsome $684,450 with fees, prompting a round of applause from an appreciative audience.
Two enchanting paintings by Maynard Dixon, Neolithic Afternoon and Trail Herd, gained the second and fourth top-selling slots, going for $526,500 and $409,500 respectively. And sandwiched in between the Dixon works was a bronze titled The Cheyenne by Frederic Remington, which realized $438,750.
Thundering Hoofs, a dynamic bison-hunting scene by John Clymer, raced to the fifth position, selling for $321,750, while Ernest Blumenschein's Rock of Fire-Morning, Ghost Ranch, a stellar example of the style perfected by Taos Society artists, was the sixth top-selling item at $315,900.
This sale set a new auction record for a work by Allan Houser, with the sculpture Lament achieving $105,300. And the event also brought other surprises, such as the ultimate bid for two of Ed Mell's works spiraling far above predictions. Across the Desert brought $64,350, compared to estimates of $28,000 to $38,000, while the geometric gem, Chihuahua Burro, went for $35,100, or roughly five times its high estimate.
Paintings by contemporary Western masters Logan Maxwell Hagege and Mark Maggiori brought twice as much as anticipated, with Wherever the Wind Might Go and Arizona Wonders fetching $122,850 and $70,200 respectively.
Hindman Auctions' Arts of the American West
June 4–5, 2020
Total: $1.7 million
Hindman Auctions' live and online two-day sale of Western and Native American artworks proved startlingly strong for online bidders tied to four platforms, who ultimately accounted for more than half of the Denver, Colorado-based sale's proceeds.
The June 4 event, Western Paintings & Sculpture, was led by a bronze Henry Shrady buffalo sculpture, which rose to $68,750 with fees, far overreaching pre-sale expectations of $18,000 to $24,000.
Works consigned by the Buffalo Bill Center of the West in Cody, Wyoming, to benefit its acquisition fund were at the heart of the auction of Western items. Martin Grelle's A Warrior's Pride was the star performer of that collection, with the oil featuring a Native American on horseback going for $52,500 with fees, compared to pre-sale estimates ranging from $20,000 to $40,000.
The work by Grelle, a leading figure in the Cowboy Artists of America (CAA), was in good company. Paintings by other CAA talents exceeded pre-sale expectations, including Bill Anton's Montana Monarchs, a landscape made more magical by the presence of buffalo, which sold for $47,500, or more than three times its high estimate.
Good Voice Eagle, a John Nieto portrait worked in the late painter's signature palette and featuring his artful insertions of geometric symbols, realized $23,750, or nearly three times its high estimate, while a beautifully rendered landscape by Louisa McElwain, Last Snow, Chimayo Badlands, brought $21,250 or roughly three times its top estimate.
Two cuff bracelets, which each achieved $20,480, tied for the top-selling slot during the second session, the American Indian Art & Jewelry auction, on June 5. These included a Charles Loloma bracelet with gold, coral, turquoise, and lapis inlay estimated at $10,000, and a Jesse Monongya bracelet with gold and cobblestone inlay which was estimated at $15,000.
Making Their Mark: American Women Artists
May 29, 2020
Carrie Waller's watercolor, Abundance, captured appreciation and the grand prize during American Women Artists' virtual awards ceremony, which is tied to an ongoing show at the Booth Western Art Museum in Cartersville, Georgia. Waller's watercolor of festive lights in and around glass objects received a cash award of $10,000 during the May 29 event.
But the Illinois artist was not alone in being honored. Lisa Gleim garnered the Booth Museum Purchase Award and Western Art & Architecture magazine's award for The Secret Keepers, a striking portrait of a grizzly bear flanked by a trio of ravens in a pastel that shows the artist's skill in both composition and color. The birds form a triangle around the central image of the bear, while the backdrop suggests mountain forests with elevations that are only equaled by sky.
The purchase award amounted to $9,500 for Gleim's piece, and the four other artists whose works were also selected to be added to the Booth's permanent collections included JaNeil Anderson for Right Where I Want To Be, $5,700; Diane Arenberg for her oil Sunset Sunburst, $4,500; Star Liana York for her bronze Buffalo Gals, $5,200; and Claudia Hartley, for her painting Western Homestead, $3,650.
Linda Glover Gooch was the recipient of the Frances Trachok Memorial Award for her 30- by 40-inch oil, Hallelujah! The honor tied to the painting, which shows a monumental cloud formation broken by light and building above grasslands, brought a cash award of $500. And the Award of Excellence went to Cathy Ferrell for her bronze sculpture of a bird in flight, Skimming the Treetops, with prizes that included $250 and merchandise.
The Booth show represents the organization's fifth show in its "25 in 25" campaign that was designed with the mission of seeing 25 museum shows for its members during a 25-year period that began in 2017.
Los Angeles Modern Auctions: Modern Art & Design
May 3–10, 2020
Total: $90,062
An abstract painting by the late Peter Alexander, an artist celebrated for his contributions to a 1960s art movement in California that hinged on light and space, led Los Angeles Modern Auction's (LAMA) online Modern Art & Design sale in May, with the acrylic on board bringing $15,000, or five times its high, pre-sale estimate.
In Combo 32, Alexander, who died in late May, created a work of contrasts: red against blue, fiery activity against cool calm. Although the artist was best known for whimsical works in resin, he was also credited with a fearless use of color to convey emotion, a technique in high relief in Combo 32.
Abstraction No. 25 by Oskar Fischinger easily gained the second top slot during LAMA's sale, with the piece — an experiment in lines and color, creating dimension — expected to bring between $4,000 and $6,000, but happily fetching $11,250.
A pastel and oil on paper by Lita Albuquerque of Santa Monica, California, who has gained international fame for her installations, paintings, and sculptures, and who describes herself as an environmental artist, likewise sold high. Eremiul Series #4 went for $8,750 with fees, or four times its high estimate, to become the third best-selling item at the auction.
An arresting signed print by Carlos Almaraz, City Bridge, sold by the Los Angeles County Museum of Art (LACMA) to benefit future acquisitions, realized $4,375, with the aquatint expected to bring between $1,000 and $1,500. The piece shows Almaraz as a master in depicting movement, which is underscored by the water's undulating splotches of orange and red.
Another print consigned by LACMA, Frank Romero's The Closing of Whittier Boulevard, which depicts stylized figures of lawmen standing behind a flimsy row of barriers, climbed to $3,125, compared to estimates of $400 to $600.
Bonhams' Modern Native American Art
May 1, 2020
Total: $280,800
A tabletop sculpture of a dancing polar bear, crafted in stone and featuring teeth made of bone, was the top-selling item at Bonhams' sale of Modern Native American Art in May. The piece was created by the late Inuit artist Pauta Saila, and it was one of four by Saila that were among the 10 bestsellers.
The bear, captured in a posture emitting joy, went for $25,075, and it was one of 26 works from the collection of Marian and John "Scotty" Scott that were sold to benefit the Inuit Art Foundation in Canada. Another version of a dancing polar bear took the second top slot at the sale, with the stone-and-bone creation bringing $21,325 with fees.
John Nieto's outsized acrylic, Sioux Warrior, far exceeded expectations, with the painting, featuring Nieto's signature color combinations and fluid use of proportion, realizing $18,825, compared to pre-sale estimates ranging from $5,000 to $8,000.
A 14-karat gold ring in the image of a frog also climbed far beyond its predicted price. The piece by Bill Reid of the Haida Nation had been his gift to John Scott, and it went for $12,575, or roughly four times more than its high estimate.
A large, horizontal painting by Navajo artist Tony Abeyta was the fifth top-selling item, with Shield Dancers, a colorful composition that makes more use of the curved line than of angled forms, realizing $11,325 and outdistancing estimates.
Two additional lots in the sale's top sellers achieved hefty prices, including Osuitok Ipeelee's stone sculpture of a figure holding an owl and seal, and a trio of mixed media sculptures by Sheldon Harvey. The lots went for $6,950 apiece, compared to pre-sale estimates of $1,500 to $2,000 for Ipeelee's sculpture and $700 to $1,000 for the works by Harvey.