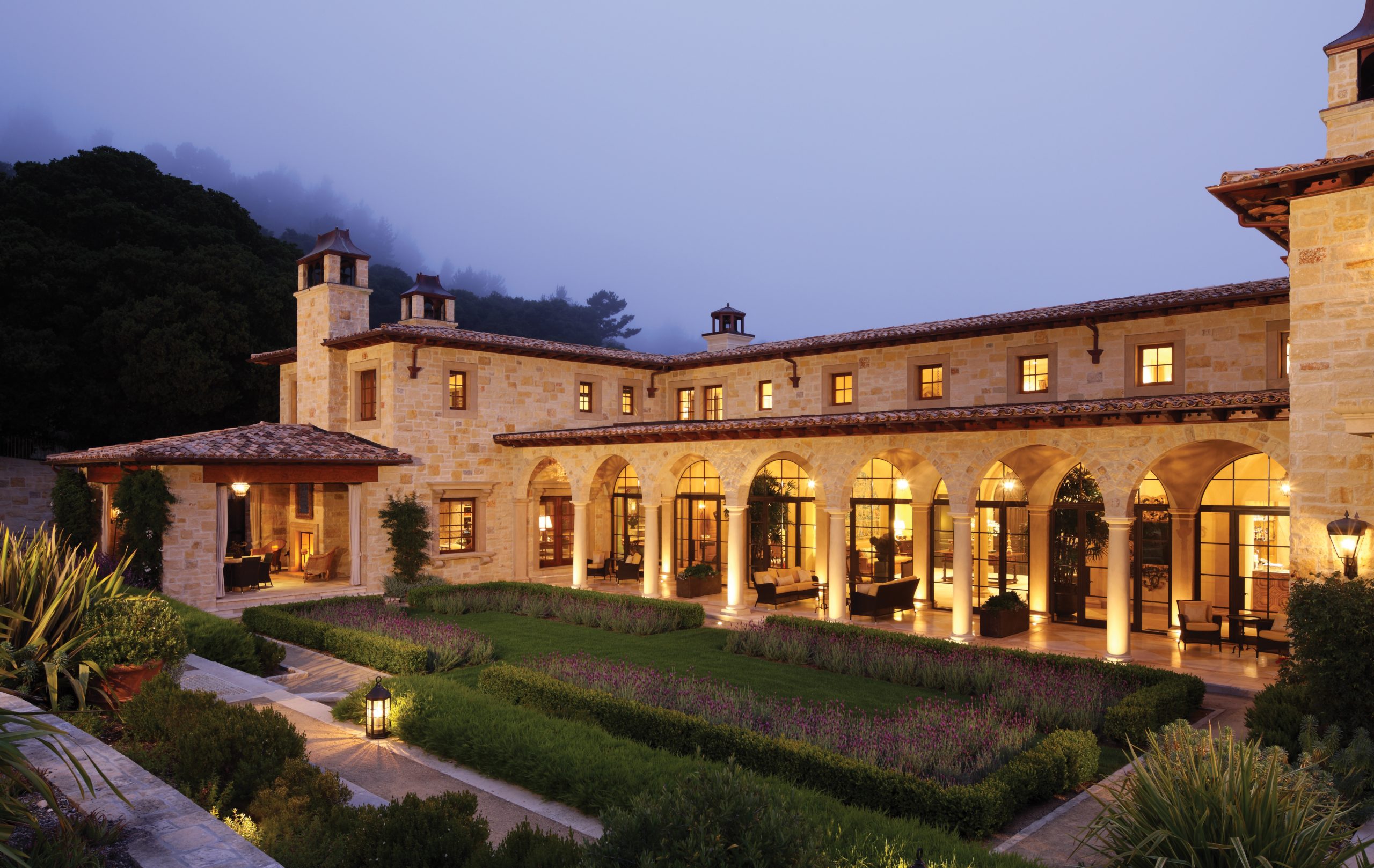 Tucked into the foothills of the coastal Santa Lucia Range near Carmel, California, the estate was inspired by the 15th-century Tuscan home of Lorenzo de' Medici. A column-lined loggia, facing the formally landscaped rear garden, encourages year-round indoor-outdoor living. Off the family room, seen through the windows to the left, a firelit open-air sitting area includes curtains that can be drawn shut when the weather gets too cold.
08 Jul

California Coastal Retreat

Though just inland from the 118-year-old arts community of Carmel-by-the-Sea, California, a gently rolling eight-acre property resembled the fairytale settings one would more likely encounter in the foothills of Tuscany. With mighty oak trees rising against a backdrop of verdant slopes, the environment felt blissfully removed from the world and its cares.

To design a residence that promised Old World serenity, the property owners turned to Erik Evens, principal of Evens Architects, a boutique Los Angeles firm devoted to classic estates. "The architecture of rural Italy," Evens recalls thinking when he first laid eyes on the site, "would look so right in that kind of landscape." As inspiration, both he and his clients thought of the Badia a Coltibuono, a famed 11th-century Benedictine monastery that was extensively expanded in the 15th century by statesman and arts patron Lorenzo de' Medici. "A cloistered destination was definitely part of the imagery for this project," Evens says. "They wanted a house that felt a little bit like a Renaissance retreat."
In the loggia, terrazzo flooring adds a touch of Venetian-style charm and hedge-bordered lavender beds scent the air.
On the wall opposite the foyer staircase, an early 18th-century Belgian tapestry hangs above a sofa upholstered in emerald green velvet. The foyer's principal lighting comes from a pair of 17th-century Italian hand-carved and gold-leafed pendant lamps, originally intended for candles, and now wired for electric bulbs.
With that goal in mind, Evens and the team he and his clients assembled designed and built a 15,000-square-foot house that, though abounding in modern amenities and tailored to a family that warmly welcomes guests, nonetheless feels as if it has grown and evolved in its location over the ages. The structure itself expresses a sense of rich history, from exterior walls clad in limestone and floors of polished terrazzo or reclaimed antique walnut, to interior walls of deeply lustrous Venetian plaster and lofty beamed or vaulted ceilings.
Every aspect of the site underscores that timeless quality, including a walled motor court that greets guests with stately ceremony; a beautiful loggia across the back of the house; a "very clean and elemental" rectangular swimming pool with a pool house that Evens describes as "a little rustic Parthenon;" and terraced natural landscaping that features lavender plants that scent the air. "We felt it was important," says Evens, "to say something thoughtful about the relationship between the house and the land."
Such a massive, meticulously planned undertaking took some 30 months from groundbreaking to completion, says Peter McCoy, owner of McCoy Construction in Los Angeles. He adds that the project drew on vendors "from all over the state and sometimes all over the country, and there were days when we had 80 or 90 people working on the site."
Interior designer Michael Berman, who collaborated with Evens on selecting the "wonderfully rich" materials, finishes, and fittings, met the owners' goal for a home that "reflected their love for fine antiques and beautiful surroundings in a place that also felt very comfortable, somewhere they could kick off their shoes." To this end, Berman artfully combined antiques from their longtime collections, freshly purchased vintage and contemporary pieces, and custom-designed furnishings, all with leisure in mind.
The formal living room, which overlooks the home's entry courtyard, provides a perfect example of such decorative deftness. Defined by soft parchment-colored walls, the space quietly projects an aura of the past through its antique Italian limestone fireplace and reclaimed walnut ceiling beams. Antique furnishings and fine art underscore that impression, including a central table of spool-turned ebonized oak topped with a bronze by French sculptor Auguste Rodin.
Yet, numerous other pieces subtly connect the space to the present day, from a contemporary geometric bronze light fixture overhead to softly upholstered sofas and armchairs to a luxurious hand-knotted wool-and-silk carpet with a geometric pattern from Fort Street Studio in New York City. "I wanted to tie it all together by creating a sense of lightness and contemporary patterning on the floor, against which each antique stands out individually," explains Berman. "We mixed and married together a lot of different periods, which makes everything original and interesting. I love that yin-and-yang balance, and my clients really responded to it."
With a beamed ceiling, oak floors, and soft green walls, the family room encourages ease with its oversized linen sofas and chairs.
In the master bedroom, the head of the walnut Biedermeier-style sleigh bed is set into a niche lined with 30 antique mirrored glass panels. Over the fireplace hangs an antique 18th-century Italian convex mirror framed in a gold-leafed wooden starburst. The armchair is by Rose Tarlow.
Such harmonies extend outdoors as well. Vintage French metal schoolhouse chairs surround the table on a pea gravel dining patio complete with a gas grill and wood-fired pizza oven. The spacious loggia is permanently furnished with substantial yet casual all-weather furniture. Off the family room, a cozy verandah with an antique mirror above its fireplace includes gas-fueled lanterns that flicker romantically and draperies that can be drawn shut when evenings turn breezy and cool. "Creating those spaces," says architect Evens, "was just as important as the interiors."
Some years on, adds Berman, the house and its surroundings "have matured beautifully. It all still feels as fresh as it did right after completion, and yet it has also developed even more of a patina."
That meets the ultimate goal for the project, expressed by Evens: "This is decidedly a California house, not a museum piece or a synthetic re-creation of something old. We've used the language of rural Southern European architecture to speak to how a family would live on this property on the Central Coast of California in the modern day."