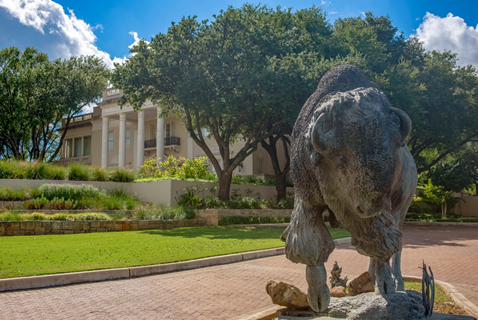 02 Nov

BONHAMS TO OFFER THE L.D. "BRINK" BRINKMAN COLLECTION

FEBRUARY 8, 2019 AT BONHAMS LOS ANGELES
One of the Most Significant Private Collections of Western American Art to Appear at Auction
National Traveling Exhibition Starts November 15 in New York
Over 400 Works to be Sold Both Live and Online
Los Angeles – Bonhams announces it has been entrusted with the sale of The L.D. "Brink" Brinkman Collection, a renowned entrepreneur, philanthropist and art patron of Kerrville, Texas. His collection of over 400 items was assembled over a lifetime, often directly from the artists' studios, and is recognized as one of the most significant private collections of Western Art. He acquired outstanding examples of this genre by artists such as Ernest Martin Hennings, Howard Terpning, and Joe Beeler in media ranging from oils to bronze. To celebrate this exceptional collection, Bonhams is touring highlights across the country, beginning November 15 in New York City. The exhibition will travel to Dallas, Texas and Scottsdale, Arizona leading up to the auction on February 8, 2019 in Los Angeles.
About L.D. "Brink" Brinkman (1929-2015)
Born in 1929, Lloyd Donald "Brink" Brinkman was a larger than life personality beloved by his family, friends, colleagues and staff. He grew up in Mississippi and went on to become a renowned entrepreneur, cattleman, philanthropist and art patron. He adopted Texas as his home and embraced all things Western.
Mr. Brinkman attended the Pearl River Community College in Poplarville, Mississippi on a scholarship arranged by his high school football coach Dobie Holden (Mississippi Sports Hall of Fame), served his country in the U.S. Army and completed his education at the University of Southern Mississippi in Hattiesburg, Mississippi with a BS in marketing.
Mr. Brinkman was tremendously successful in all of his multiple business ventures including the L.D. Brinkman Company, which he led to become the largest floor-covering distributor in the U.S., and Mr. Gatti's Pizza, which he grew to over 350 locations. He became the preeminent breeder of Brangus cattle, and was the first to syndicate a bull and have a million-dollar bull sale. His ranch was recognized internationally for its innovative marketing, genetics and cow family lines.
He began collecting art in the 1960's and was an early patron of G. Harvey. He developed lasting friendships with many of the artists he collected, counting Joe Beeler, Ken Carlson, Douglas Van Howd, and Olaf Wieghorst, among others, as friends. He was an honorary member of the Cowboy Artists of America and was instrumental in providing the Cowboy Artists of America (CAA) with a facility in Kerrville in the 1980s. Mr. Brinkman served on the board of the National Cowboy Hall of Fame & Western Heritage Museum in Oklahoma City for many years.
Highlights of the Collection
Leading the sale is Coffee Coolers Meet the Hostiles by Howard Terpning (born 1927), a painting which exemplifies the conflict of Westward expansion through a dramatic encounter of Sioux tribesmen with opposing ways of life (estimate: $600,000-800,000). Additional highlights include The Taos Twins by Ernest Martin Hennings (1886-1956), oil on canvas (estimate: $500,000-700,000) and Mount St. Helens by Albert Bierstadt (1830-1902), oil on canvas (estimate: $500,000-700,000).
Further details of The L.D. "Brink" Brinkman Collection will be announced in November 2018.
Tour Dates and Locations:
New York, New York: November 15-19, 2018, Bonhams New York
Dallas, Texas: January 2019
Scottsdale, Arizona: January 2019
Los Angeles, California: February 2-8, 2019 exhibition, Bonhams Los Angeles