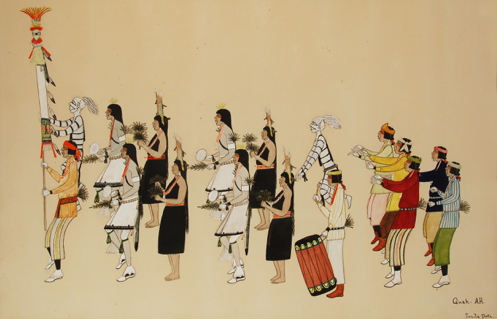 04 Jun

Echoes of Influence: Datus Myers and the Pueblo Painters | July 27

Gerald Peters Gallery

and

Adobe Gallery

 are pleased to announce the mid-summer exhibition 

Echoes of Influence: Datus Myers and the Pueblo Painters

.

Datus Ensign Myers [1879-1960] was born and raised in Jefferson, Oregon. His interest in the arts would take him first to the Chouinard Institute in Los Angeles, California, and then to the prestigious Art Institute of Chicago.

Myers' time in Chicago would prove successful. He joined the Chicago Society of Artists, completed a mural at the Linné Elementary School and won a commission to produce posters for Chicago Rapid Transit, but it would be Santa Fe that ultimately captured his attention. Like so many artists of the time, Myers first arrived to Santa Fe on a painting trip in 1923. After two consecutive summers in the city, he would make Santa Fe his permanent residence in 1925. Joining the artist community, Myers moved into a home on Camino del Monte Sol, just up the street from the historic Canyon Road. Among his neighbors were nationally-known artists Will Shuster and Frank Applegate.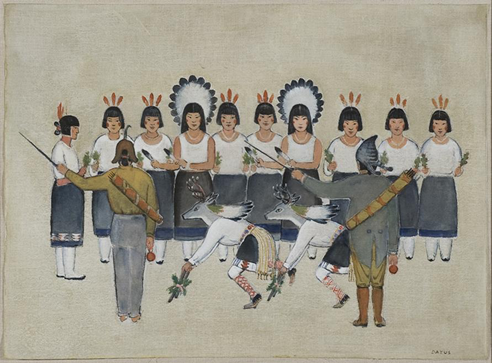 In the 1930s, Myers was appointed Field Coordinator of the Indian Division of the New Deal's Public Works of Art Program. His primary responsibility was focused on visiting the local Pueblos in order to recruit Native artists to the program. Many of the Native artists Myers worked with would influence his own style and subject matter.
In 1932, El Palacio Magazine (Vol. XXXIII) would remark on the impact of the Pueblo Painters' work on Myers's own:
Myers' Eagle Dance shows the influence of his study of Japanese, Egyptian and Indian art, as well as his research into the essence of design and its relationship to perspective and the third dimension.
The exhibition will present approximately 12 works, six from Myers and six from a selection of Pueblo Painters he worked with during his years with the PWA. This will allow the viewer to see through both stylistic and compositional choices, and Myers' enthusiasm and reverence for the Native artists.
Gerald Peters Gallery in Santa Fe, New Mexico will host an opening reception on 
Friday, July 27
th
 from 
5 to 7 p.m.
IMAGE CREDIT:
Images from top: Vigil Peña (1893-1949), San Ildefonso Corn Dance Celebration, opaque watercolor on paper, 13 5/8 x 21 ½ inches. © 2018, courtesy Abobe Gallery, Santa Fe.
Datus E. Myers (1879-1960), Deer Dance, c. 1930s, gouache on fabric, 13 ¼ x 18 ¼ inches. © 2018 courtesy Gerald Peters Gallery, Santa Fe.