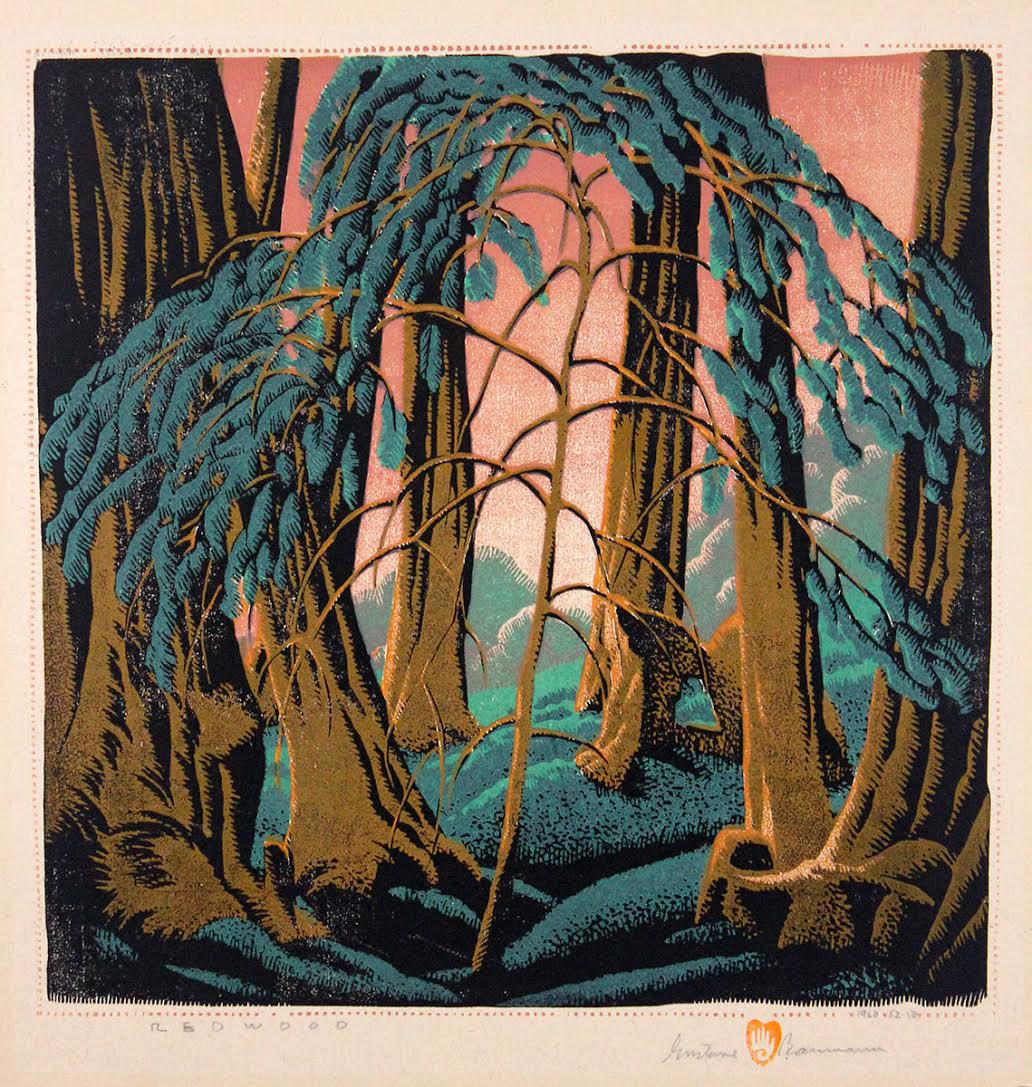 31 Mar

Gustave Baumann in California Runs Through August 6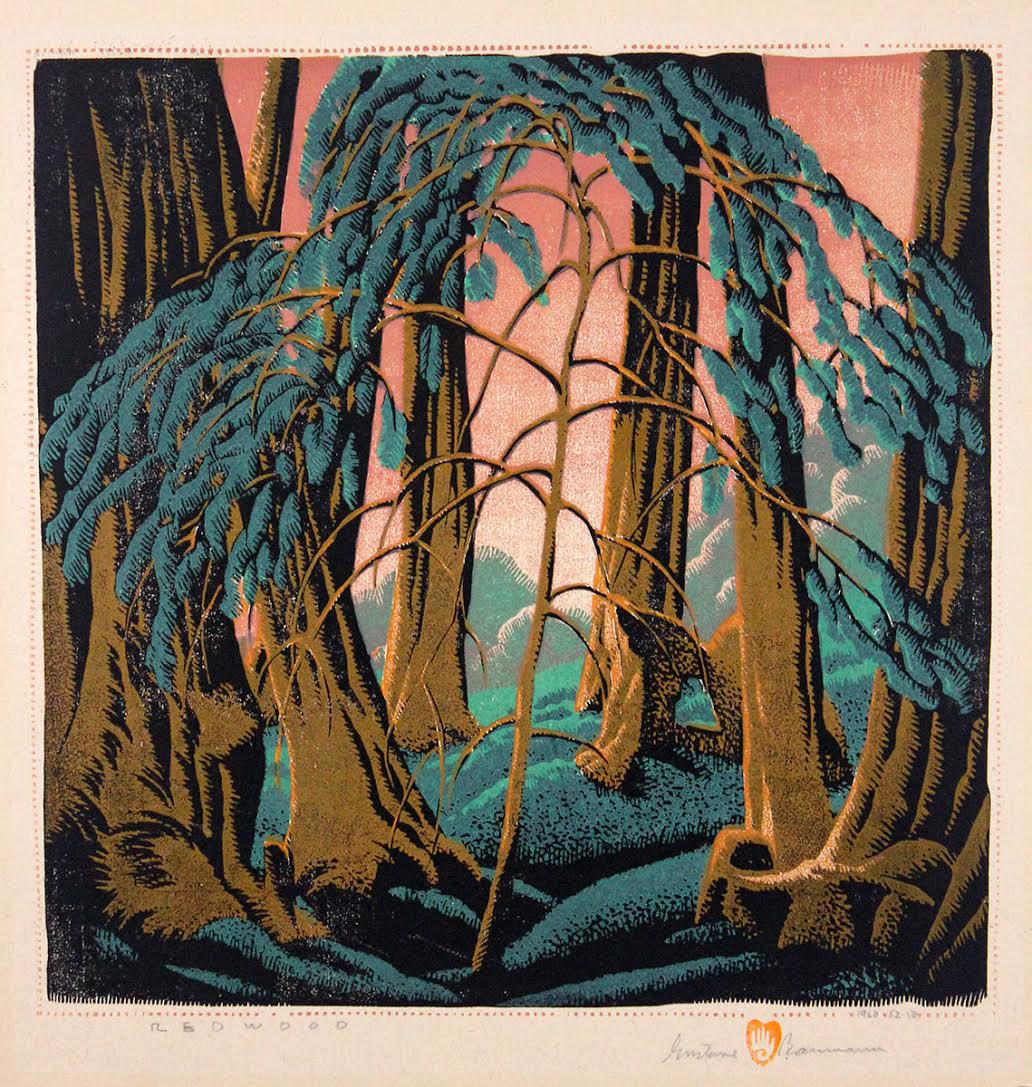 The Pasadena Museum of California Art (PMCA) is proud to present Gustave Baumann in California. The first focused investigation of Gustave Baumann's (1881-1971) influential presence in California, the exhibition emphasizes the artist's affinity for the natural landscape of the United States as well as the intricate elements of his unique approach to printmaking. Trained in the German tradition of woodblock printing, Baumann adapted his skills to American subjects and became a pioneer in the development of color woodcuts in the U.S. An expressive carver and exceptional colorist, Baumann employed dramatic shifts of light, color, and pattern. The exhibition features approximately 35 works, including graphite, tempera, and gouache studies; woodcuts; and progressive proofs as well as Baumann's chosen printing press, the Midget Reliance. Hung alongside finished prints, the preparatory works provide an illuminating encounter with each stage of the printmaking process.
Born in Germany, Baumann immigrated to the United States in 1891. He lived and studied in Chicago and Munich before traveling throughout America, finally settling in Santa Fe, New Mexico, in 1918. Influenced by early exposure to commercial engraving, night classes at the Art Institute of Chicago, and a year spent in Munich where he learned the European tradition of color relief printing as well as inspired by his camaraderie with other artists and his travels to rural and picturesque locales in the United States, Baumann developed his own woodcut style. After careful study of his surroundings and often, immersion in nature, he created colorful gouache sketches, which he meticulously carved into a series of woodblocks. Unlike most of his contemporaries who followed the Japanese style of hand rubbing, Baumann ran his blocks through a press, often without the black outline of a key block. He then selected series of vibrant color palettes inspired by the places he observed to make his landscape masterpieces come to life.
Although the artist is best known for his bucolic scenes of the Midwest and his resplendent imagery of the American Southwest, he made twelve powerful color woodcuts depicting the natural beauty of the Golden State. Inspired by seven automobile trips to California between 1925 and 1938 and long drives up the scenic coast from San Diego to San Francisco, the works portray California's coastline; its redwood, sequoia, and Torrey pine forests; and its Spanish-influenced architecture.
The exhibition brings Baumann's California works together with a selection of his formative color woodcuts of rural Brown County, Indiana—five from his Hills o' Brown series and three of his largest color prints. It was during the seven years (1910-1918) spent in Brown County that the artist first devoted himself as a color woodblock artist, and in 1915, he exhibited the aforementioned Indiana woodcuts at the Panama-Pacific International Exposition (PPIE) in San Francisco, where he won a gold medal for printmaking, which will also be on display. Fellow printmakers Frances Gearhart and William S. Rice encountered the Indiana prints at the PPIE, and a print by each of the artists will also be on view, demonstrating Baumann's influence on California artists and importance to the color woodcut revival.
On view in the PMCA's South Gallery, Gustave Baumann in California reveals California's and America's vibrant colors and scenic vistas through the eyes of a master artist. The exhibition places Baumann's completed works in context with his studies, woodblocks, and progressive prints, highlighting his artistic process and revealing the hand and heart of this consummate craftsman.
Gustave Baumann in California is organized by the Pasadena Museum of California Art, curated by Susan Futterman, and accompanied by a brochure. The exhibition is supported by the PMCA Board of Directors, the PMCA Ambassador Circle, and lead supporter the Ann Baumann Trust. Additional funding is provided by Corinna Cotsen and Lee Rosenbaum, Erica and Vin Di Bona, Joanne and Bruce Korner, Hannah and Russ Kully, Jonas Siegel, Lauren Siegel and Arnold Siegel, Betsy Tyler, Reba White Williams, The Annex Galleries, and Westmount Asset Management. Support for children's educational programming is provided by a generous grant from the John and Beverly Stauffer Foundation.