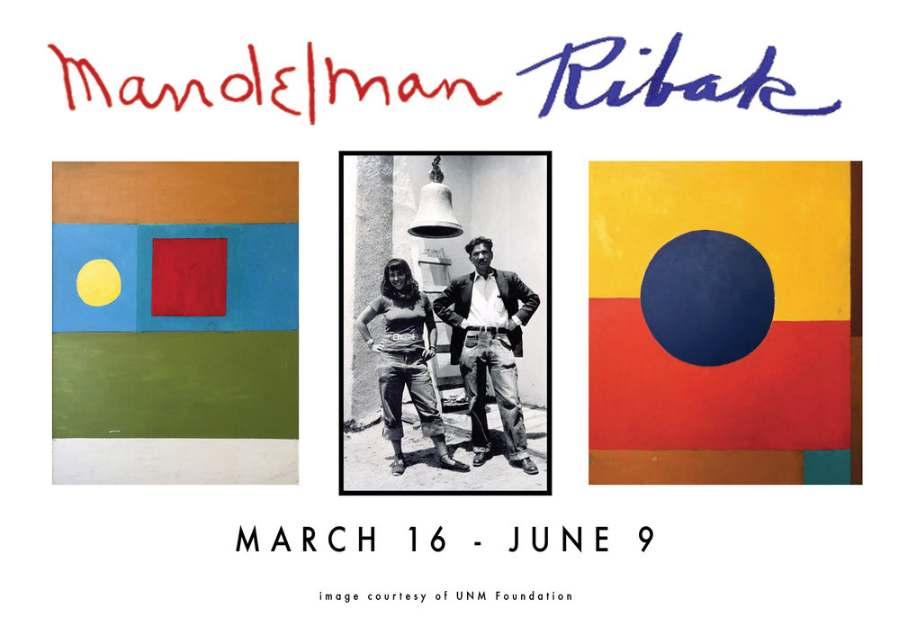 22 Mar

Mandelman & Ribak Exhibition at Modern West Fine Art

Modern West Fine Art, partnering with Rosenberg & Co. Gallery in New York City and the University New Mexico Foundation, is hosting their first exhibition featuring works by Modernists artists, highlighting works by Beatrice Mandelman and Louis Ribak.

The two artists met in New York at a dance sponsored by the Artists Union, and then married in 1942 and moved from New York City to Taos, New Mexico, in 1944. The move West inspired a new palette and direction for the artists, not only in their surroundings, but also in their relationships with other esteemed artists. Taos matured into one of the epicenters for Modern artists including, Georgia Okeefe, Agnes Martin, Richard Diebenkorn, Mark Rothko and Clyfford Still. The West became a percolating center for artists and home to Bea and Louis where they founded their own school in 1947, the Taos Valley Art School. This exhibition consists of works by each artist emphasizing how they worked in cohesion, while establishing their own distinct voices. Their legacy & influence on each other and on other artists continues to impact the contemporary artists we feature in the gallery today. We are honored and thrilled to be sharing this important exhibition, and invite you to view the work and explore how their story has become our story. 

The exhibition will be on display from March 16 through June 10. 

Beatrice Mandelman

Beatrice Mandelman known as Bea, was an American abstract artist associated with the group known as the Taos Moderns. She was born in Newark, New Jersey and studied art in New York City and was employed by the Works Progress Administration Federal Arts Project. Mandelman arrived in Taos with her artists husband Louis Ribak in 1944 at the age of 32. Mandelman's oeuvre consisted mainly of paintings, prints, and collages. Much of her work was highly abstract, including her representational pieces. Through the 1940's her paintings feature richly textured surfaces and a subtly modulated, often subdued color palette geometric forms, flatter surfaces and more crisply defined forms. One critic wrote that the twin poles of her were Cubism and Expressionism. Her work is included in many major public collections, and the vast majority of her work is in the Mandelman Ribak Collection, at the University New Mexico Foundation.

Louis Ribak

Louis Ribak was an American social realist and abstract painter who was a member of the Taos Moderns. Born in Lithuania, Ribak immigrated to New York City at the age of ten with his family. He studied at the Pennsylvania Academy of Fine Arts for a year in 1922, and the Art Students League of New York in 1923. In 1929, he became a founding member of the John Reed Club, which he organized to support leftist artists and writers and was closely associated with the Marxists magazine The New Masses. In the 1930s he worked as a muralist for the Works Progress Administration. In 1933, he assisted Diego Rivera on his mural Man at the Crossroads, commissioned for Rockefeller Center and destroyed before completion. Ribak met fellow artist Beatrice Mandelman in New York at a dance sponsored by the Artists Union, and the two married in 1942. He served in the military for two years during the Second World War and was discharged because of asthma. Seeking a healthier climate, Ribak and Mandelman moved to Taos, New Mexico in 1944. At this point, Ribak shifted to a more abstract style and brighter color. In 1947 he and Mandelman founded the Taos Valley Art School, and Ribak was its director and instructor until it closed in 1955. Ribak died in Taos in 1979. His work is in numerous private and public collections.

The Mandelman-Ribak Foundation was established to preserve the legacy of Ribak and Mandleman; among other activities, it catalogued a half-century of their work held in the Mandelman-Ribak Collection. In 2014, the collection and associated personal papers were donated to the University of New Mexico.

About Modern West Fine Art

Modern West Fine Art is a gallery created by Diane Stewart to support established and emerging contemporary artists whose works offer imaginative interpretations of the west. The artists represented work in a variety of mediums and offer unique points of view. The gallery aspires to support the local community through informative events, allowing the community to gather in the space to express themselves and experience western art with a contemporary influence.