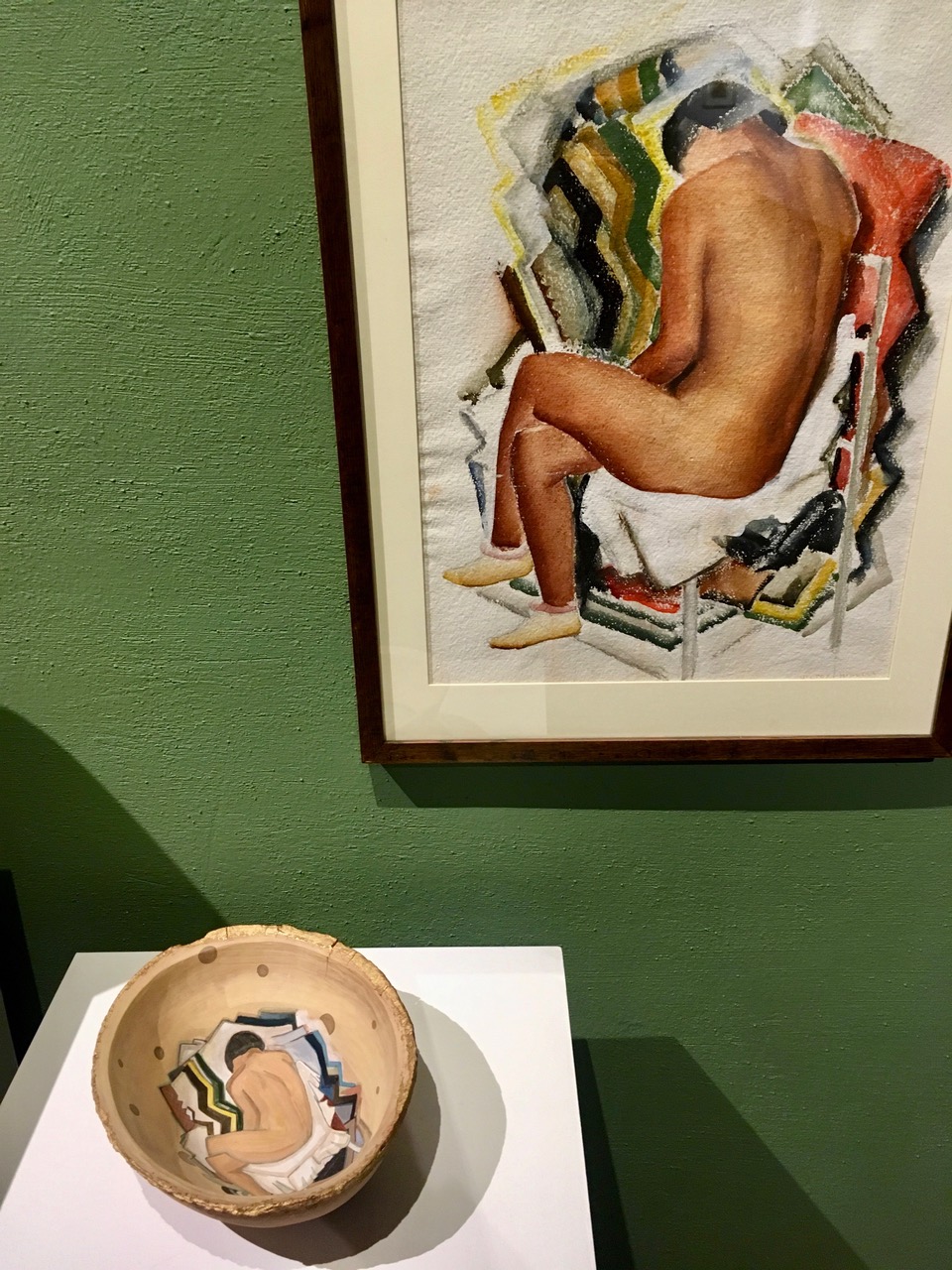 08 Jul

Studio 238 at The Harwood Museum of Art Presents Susan Folwell: Through the Looking Glass
The first instance of Taos Society of Artists' paintings curated by a renowned Native American artist whose featured sculptures invoke critical dialogue about Native American representation.
The Harwood Museum of Art presents the work of Santa Clara Pueblo artist Susan Folwell (Blue Mountain) in Susan Folwell: Through the Looking Glass, from July 5, 2019 to January 5, 2020. The artist's narrative-driven ceramics dynamically respond to her own curated selection of Taos Society of Artists' works on view in this exhibition. 
Folwell has studied the Taos Society of Artists' paintings for the past three years. This catalyst for her ceramic art practice has coincided with her and her husband's relocation to Taos, a vibrant area famed since the 1910s for its artists, Native community, and breathtaking light. 
The move spurred Folwell's fascination with the sheer beauty of the Taos Society of Artists' compositions that often depicted community members—including the Taos Pueblo, Hispano, and Anglo cultures in New Mexico. In this exhibition, the artist's ceramics function as both pairings and responses to works by E. Irving Couse, W. Herbert Dunton, Victor Higgins, and E. Martin Hennings, as well as other members of the 12-artist group whose paintings offer as much relevance today as they did in their own decade.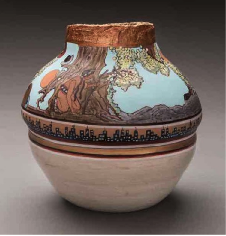 For Folwell, this series fuses her admiration of these painters' processes with a contemporary edge of levity. 
In Through the Looking Glass, Folwell offers audiences an opportunity to consider how narrative sequences painted on Pueblo pottery reflect a new vision of Taos Society of Artists' portraits in a 21st century context. In turn, she calls attention to the ways that Couse, Dunton, and their fellow painters humanized Native American peoples in their portraits, during a time when Indians were mythologized and regarded as dispensable. 
This powerful combination opens a space for further conversation of both Folwell's narrative vessels and these early 20th century paintings. 
In one work, Folwell embeds a triple play into a representational scene painted on a Santa Clara Pueblo clay vessel—her standard medium and "canvas." Here, she pays homage to ceramist peers Diego Romero (Cochiti Pueblo) and Rose Simpson (Santa Clara Pueblo descent) through depictions of their artworks. This tactic bridges the past and present while paralleling the Taos Society of Artists' practice of painting their fellow community members.        
Folwell was familiar with institutional collections in the area, as her husband, Davison Packard Koenig, is the executive director and curator of The Couse Sharp Historic Site. Folwell selected the featured Taos Society of Artists' paintings from the Harwood Museum of Art, the New Mexico Museum of Art, the Taos Art Museum, and the Couse-Sharp Historic Site. 
 Folwell's works will be installed in the Dorothy & Jack Brandenburg Gallery, home to the Harwood's collection of Taos Society of Artists. A new conversation of these classic works with Folwell's contemporary works will be on display, with the gallery being reinstalled for this special summer exhibition.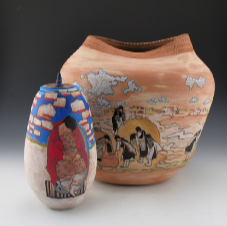 Born and raised in Santa Clara Pueblo, Folwell grew up in a pottery making family. Her grandmother is Rose Naranjo, her mother is Jody Folwell, and her sister is Polly Rose Folwell. 
The artist studied design and photography at the Center of Creative Studies in Detroit, MI. She is known for addressing contemporary issues through visual representations that bridge history, pop culture, and humor. Folwell creates her clay sculptures using customary Santa Clara Pueblo firing methods and local clays and slips. 
"The juxtaposition of Folwell's works with significant Taos Society of Artists' paintings draws attention to the stories being told in the paintings and on the pottery, thus better understanding who is doing the storytelling," explains J. Matthew Thomas, Curator of Exhibitions. 
A "Meet the Artist" event will be held on Friday, July 5, 2019, from 4 – 6pm. This event is free and open to the public.  For more information, contact the Harwood Museum of Art at 575.758.9826 x 109 or go to The Harwood Museum