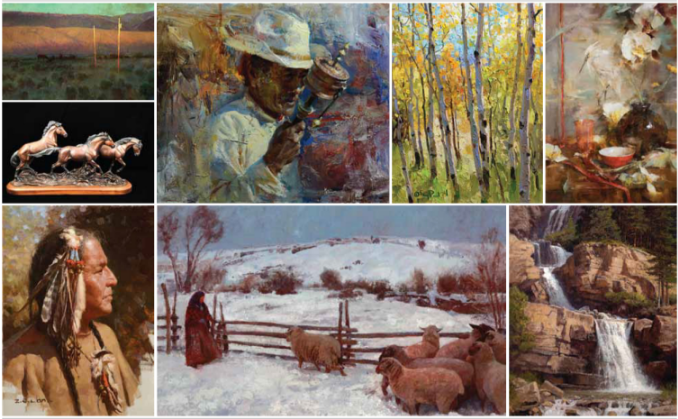 19 Aug

The Brinton Museum Announces Bighorn Rendezvous Art Show & Sale Awards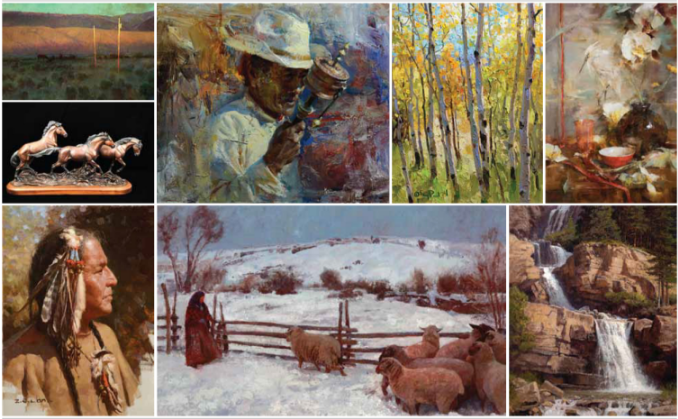 This past weekend The Brinton Museum hosted its first Bighorn Rendezvous Art Show & Sale on the Quarter Circle A Ranch, featuring 46 artists, 168 works for sale, plus a quick draw and auction. The Northwest Rendezvous Group of Artists, along with nine guest artists, came from ten states, and hundreds of collectors attended, including the Northwest Rendezvous Group of Artist's Buckle Club members. Works not yet purchased remain on exhibit at The Brinton Museum until sold, or September 5, whichever comes first. Interested collectors may contact The Brinton Museum to learn more. Works remain on exhibit at The Brinton Museum until September 5
"The show was a great success," said Ken Schuster, director and chief curator of The Brinton Museum. "We were delighted by the artists and the high caliber of their works." Eight artists received awards from the Northwest Rendezvous Group of Artists, and The Brinton Museum in partnership with Fine Arts Connoisseur awarded a Best of Show:
Fine Arts Connoisseur Best of Show
Huihan Liu, (Kensington, CA), oil on linen, 16×20, Night Walk
Northwest Rendezvous Presidents Awards
Painting: Carolyn Anderson, (Havre, MT), oil, 16×20, Summer Sun
Sculpture: Rosetta, (Loveland, CO), bronze, 11x19x7.5, Breaking Trail
Northwest Rendezvous Best of Show Award
Josh Elliot, (Helena, MT), oil, 32×35, Ten Sleep Clapping
Josh Elliot, oil, 20×24, Crazy Mountain Spring
Josh Elliot, oil, 12×12, High Above the Colorado
Josh Elliot, oil, 9×12, Missouri River Matinee
Founder's Awards of Merit
George Bumann, (Yellowstone Park, WY), bronze, 22×8.5×19.5, Vigilance
Matt Smith, (Scottsdale, AZ), oil, 20×24, String Lake
Robert Lemler, (Phoenix, AZ ), oil on canvas, 30×40, Sunset on the Kenai Mountains
Jim Morgan, (Mendon, UT ), oil on linen, 18×24, Rabbit Brush
Ralph Oberg, (Montrose, CO), oil on mounted linen, 30×24, Tangle Creek Falls
Joe Halko Heritage Award
Barry Eisenach, (Arvada, CO ), oil, 20×30, The Opportunist
About The Brinton Museum
Founded in 1960, The Brinton Museum is a fine arts institution devoted to preserving the art and history of the West. Located on the historic Quarter Circle A Ranch in the foothills of the majestic Bighorn Mountains, it features 19th, 20th and 21st century American and Indian Art in a setting that is art unto itself. The new Forrest E. Mars, Jr. Building opened in June 2015, propelling The Brinton to its highest-ever annual visitation when the museum welcomed more guests from all 50 states and 30 different countries. Regular admission to The Brinton Museum is $10 for adults, $8 for students and seniors, and free for American Indians with tribal ID; active military, veterans and their families with military ID; and children 12 and under. The Brinton Museum offers individual, family and corporate memberships, featuring a number of benefits, including free reciprocal admission to hundreds of museums throughout the U.S. Museum hours are 9:30-5 p.m., 7 days a week. The Brinton Museum is located at 239 Brinton Rd., in Big Horn, WY.