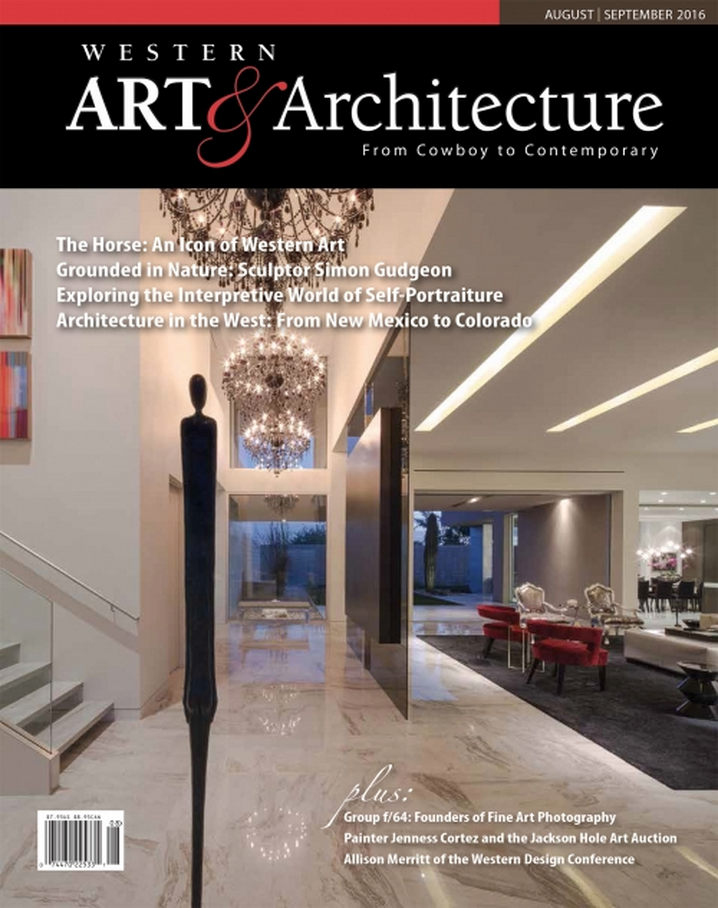 18 Jul

Writing the West: Readers' Letters from the August | September 2016 Issue

In the June/July issue of Western Art & Architecture, Editor Christine Rogel posed a series of questions. After being inspired by a friend's story about art as an experience, she ask: "What painting, sculpture or structure has left you dizzied? What artist asks you to consider an unknown perspective? What fleck of paint opened your eyes to an entire genre of creative expression?"

Here are the complete letters from readers in response to these questions, presented in their extended versions from those which ran in print.

We would love to know your take on these questions and perspectives. Write us to share your own experience. Please email christine@westernartandarchitecture.com, or address letters to:

Christine M. Rogel, Editor in Chief, Western Art & Architecture
Post Office Box 1069, Bozeman, MT 59771.
---
Artful Experiences: World of Possibility
You posed a question about art experiences in your beautiful magazine. I have two stories and will share them both.
My relationship with drawing dates to my earliest memories; if I was watching TV, I'd be on my belly, sketching on whatever paper I had available. It was something I always did, and I loved the process. I lived in Evanston, Illinois, and an early class trip was to the Art Institute of Chicago. They were having an Andrew Wyeth exhibition that included a variety of his work: egg tempera, watercolor and the work that really resonated with me, his drawings! I was only in third or fourth grade, but I looked at this work and realized THIS is where I needed to go. The depth of his drawings left an indelible mark that has stayed with me for all of these decades since.
My second story is about the different light in the Southwest, which I was also exposed to at the Art Institute as a child. Though we'd cover the entirety of the museum, there was one painting that I always had to see, a landscape by Walter Ufer. I did not know who the artist was, but I could see that his work was different. The intensity of the light, the vibrancy of the shadow and reflecting light opened a world of possibility and understanding to a little kid who would otherwise not have questioned the provincial light he experienced daily in the Midwest. As the years passed, I've been blessed with the opportunity to witness the beauty of light and atmosphere around the world, but I'm constantly reminded of how this one painting helped open my eyes to a world of possibility.
Best to you and best of luck with your beautiful magazine,
William A. Suys Jr.
Kettle Moraine, WI
---
Artful Experiences: Art is Individual
It's not possible to stop learning. The choice is what we absorb and from whom — teachers, mentors, collaborators, family. But more importantly, less we forget, art is individual. Always performed, always viewed, always interpreted by yourself.
At this moment, I'm in my studio in beautiful downtown Bozeman, surrounded by more than 200 of my paintings, most of which have never been seen by the masses. I'm in total disbelief that what's before me was created by my hands and how I reached this point.
I fixate on one painting. So much chaos without content. I realize this painting is my life; abstractions from a learned place and time. My thoughts move like the painting before me.
Suddenly, I'm at the Tate Gallery in London, looking at Around The Blue, the 1937 abstract by Sam Francis. I wonder what he was thinking. How did he foresee an ending?
I think of my travels on the East Coast rail system — from Connecticut through New York, Washington to Virginia, on to Baltimore. I'd get off at different stops and walk the rail. The most incredible graffiti hid in the bleakest buildings. Years later, I realized this was the same time that Jean-Michel Basquiat was painting. Immeasurable inspiration.
The Charles Bridge spans the Vltava River in Prague, Czech Republic. I spent hours looking at art, listening to music, watching people, on this bridge. At sunrise, the river was shrouded in fog, nothing there except swans. It put me in a place I believe few have experienced.
It's important that you take the time to remember and thank the people around you — past, present and future — but never forget as you grow to share what is important to the art itself.
There's so much to learn, so much to absorb. This is our responsibility!
Sincerely,
Luke Philip Avery, 4letter
Bozeman, MT
---
Artful Experiences: From Music to Fine Art
I took piano lessons since I was five. In high school, my piano teacher told me that I was ultra dramatic in my interpretations of Schumann's and Rachmaninoff's music. I felt embarrassed because the music was not my own but from a master composer, and I had played it as I felt it should be played.
It was when I was asked to represent Gallup High School at a service group luncheon that I thought I wanted to do more than play someone else's work. I was bored with the process of repetition in memorizing selections, despite receiving my one and only ovation that demanded an encore from this service group. With cold sweaty hands after the performance, I decided I needed to try a different medium.
My father was an engineer on the Santa Fe Railroad. Once, he came home after a run and witnessed me playing the piano with my toes. I can still hear him saying, "All that money I have spent on your piano lessons, and you are using your feet to play the piano?!" He turned his head and chuckled.
That statement, and my own boredom, changed my artistic direction. When I was 15, I took an art class from a very interesting, affective and creative art teacher, who asked me to paint an old barn on a hillside. I remember using a photograph to aid in the depiction of this barn. I had no idea that I could accomplish an oil painting that I would actually be happy looking at. My father insisted on hanging the painting in our home above the damnable piano. He then said, "Sounds better, doesn't it?"
Ironically, today I paint with music playing in the background in my studio. And that was 57 years ago!
Jacquelyn Cattaneo
Gallup, NM
---
Artful Experiences: Studied Practice
From a very young age, I knew I wanted to be an artist. And I still want to be an artist. The problem is, I cannot shake the idea that being artistic is an inherent ability. Vincent van Gogh was born a painter, right?
One of the first times I realized what it takes — the discipline, the observation, the uncommon drive to create — was while viewing one of Matthew Barney's Cremaster films. At first, I was uncomfortable. With help from my college professor showing the film, I started to understand some of the symbolism and imagery. My repulsion turned to curiosity. This professor had worked on Barney's "Cremaster 3" set, and he was able to describe the process of recreating the Chrysler Building large enough to hold a choreographed dance of cars. I saw behind the curtain and learned that the masterpiece didn't fall from the sky. I was seeing art for the first time, but more importantly, as an aspiring artist, I was seeing the practice of art.
Addi Jadin
Bozeman, Montana
---
Kind Sentiments
Thank you for the loveliest magazine on the market. It is a joy to read and a delight to share in the extraordinary homes and ranches that are featured. As an artist, I look forward to meeting new artists through the fine reporting and writing every two months. Keep up the great work.
Dorothy Hook
Brockport, NY and Alaska
---
Western Mythology
I'm just caught up on work from the show and having read your Editor's Note in the April | May issue, I want to comment on it.
The myths and legends of the west, all the different realities of the west, have been a large conversation for me in working with abstract artists as well as "western artists." It's only now that I see these conversations surfacing in places beyond the dinner table, the bar or art openings. From a straight out classic textbook definition of Western art, to critical and sometimes controversial points of view, I think the best path is to cultivate the idea of the West as it best suits our times — through conservation and environmentalism.
I don't think it's just me. I've spoken to a number of collectors interested in the artist's use of Native American symbols as greater concepts of social truths, myths and legends of the West, as well as landscapes being symbolic of nature, versus nature as symbols of investment.
Thanks for writing about the diversity of the West.
Sincerely,
Chaucer Silverson
Bozeman, MT