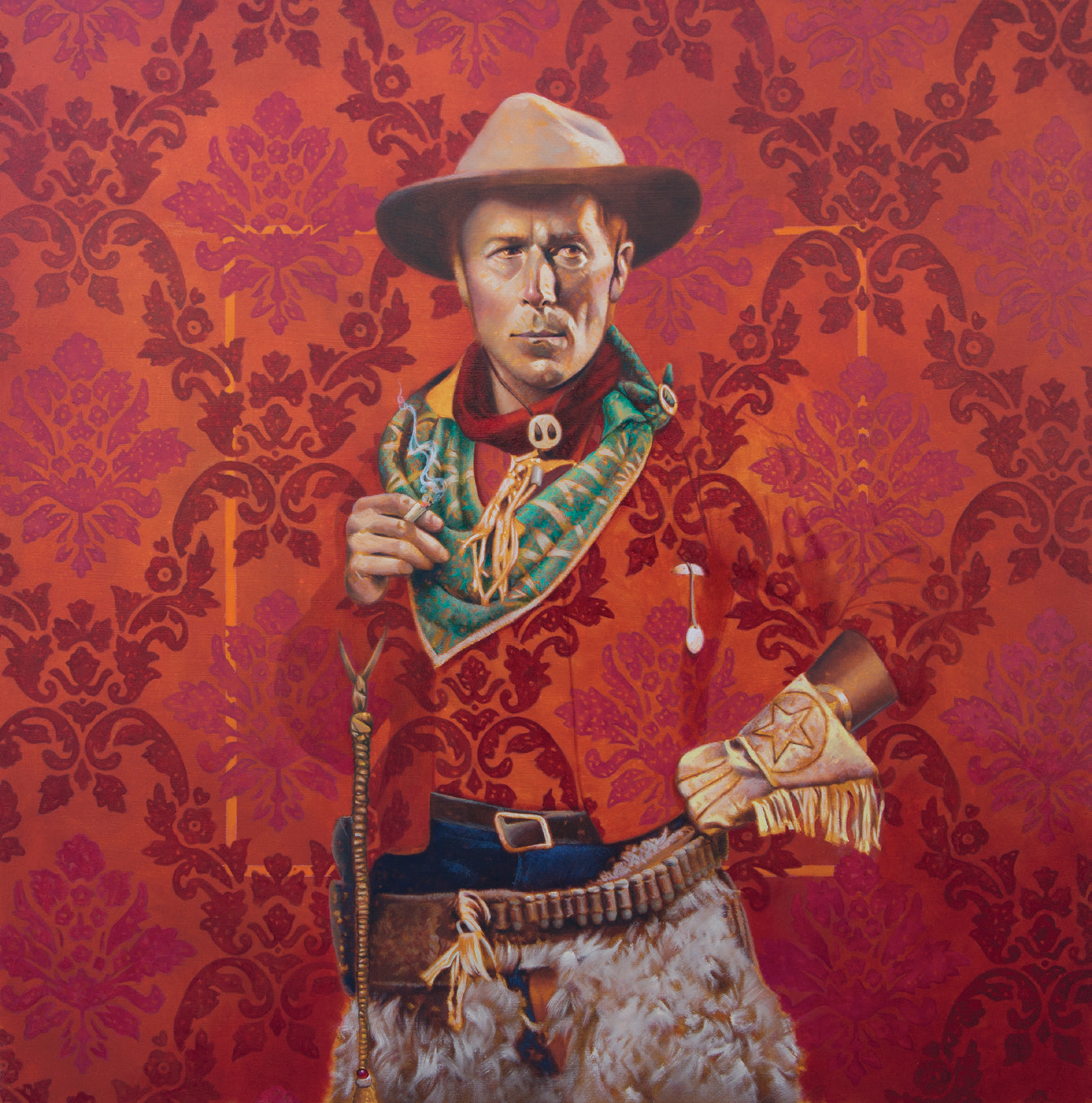 Wyatt's Gift | Oil on Panel | 24 x 24 inches | 2020
04 Nov

Artist Spotlight: David Kammerzell

David Kammerzell brings images of the Old West to vibrant new life by combining carefully researched photos, diligently studied classic illustration styles, and his own contemporary sensibilities. "The West has always been a romanticized place," says the Denver, Colorado-based artist. "I want to idealize or Hollywoodize the images I paint, to cut through the clutter, grab your attention, and give you a sense of freedom and contentment."

Art itself has always provided Kammerzell with such personally poignant feelings. Urged by his dad not to indulge in the pastime he loved but to "work for a big company and get job security," he always knew that he "could doodle or draw something and find some solace there." After high school, Kammerzell studied art in college for two years before freelancing as an illustrator and finding a steadier job doing on-screen graphics for a Denver news station. Then, he worked for almost 20 years creating on-air graphics and eventually leading the design department for the Starz premium cable movie network.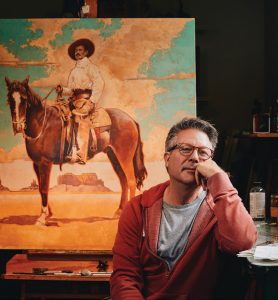 All the while, he created art on the side. When Starz laid him off in 2013, he pursued his lifelong love of painting full time. At first, Kammerzell emulated the faithful renderings and fine brushwork he admired in great 20th-century illustrators, including J.C. Leyendecker, Maxfield Parrish, and N.C. Wyeth, while highlighting the main subjects with streamlined compositions and bright colors. He focused on a range of nostalgic subjects, including not just Old West figures but also classic city and suburban architecture, vintage snapshots, old-fashioned everyday objects, Mexican lotería cards, and rural landscapes. Overwhelmingly, his cowboys and cowgirls received the most enthusiastic response. So, Kammerzell says, he decided "to narrow my vision a little bit. And I enjoyed doing those paintings."
In the years since then, he has diligently refined and evolved his artistic vision. Today, Kammerzell finds his subjects amidst the photographic holdings of top Western museums, libraries, and historical archives. Using Photoshop, he isolates the central image, then adds a complementary background — whether the cloud-dappled blue sky and low desert hills behind the smiling cowgirl and her steed in Dos Damas; or the red flocked Victorian wallpaper that intriguingly blends with the shirt worn by silent film star William S. Hart in Wyatt's Gift, a title referencing the riding crop he holds, a gift to him from legendary lawman Wyatt Earp. Working freehand, he transfers the composition to the canvas in red or brown pencil. Then, he completes a highly detailed brown or yellow underpainting that contributes subtle warmth to the finished work. Finally, Kammerzell then spends days applying multiple layers of detailed brushwork to achieve results at once perfectly lifelike and dreamily idealized.
The power of that vision has been recognized not only with top gallery representation but also invitations to participate in leading shows, including the Buffalo Bill Art Show & Sale in Cody, Wyoming, and the Coors Western Art Show & Sale in Denver, Colorado. "I may not be a Western guy who wears cowboy boots or has horses," Kammerzell modestly adds. "But I love these subjects for the feelings they evoke of freedom and contentment."
Kammerzell's work is represented by Giacobbe-Fritz Fine Art in Santa Fe, New Mexico; Abend Gallery in Denver, Colorado; and Lovetts Gallery in Tulsa, Oklahoma. His painting Dos Damas will appear in the Coors Western Art Show & Sale in Denver this January.