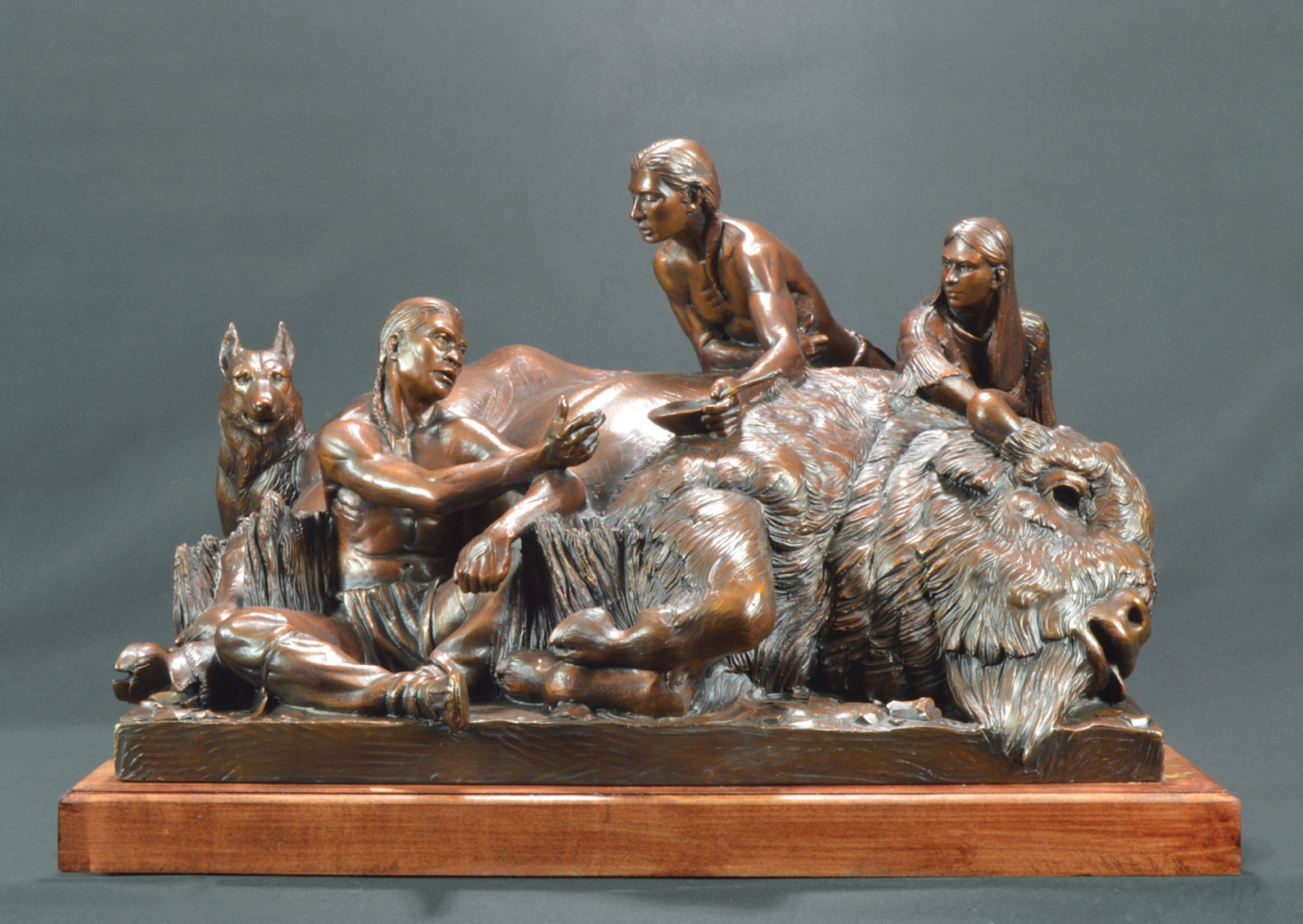 By Blood | Bronze | 17 x 20 x 24 inches
04 Nov

Artist Spotlight: LaQuincey Reed

LaQuincey Reed is building his reputation as a figurative sculptor of bronzes that, though mostly sized to fit on a tabletop or pedestal, possess impressive monumentality. "My goal," he says, "is to pay attention to their forms so that they feel bigger than they actually are." The resulting sense of power perfectly befits the particular historical subjects he's chosen: images of freed slaves who found new lives in the Old West.

Just 38 years old this January, Reed always felt that art was his calling. Before the age of 5, he was inventing and drawing superheroes, and throughout school in New Jersey, Texas, Hawaii, and then Oklahoma for high school, he was recognized as the best artist in the class. For Reed, nothing surpassed the appeal of art. "I haven't really ever thought about doing anything else," he says.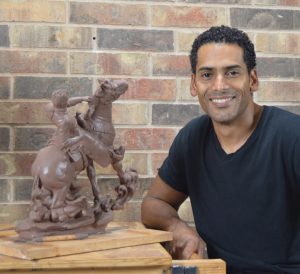 The artist earned a studio arts degree from the University of Oklahoma, and after graduation, one of his professors, sculptor Paul Moore, invited Reed to assist him on the Centennial Land Run Monument, commemorating the moment on April 22, 1889, when 50,000 people rushed to stake their claims on more than 2 million acres of unassigned land in Oklahoma Territory. He worked on the project from 2005 to 2012, tasked with sculpting details like "horses' tails and manes, boots, and all the accessories that help make things come together" for the 38 people, 34 horses, three wagons, a cannon, dog, and jackrabbit in the monument that now spans 365 feet along the south end of Oklahoma City's Bricktown Canal.
The epic undertaking helped Reed determine that he wanted to establish a sculpting career. Seeking a subject matter to call his own, he focused on African Americans in the West. One first such effort — Don't Push Me, depicting a handsome cowboy, arms crossed in determined self-assurance — earned him an invitation in 2018 to exhibit in the Buffalo Bill Art Show & Sale in Cody, Wyoming, where the piece garnered an Honorable Mention. He has returned with new work each year since — most recently, My Blood, a complex scene of two
Native Americans sharing a cupful of blood from a recently killed buffalo with a Black man they've welcomed into their tribe.
Such sculptures are inspired by seeing Blacks competing in local rodeos, by his own research, and by personal heritage passed down from his mother. "Ideas will roll around in my head for a bit until I draw them in a sketchbook or even on the church bulletin on Sunday morning," he says. Sculpting in clay takes about a month. He works in a studio he's converted from the sun porch of the home he shares in Oklahoma City with Anna, his wife of 12 years, and their two sons. His sculptures are cast in editions of 10 by The Crucible, a top foundry in the nearby city of Norman.
Ultimately, Reed's goal is for his works to take on lives of their own. "If not my name," he says, "I want people to remember the sculpture itself, that it's different and interesting enough to stick with you."
Reed's work is represented by Authentique Gallery of Fine Art in St. George, Utah, and Sage Creek Gallery in Santa Fe, New Mexico.