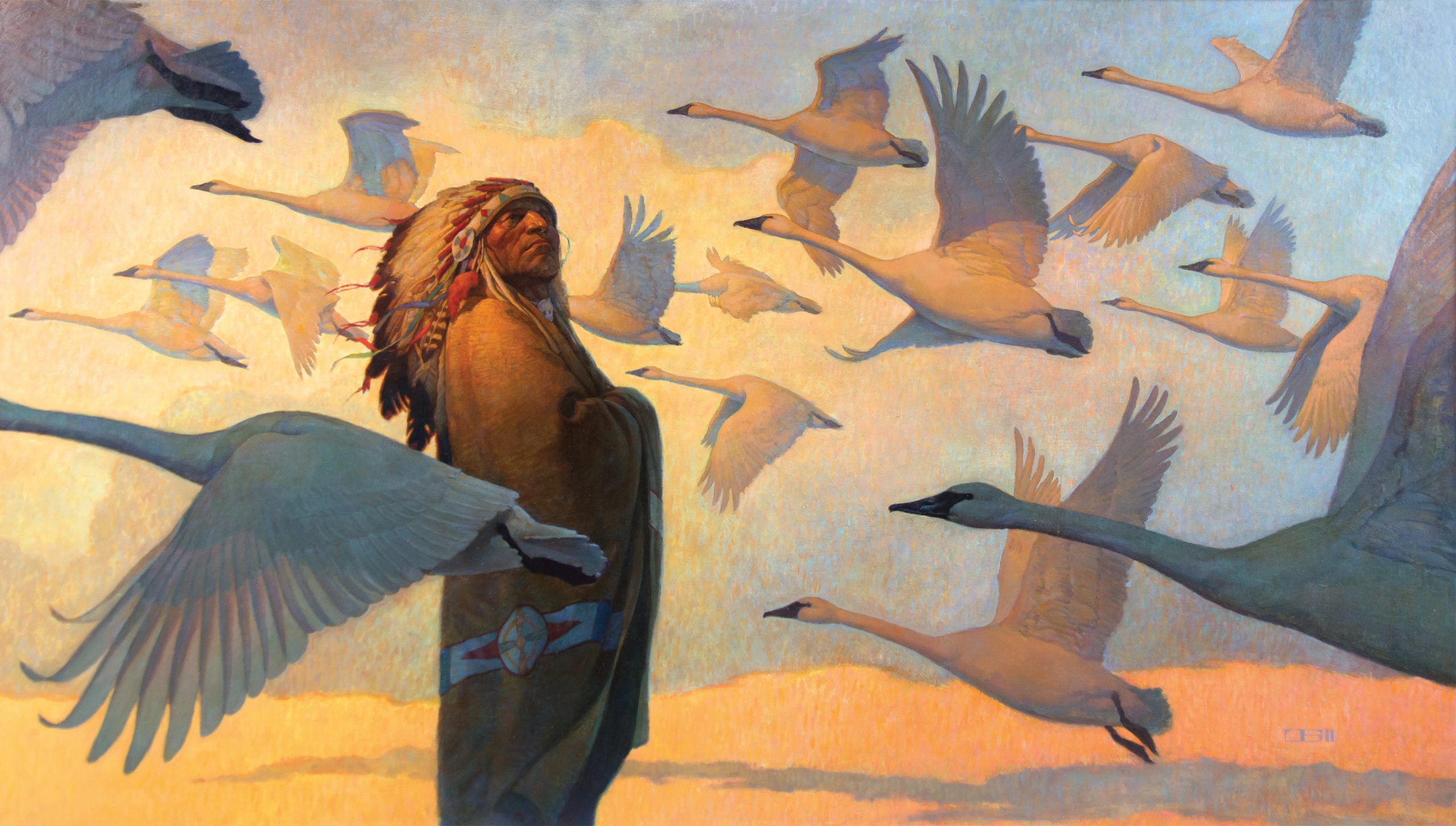 Thomas Blackshear, Swan Song | Oil on Board | 28 x 50 inches | Sold: $77,350
04 Nov

Auction Block: A Spirit of Perseverance

Western art auctions and sales in the final months of 2020 showed the genre's lasting ability to inspire, especially during a period rife with uncertainty. In a year described by the Eiteljorg Museum's president as difficult for artists, events that champion Western works have been largely successful and faithful to painters and sculptors whose creative spirits breathe life into pictures and statues.

Several world records were set at the Jackson Hole Art Auction. And similarly, the annual sale at the C.M. Russell Museum marked weighty bids for paintings by the institution's namesake artist. Pieces exhibiting at the Buffalo Bill Art Show & Sale and the Prix de West — both of which highlight new works by contemporary artists — also achieved solid sums.

While some items during September sales sold shy of expectations, and while 2020 totals were not as large as last year, much of the activity was reassuring.
Jackson Hole Art Auction
September 19, 2020
Total: $5.2 million+
Renowned Western landscape and wildlife artists made a strong impression and elicited equally strong prices at this year's Jackson Hole Art Auction, hosted by Trailside Galleries and Gerald Peters Gallery.
During a virtual auction this year amid COVID-19 concerns, Thomas Moran's Cascade Falls, Yosemite led the sale, bringing $946,000, compared to pre-sale estimates of $750,000 to $1.25 million. A robust sum was also obtained for a work by the late Bob Kuhn, with Red Fox Airborne bringing $178,500 or nearly twice its high estimate. A Carl Rungius portrait of a bull elk, Knight Errant, also garnered $148,750 in a sign of wildlife art's continued appeal.
A Howard Terpning painting, It's Been a Long Day, swept past its high estimate to achieve $321,300. The oil on canvas depicts a weary horse and rider in deep snow. The price of John Clymer's small-sized Hunting Country likewise exceeded expectations, going for $130,900, above its estimate of $60,000 to $90,000. G. Harvey's Good Wage Wranglers brought $226,100, arcing above its high estimate, and The Lookout by Oscar E. Berninghaus elicited $142,800. Also of note, a large bronze sculpture by John Coleman, 1876, Gall – Sitting Bull – Crazy Horse climbed to $142,800.
The sale marked 18 new auction records for artists such as Thomas Blackshear, whose oil Swan Song went for $77,350 or more than twice its high estimate. A record likewise was set for a work by Bruce Greene, with The Wagon Fly Incident of '98 selling for $50,580.
Buffalo Bill Art Show & Sale
September 19, 2020
Total: $700,000+
Artist Michael Blessing saw his signature style — Western figures made more vibrant by LED neon technology — lead the Buffalo Bill Art Show & Sale. The Keeper, part of Blessing's Neon West series, sold for $34,000. The outsized image of a woman dressed in cowgirl garb with a long gun across her lap uses complementary colors, notably reds and greens, to brighten the subject's facial features.
It was one of several high points tied to art-related events, with centerpieces that included a live auction and quick draw, brought by the Cody Country Chamber of Commerce and the Buffalo Bill Center of the West during Rendezvous Royale. The re-organization of activities because of coronavirus concerns did not dampen enthusiasm.
Land of Buffalo, Nicholas Coleman's large, horizontal oil, was the second-best seller at $30,000, with the painting taking a layered approach to depicting a herd of bison backed by tipis, mountains, and sky.
Mark Eberhard's startling Snowy Owls rounded out the three top-selling items. The white-on-white portrait of creatures whose eyes make up for the painting's spare use of color went for $25,000, compared to a retail value of $19,000.
Artists who received awards included: Ezra Tucker, Spirit of the Buffalo Bill Art Show & Sale Award for Where the Missouri Breaks; Adam Smith, Two-Dimensional Award for Back Track; Jeffrey Rudolph, Three Dimensional Award for Renegade; and Ty Barhaug and Mark Kelso, who tied for the Live Auction Gallery People's Choice Award for Caught by an Unexpected Snow and Rally on the Ridge.
The Russell Exhibition and Sale
September 13, 2020
Total: $4.05 million+
The C.M. Russell Museum, like so many institutions and sales tied to the Western art world, marked significant changes in its scheduling and format for The Russell, the annual art exhibition and sale that — until 2020 and COVID-19 — always occurred
in March.
For the first time in its more than half-century history, The Russell took place in September and hosted just a small live audience while it bolstered online and telephone bidders. The event brought a healthy $4 million-plus in sales. Highlights among the 215 lots included nine significant works by the museum's namesake artist, Charlie Russell, and paintings by such leading Western art legends as Thomas Moran, Joseph Henry Sharp, and Olaf C. Seltzer.
Russell works were among the top-sellers, as one might expect. Following the Buffalo Run, an oil created in 1894, brought a hefty $1.2 million, while Indian on Horseback, painted just four years later, sold for $550,000.
Sharp's Call of the War Chief, went for $700,000 at The Russell, closely followed by Moran's Green River in Wyoming, rising to $650,000.
Prix de West Invitational Art Exhibition & Sale
September 12, 2020
Total: $1,597,100
The National Cowboy & Western Heritage Museum in Oklahoma City, Oklahoma, employed a mix of business sense and panache to pull off the 48th annual Prix de West in the midst of a global pandemic.
The virtual sale, dubbed "The Purely Proxy Prix de West," saw an enthusiastic response when it opened on September 12, and it was successfully followed by an online live auction of several works by leading Western artists. By the end of September, the auction achieved nearly $1.6 million in sales.
Handsome prices attended award-winning pieces, led by Martin Grelle's large-sized oil, Safe Within the Circle. The painting went for $90,000 and was further endorsed by receiving the Jackie L. Coles Buyers' Choice Award.
A nocturne by Bill Anton, Makeshift Ambulance, gained the Prix de West Purchase Award, going for $40,000 and destined to be added to the museum's permanent collection. The oil depicts cowboys retrieving a calf, presumably injured, in a scene that's remarkable for its repose. The figures and the animals, including horses, can be made out by the light of a lantern.
Kyle Polzin's oil Buffalo Drum, a realistic portrayal of the animal but with a dramatic black background, garnered the Frederic Remington Painting Award and sold for $24,000, while a charcoal and acrylic on paper by Scott Burdick, Ponca Nation, was the winner of the Donald Teague Memorial Award and sold for $10,000.
Point Lobos, a small but dynamic cliff and seascape depiction by Matt Smith, went for $5,000 and was the recipient of the Robert Lougheed Memorial Award. And a bronze by Gerald Balciar, depicting a trio of birds, brought $4,800.
Quest for the West
September 11–12, 2020
Total: $747,000+
Quest for the West, the Eiteljorg Museum of American Indians and Western Art's annual sale of paintings and sculptures, took place virtually this year. The event brought more than $747,000 during two days of online bidding and purchases.
With challenges stemming from COVID-19 and accompanying state and local health regulations, the Indianapolis-based museum forged on with a reformatted event, postponing the centerpiece evening gala and other popular, in-person activities. To add interest and promote participation in 2020, the Eiteljorg created digital interviews with artists and virtual cocktail parties.
The prestigious Harrison Eiteljorg Purchase Award went to Mark Kelso for Tearin' It Up, an oil on panel depicting charging bull bison. The painting, which so well expresses the power of the official mammal of the United States, was purchased for the museum's collections for $16,500.
P.A. Nisbet gained the coveted Patrons' Choice Award, with Land of Giants, a scene of cumulonimbus clouds towering above an empty pasture with well-worn tracks, achieving $67,900.
After a Fresh Snow, a picture by Dave Santillanes that's perfectly described by its title, won the Artists' Choice Award, and Santillanes' piece submitted for the miniature sale, Sundown on Spirit Mountain, was snapped up by a buyer for $3,200.
Other works that sold for notable sums at the online event included Michael Dudash's painting of Native American riders, with Springtime in the Big Horns, going for $29,800, and Terri Kelly Moyers' oil, Azure and Ivory, a subtle exploration of composition and color, which sold for $15,000.
"We are incredibly excited that the sales greatly exceeded our revised goal," Eiteljorg President and CEO John Vanausdall said in a statement. "Quest provided an opportunity for artists to sell their works to enthusiastic buyers and build interest in Western art during what has been a difficult year for artists generally."