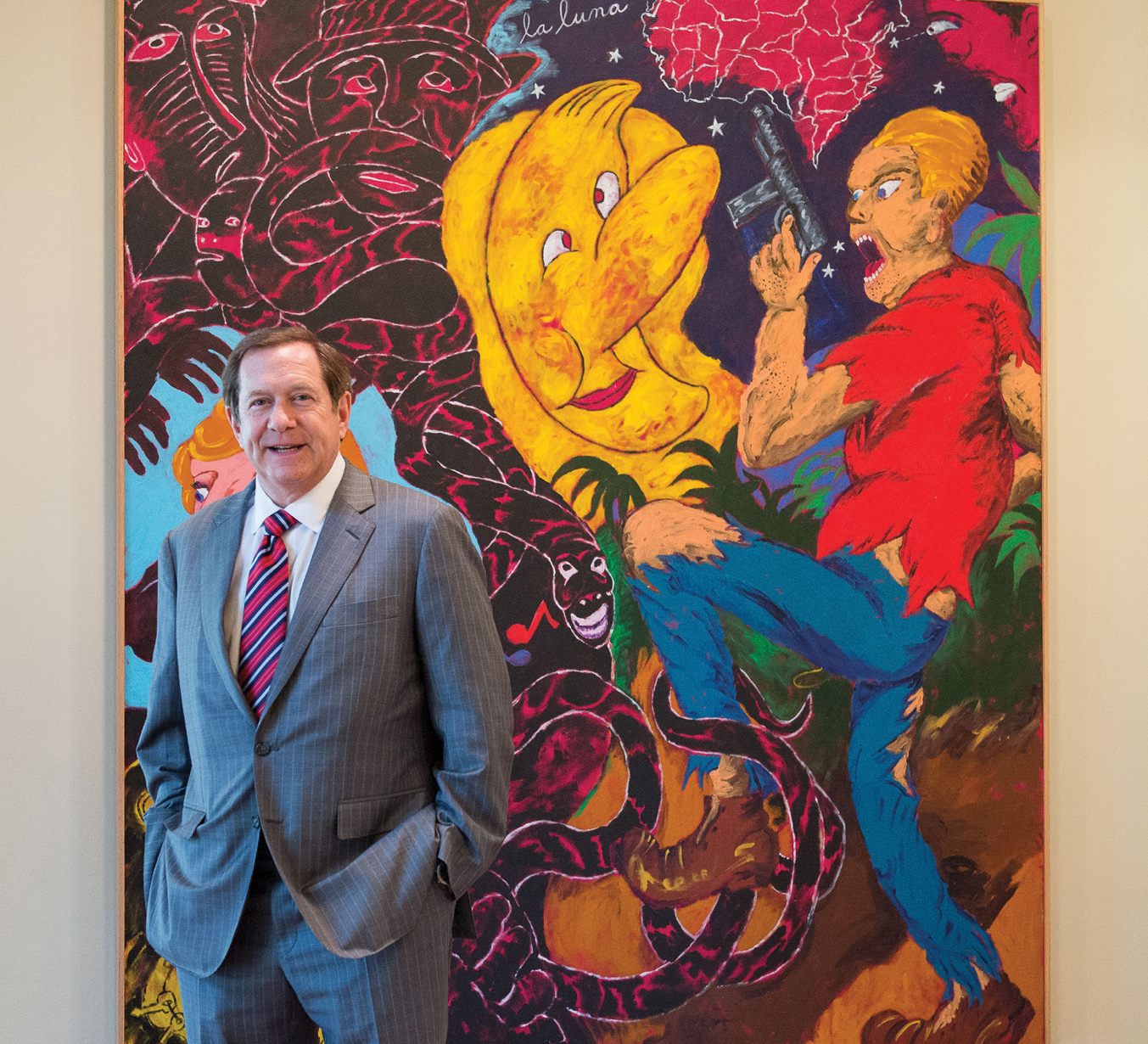 04 Nov

Collector's Eye: Steered By Stewardship

Many of Jordan Schnitzer's earliest memories revolve around art. When he was in first grade in his hometown of Portland, Oregon — where he still lives today — his mother, Arlene Schnitzer, enrolled in art school and after encouragement from her teachers, she opened the Fountain Gallery in 1961. Focusing primarily on showcasing artists from the Pacific Northwest, it was the first contemporary art gallery in the city.

"She always talked about the importance of supporting local artists," Schnitzer says. "So it's no surprise that my first love is the art of our region. I think we have some of the best artists anywhere."

After running the gallery for 25 years, Arlene passed it on to an assistant. It's now called the Russo Lee Gallery and continues to carry on her legacy by promoting emerging and established local artists.

When Schnitzer was 14, he purchased his first piece of art from the Fountain Gallery, which he credits as the
starting point for the Schnitzer Coll-ection. Buying art as a young adult, he supported mostly local and regional artists until 1988, when he started collecting prints and multiples. He's since built one of the most significant private collections of contemporary prints and multiples by a wide range of artists, from Frank Stella and Ellsworth Kelly to Robert Rauschenberg and Andy Warhol.

With a drive to collect that's coupled with a deep-rooted passion for art, Schnitzer's motivation became more purpose-driven after he discovered the joy of lending to museums. "As exciting as it was to see the art on the walls of a museum … it was more exciting to see people come in and share the passion I had for the art," he recalls. "The passion for sharing it now exceeds the passion for enjoying the art."

Today, the Schnitzer Collection is made up of more than 19,000 contemporary pieces, including prints, multiples, paintings, sculptures, and photographs, all of which are carefully cataloged in more than 150 binders along with information about each artist. Managed by a full-time staff of nine, their leading program has contributed works to 140 exhibitions and 90 museums, averaging 15 to 20 per year. The latest is The World Stage at the Nevada Museum of Art, which features 90 contemporary artworks by 35 renowned American artists from Schnitzer's collection.

WA&A: What inspires you to collect art?
Jordan Schnitzer: My mother opened the art door for me and my father, and once she opened that door, and opened a gallery, I was lucky because our house was always filled with art. Waking up without art around me would be like waking up without the sun — it's that important to me. You don't need a lot of money; you can go to a Saturday market, free museum days, galleries are free. But it's nice to surround yourself with art and creative things because they add balance to your life. You can go to them anytime you want and let them speak to you, whether it's a small message or one in a show that grabs you and forces you to look at your values and the meaning of life.

WA&A: What appeals to you about the genre of art you collect?
J.S.: Because it's the art of my time and our time. It's the Post-World War II artists, those alive and passed, who are doing work [that reflects] the issues and themes of our lives.

WA&A: What was the first piece that you purchased, and what made you choose it?
J.S.: When I was 14, at my mother's gallery, I bought a small Louis Bunce painting, called Sanctuary. It cost $75, and I got it for $60 with the family discount and paid $5 a month. I always said if I missed a payment, my mother knows where to find me in the bedroom next door. I still have it in my dressing room, and I see it every day. That was the first piece in the Schnitzer Collection.

WA&A: What is your most beloved piece, and why?
J.S.: In San Francisco, Kathan Brown started Crown Point Press. When I started buying prints and multiples, I bought them from Crown Point, and she and other print publishers are heroes to me. When my daughters were in San Francisco, Kathan showed my little girls the printing press, so they could see how they were made. Then she sits my two little girls down, gets copper plates, and styluses to etch. They made two little prints on copper plates. They're my favorite and most beloved, and they're in my room. But beyond my father's pride, my next beloved would be Sanctuary. And my next favorite piece depends upon the month. There's a piece called Hotel Acatlan by David Hockney. It's like a Picasso; you can see changes in the shapes and forms in a very organized way that makes you feel like you're walking into the scene with him. I've had it for 10 years; I couldn't afford it, and finally bought it, and it's an absolute favorite piece.

WA&A: At what point did you realize you were a collector?
J.S.: I realized I was a collector when I bought that first piece. When did I face my obsession? I was fairly reasonable and judicious when I started buying regional Northwestern art, about six to eight per year. When I started buying prints, I got a catalog in the 1980s from Sotheby's, and I called and said I wanted to bid. [A woman there] said I should fill out the back page, and I said, 'It's not big enough.' She turned me over to the print department, and for years I've been one of the biggest buyers from the publishing houses.

WA&A: With which living artist would you like to have dinner?
J.S.: Jeff Koons. Some people think his stuff is kitsch, but he's very bright and interesting. He's shaken up the art world, and he's pushed the envelope.

WA&A: If you could meet any artist in history, who would it be?
J.S.: Assuming I could speak Italian, Michelangelo would have been fascinating. Meeting someone of that time and discovering his inspiration for the chapels and other works that he did.

WA&A: Was there one that got away? Are you still pursuing it?
J.S.: Cy Twombly did a series called Roman Notes. When I first saw it, I thought it looked like nothing much. And then I saw it again and again, and all of a sudden, my knees buckled. Then it was $35,000; now it's something like $300,000. Will I get it? I might on a whim.

WA&A: Where do you imagine your collection will be in 100 years?
J.S.: I've never sold anything and never will. As part of my estate plan, it will continue to be available to regional museums and universities. My whole mission is to get art to the community. I don't judge one community over another. I don't differentiate audiences. It's not about numbers and how many people see my collection, but how many young people are touched and moved.