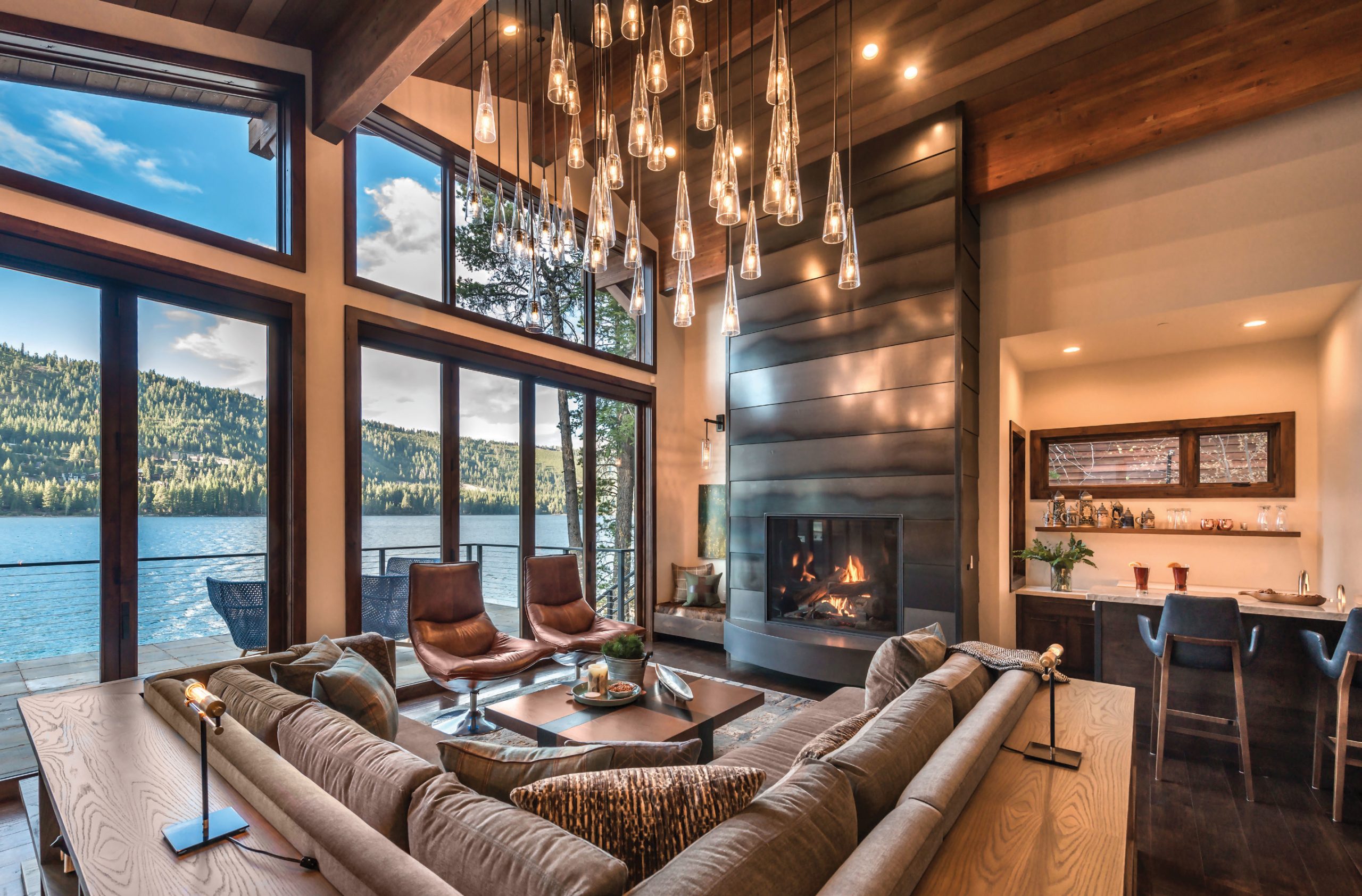 This airy great room offers stunning views of Donner Lake in northeastern California. Swivel chairs from Restoration Hardware and a cozy sofa are embraced by custom cabinetry designed by Studio V. The fireplace surround was crafted from hot-rolled steel, with a cantilevered cast-concrete hearth. Studio V designed the glass-and-steel light fixture, which was fabricated by Sapphire Chandelier.
04 Nov

Designing the West: A Timeless Approach

You might say it all started with Frank Lloyd Wright. Vernon Swaback, founder of the Scottsdale, Arizona-based interior design firm Studio V, holds a place in history as the renowned architect's last surviving apprentice. When he was only 17 years old, Swaback came to Arizona's Taliesin West to work with Wright, and he ended up staying there for the next 21 years.

In 1978, Swaback established his own architecture and planning business, Swaback Partners, and in 1999 he launched Studio V as a small subsidiary. Studio V officially split from Swaback Partners in 2015, but Swaback remains a part of both creative studios, which share a courtyard.
The kitchen has an open floor plan that welcomes large gatherings. The island was made with leathered Taj Mahal quartzite countertops, the stools are by Soho Concept, and the glass globe pendant lights are by Arteriors. In the dining area, Studio V matched the homeowner's reclaimed wood table with custom-designed, hand-stitched, quilted leather chairs.
"I feel like I was kind of born into the world of design," says Swaback's daughter Caroline, who is a designer at Studio V. "I was exposed to a lot of Frank Lloyd Wright philosophies and designs as a kid. When I think of what else I might be doing, I don't really see myself doing anything else." Following in the family tradition, she joined Studio V first as an intern, and then began working at the firm full-time following college graduation.
Etta Cowdrey, Studio V's CEO, came to interior design along a more circuitous path. "It almost seems like design finds you," Cowdrey says. "My education was in journalism and French, so I'm a pretty creative right-brained person.But when I graduated from college in 2001, it was right after September 11 and the job market had tanked." She ended up working in finance for the next 10 years, which gave her a great foundation for business, but Cowdrey also possessed an innate talent for creating beautiful living spaces.
A custom chandelier by John Beck Steel illuminates the entry stairway and a wood sculpture by Phillips Collection.
The great room's comfy reading nook is illuminated by a Maison Sarah Lavoine sconce, and the hair-on-hide seat cushion and accent pillows are upholstered in Designers Guild and Pindler textiles.
A casual bar area features vintage photographs and the homeowner's collection of antique beer steins, with stools by Soho Concept upholstered in Moore & Giles leather.
"I had remodeled a couple of homes, and my friends started asking me for help," Cowdrey explains. "Pretty soon more friends were asking me for help, and then it was, 'Why are you not doing this as a profession?'" When the economic downturn hit in 2008, she decided to go back to school to study interior design. An internship with Studio V in 2011 turned into her next chapter and a career she now calls "a natural fit."
Studio V's success is grounded in teamwork, with a staff of nine designers and two procurement and accounting associates, along with Vernon Swaback. "We always approach each project in teams," Caroline says. "We play to each other's strengths." Cowdrey agrees, adding, "We often say that when we all agree on something, we know it's the right design decision."
The powder room's walls and ceilings are clad in reclaimed wood to recall a boathouse feel, with a sink by Native Trails, a Safavieh mirror, and a Restoration Hardware light fixture.
The homeowner's bed was designed by Studio V and upholstered in Moore & Giles leather, with a dramatic headboard clad in hot-rolled steel. The swivel sconces are by Hubbardton Forge, the nightstands and console table are by Four Hands, and the table lamp is from Arteriors.
The cleverly designed bunk room provides sleeping space for eight and ample storage in large drawers hidden under the beds and within the stairs. The wall sconces are from Cedar & Moss.
Does Studio V have a signature style? "Not at all," says Cowdrey. "There are a lot of really great design firms that build their brand on a specific look, but we actually pride ourselves on the opposite."
With a range of residential and hospitality clients spanning the Western U.S. and into Mexico, their work is in steady demand. "We're a boutique firm," Cowdrey explains. "We're not too big, and we're not too small; it's that personal attention."
And when asked if there are any echoes of Frank Lloyd Wright's philosophy resonating through the work of Studio V, the answer is a resounding yes. "We always want to make that indoor-outdoor connection, because you don't want to walk inside a home and have it feel out of place," says Caroline. "In our opinion, it should always feel like it's connected to the environment around it."
Q & A
Interior designers Caroline Swaback and Etta Cowdrey share some of their favorite inspirations
Are there any Scottsdale, Arizona, art galleries you'd recommend?
C.S.: We're really lucky to be in this area. You can find something for everyone.
E.C.: Scottsdale's Museum of the West is amazing, and the Phoenix Art Museum as well. Old Town has the Bentley Gallery and Wilde Meyer. I just reached out to a gallery called Rare Earth, which has stunning natural minerals, because we're looking for a geode piece.
Do you have a favorite vintage Scottsdale building?
C.S.: I really like the Hotel Valley Ho.
E.C.: The Valley Ho is so cool, and there's the Price House by Frank Lloyd Wright, and Arcosanti. And then Taliesin West is just unprecedented.
Is there an interior paint color you really love?
C.S.: I would say Benjamin Moore Classic Gray.
E.C.: There is nothing better than your go-to white: Mine is Benjamin Moore White Diamond. Also, Sherwin Williams' Shoji White and Natural Tan. Those two colors can go in something modern, something rustic, something traditional. They kind of just work everywhere.
In your own home, what's one of your favorite possessions?
C.S.: The artwork I've collected over the years. I have a couple of pieces that my mom gave me. They're crazy, abstract things which I wouldn't necessarily go out of my way to buy, but it means more when it's given to you.
E.C.: My grandmother gifted me a Rosenthal vase that's 24 inches tall and has hand-painted metal details on it. It was gifted to her from her aunt who lived in Europe for a number of years. When she gave it to me, she wrote the history on a piece of paper and stuck it inside the vase. So, it's really fun once in a while to pull it out and remember her.
What's an item we might be surprised to find in your home?
C.S.: It might be the big, fuchsia painting that I have in my guest bedroom.
E.C.: My 130-pound bull mastiff. His name is Walter, and he is a big, slobbery mess. I think in our industry, it's assumed that you'll have a little purse dog, and that is not the case. I have a giant dog bed the size of a twin mattress, and it doesn't fit anywhere else but smack dab in the middle of my living room, so I try to make it look nice. Our family comes first.