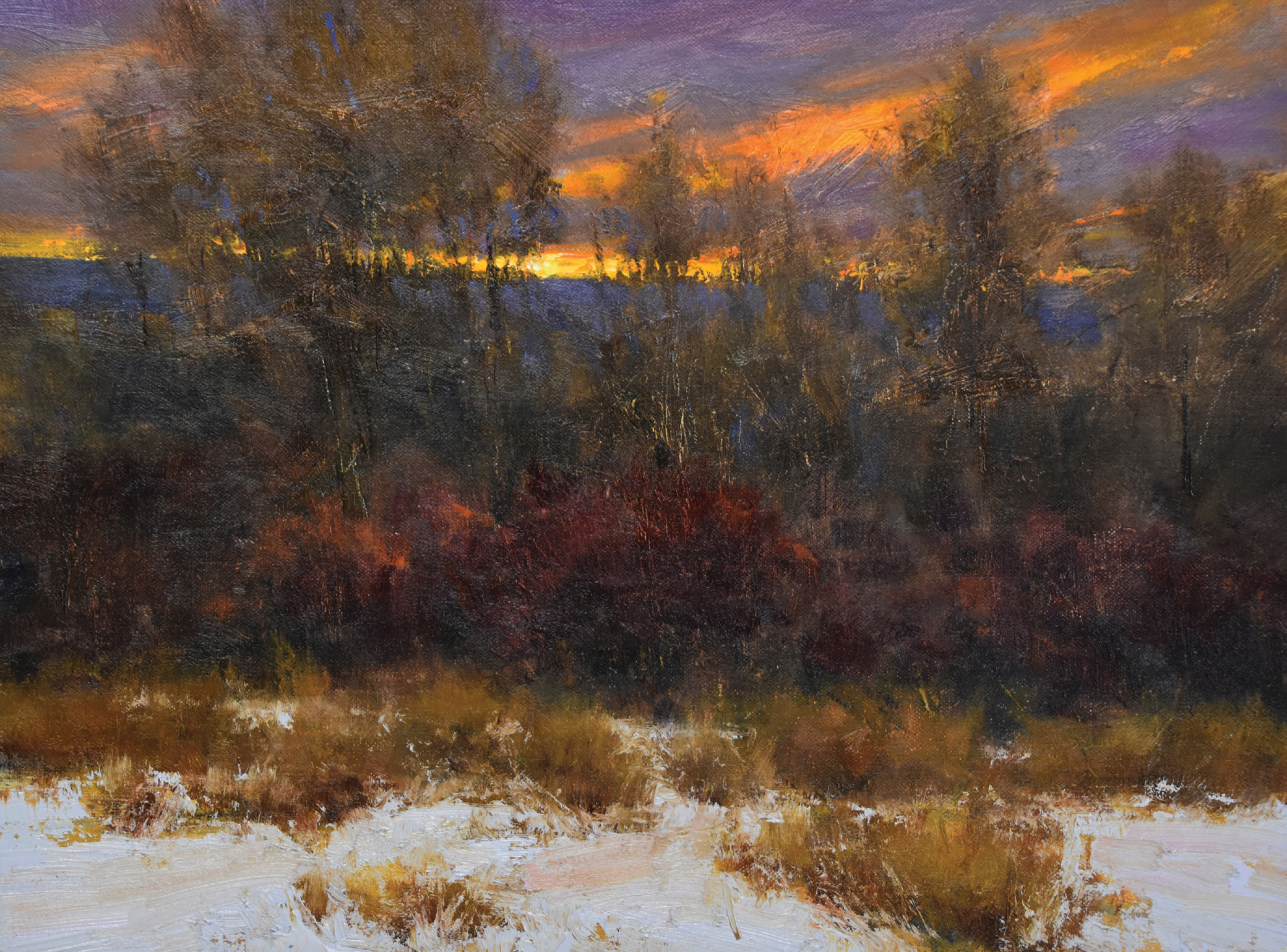 Dan Young, Dance at Dusk, Oil, 12 x 16 inches
05 Nov

Fine Art Among Friends

A group of top-tier American wildlife and landscape artists finds connection through their creativity. They travel, paint, hike, and discuss art together. They produce exquisite "on the spotters" that capture the light, feeling, and drama of a landscape that's rapidly changing before their eyes. More importantly, they use their trips outdoors with their painting gear as fact-finding missions for their next great studio paintings.

Skip Whitcomb, Ralph Oberg, Dan Young, and Matt Smith make up this impressive group of painters who demonstrate that camaraderie bolsters creativity. Their talents will be on full display in the upcoming exhibition at the Steamboat Art Museum (SAM), during Four Directions-Common Paths: Whitcomb, Smith, Oberg, Young, which runs December 7, 2020, through April 10, 2021.

The exhibition shines a spotlight on their friendship and shared pursuit of excellence. It tells the artists' stories of working together, including their influences and shared experiences, through approximately 15 to 20 small pieces or studies, and up to five large works by each artist. Whitcomb, the elder statesman of the group, says it is an honor for all of them. "We are thrilled with this opportunity, to be able to show at a wonderful, intimate venue where the community is so excited about art and their museum," he says.

Oberg describes the exhibition as the fulfillment of a 30-year dream. "Matt and I had discussed it a couple of times, that it would be great to do a show, but when SAM offered the chance for all four of us to hang together, we knew it was an even better idea," he says. "It's exciting for all of us." And Young calls the show "a retrospective of our friendship."

Oberg and Whitcomb met in 1984 at a Bob Kuhn workshop; Smith met Oberg in 1987, and all four were on their way to brotherhood by 1990. Since then, they have traveled thousands of miles together, visiting inspiring painting locations throughout the West. Many places were only accessible by horseback, adding an element of adventure to those trips. The artists spent quality time together, painting during the days and talking art (with a little wine) around a campfire in the evenings. If they passed an art museum during their journeys, they'd always stop and discuss creativity at an even deeper level, challenging themselves to grow and improve, always aiming to make the next painting their best.

While the popularity of plein air painting has risen tremendously, these artists see it as a means to an end. Whitcomb says all four of them made their living out of their portable paint boxes in the early days. Eventually, they developed a desire to paint bigger and more complex works. This required a shift to more time in the studio and a greater reliance on information gained during their outdoor experiences. "To me, it's like planting a seed crop, where you eventually harvest concepts, ideas, and other valuable information," Whitcomb says. "Once I shifted to doing more studio pieces, the pressure to perform in the field and produce fully finished works was mostly lifted. That is when I began learning how to see and to use what I saw in a more meaningful way."

The three younger artists all came to the same conclusion in their own time. "You develop a passion for a location when you are there painting, but when you get back to the studio, in a controlled environment, you can combine that passion with intellect, and that's when the best paintings result," Smith says. Oberg echoes those sentiments. "You do the hard work outdoors to learn how things look; you are always seeking the truth to take back to the studio," he says. "Your outdoor paintings show you where your photographs fall short — every time." Young agrees, adding that painting on location is like going to class. "It really is about going to the source and taking notes to grab information," he says.

While there are certain similarities in all four artists' work — which would be natural for landscape painters working in Realism — they each have unique elements that make them quite different. This allows them to stand side -by-side on a ridgeline, looking at the same mountain vista, and by day's end, an astonishing variety of art will have been completed or sometimes abandoned. Looking over each other's work, they may needle one another, telling one to "loosen up" or another that he better "get tighter." Whitcomb confesses his favorite jab is to walk behind one of the others when they have a good painting in the works and ask, "Is that really how you see that?" But shifting to more serious reflection, Whitcomb testifies he loves watching how his peers solve problems, and he is always on the lookout for a tidbit of information he can appropriate.

"We don't allow big hats, no egos, we are all striving for greatness, but we know that is an extremely high bar," Oberg says. "We are all open to critiques and helping each other get better." Like brothers, they may jostle each other good-naturedly in private, but in public, they are clearly proud of each other and celebrate one another's successes. Most recently, at the 2020 Prix de West, Smith walked away with the Robert Lougheed Memorial Award voted on by the artists, while Oberg garnered the Wilson Hurley Memorial Award for best landscape painting.

Three of the four artists live in Colorado, taking advantage of their surroundings to explore varied terrain, watch the abundant wildlife, and tap into the natural Rocky Mountain High made famous in the song. Smith, the token artist "from away," lives in the Arizona desert but frequently visits the Centennial State for a change of scenery. The Colorado artists also find it convenient to visit Smith in the middle of winter, as they did last February. Each artist is fiercely loyal to "his country," the area around his home base, and paints it with pride and reverence, but also embraces new challenges in less familiar locales.

All four consider part of their mission as wildlife and landscape artists to bring attention to the wilds of America and the need to protect them. "You hope to get people to stop just for a few seconds and think about the beauty in nature, and maybe you can get them to take the next few steps to caring about the environment and maybe even doing something about it," Oberg says.

In the end, all agree that the elements of art are still the same, whether indoors or out. Students and hobbyists should not expect to paint a masterpiece every time out; to learn something about light that helps improve studio work can be a great plein air accomplishment. As all four would say: If you are painting plein air work ready to hang in a gallery every time out, you are not pushing yourself hard enough.

As friends for 30 years, these four artists treasure their time together, whether it's in the field sharing a ridgeline, critiquing each other's work at the end of an outing, or catching up at a major art show. All believe that their friendship and sibling-like rivalry has made their work better and spurred them to continue to grow over time. Young says he hopes to "die with a paintbrush in his hand," perhaps on a painting trip with his three fellow artists when they all are closing in on 100 years of age. These four gentlemen also prove nice guys can finish first — in art, friendship, and life.