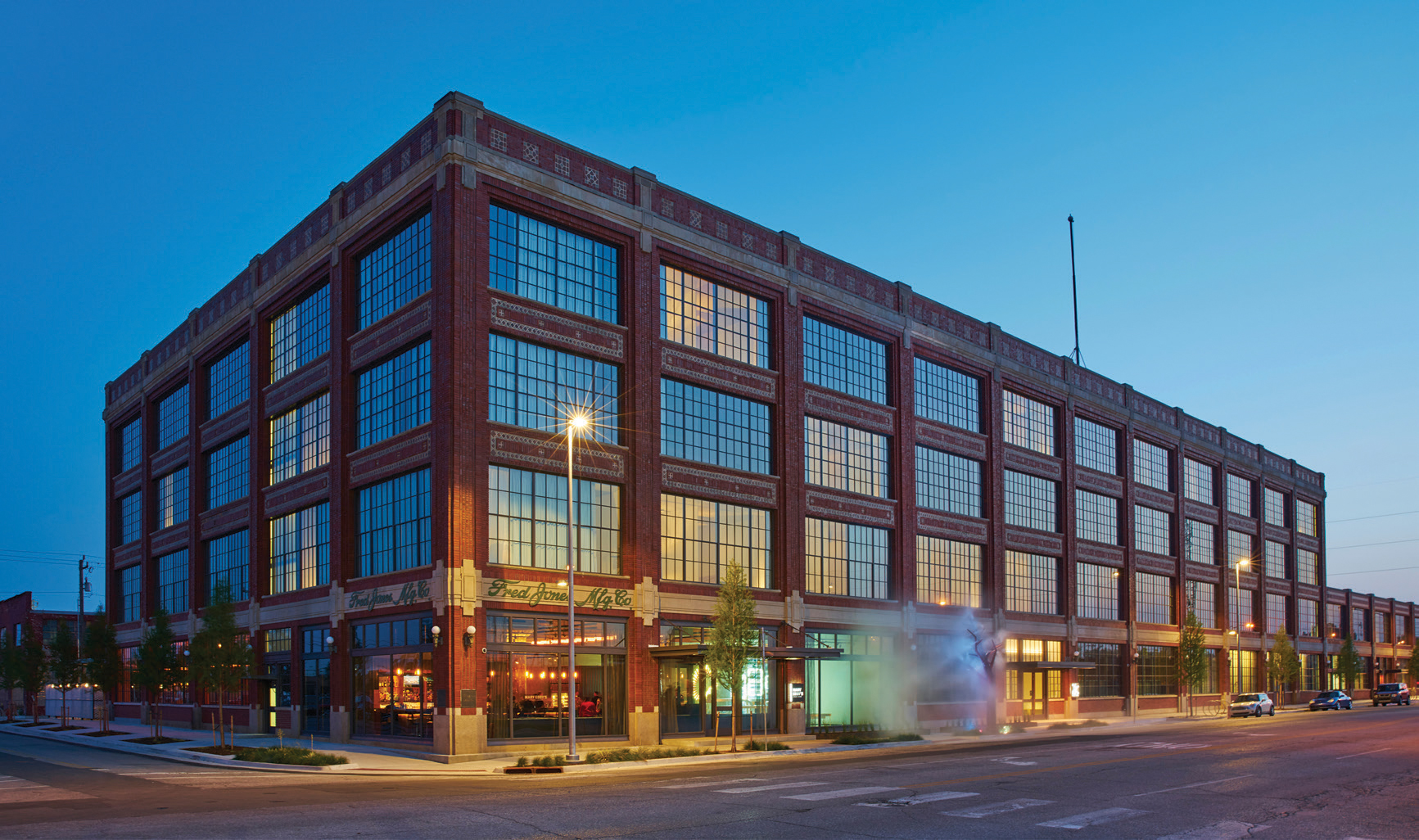 Outside of 21c Oklahoma City, Matthew Geller's sculpture, Woozy Blossom, sends out a cloud of mist.
05 Nov

Western Landmark: An Artistic Escape

What museum can you spend the night in? And what building is more than a century old, yet brand-new? Those riddles find delightfully inviting answers at the 21c Museum Hotels.

In an engagingly original combination of culture and hospitality, the boutique hotel collection may be reinventing the guest experience for business and leisure travelers alike. 21c brings new life to historic architecture and supports the best in regional cuisine, in addition to displaying museum-quality collections of 21st-century art. Nine properties make up the boutique hotel chain, which currently includes three locations west of the Mississippi River, in Kansas City, Missouri; Bentonville, Arkansas; and Oklahoma City, Oklahoma.

Credit for the concept and its realization goes to a Louisville, Kentucky-based wife-and-husband team with the discernment to bring an extraordinary vision to fruition. Businesswoman, philanthropist, artist, and photographer Laura Lee Brown is an heir to the Brown-Forman global spirits and wine company. Her husband, Steve Wilson, studied art and design at Murray State University before working for three decades in Kentucky politics, eventually serving as executive director for the restoration of the governor's mansion in Frankfort. Married since 1993, the couple became powerhouse contemporary art collectors, leading them to launch their flagship 21c (as in 21st-century art) property in Louisville in 2006. The goal was to imagine a new kind of boutique hotel that was also a contemporary art museum, free to the public and open for viewing 24 hours a day.

"Our founders created a space where contemporary art can be transformative," says Alice Gray Stites, 21c's chief curator and museum director, adding that she now sees that role as more crucial than ever. "As our country copes with a pandemic and reckons with racial injustice, we hope to foster conversations about inclusivity, equity, and the role that art and artists play in shaping a progressive future for everyone."

That goal has always extended to revitalizing urban areas. The Oklahoma City location, for example, occupies a former Ford Motor Company assembly plant that's more than a century old, designed by Albert Kahn and listed on the National Register of Historic Places. In Kansas City, 21c occupies the former home of the Savoy Hotel and Grill, a luxury destination built in 1888, also on the National Register. Bentonville represents a rare new setting, with a streamlined building by renowned New York City-based architect Deborah Berke, who is involved in imagining all of the group's properties both inside and out.

The Bentonville location, which opened in 2013, serves as a perfect example of the 21c commitment to art, as it's situated just a short walk from the extraordinary Crystal Bridges Museum of American Art, but each 21c location presents a formidable creative destination in its own right, with both permanent collection on display in large galleries as well as throughout each hotel in public spaces, restaurants, and guestrooms. Changing exhibitions are organized primarily from 21c's holdings of more than 3,000 paintings, sculptures, installations, photography, film, video, digital, and performance art — which also makes 21c, when considered as a multi-venue institution, one of the nation's largest contemporary art museums and the only one in North America solely dedicated to 21st-century art.

That doesn't even begin to touch on the company's commitment to two other art forms: hospitality and cuisine. Wilson seems to be an unstoppable force when it comes to ensuring an impeccable guest experience. "In Frame: The Man Behind the Museum Hotels," a 2016 documentary by Edward Heavrin, shows Wilson raising and lowering blackout shades to ensure that they move with ease, testing the glide of drapes and drawers, pounding sofa cushions, and minutely adjusting how artworks are displayed. Explains company CEO Sarah Robbins in the film, "There are definitely things that he points out that I think — Whoa! — I would never have noticed in a million years."

As for food, each hotel curates its own dining experience, celebrating a contemporary approach to regional cuisine helmed by outstandingly talented chefs. In Kansas City, The Savoy at 21c features chef Joe West's take on Midwest classics, including chicken with dirty grits and braised farmer greens, and rum raisin apple cake. The Hive in Bentonville features chef Matthew McClure's tribute to the "High South," with dishes like Berkshire hog chop with baked beans, and pecan pie with buttermilk ice cream. Chef Jeff Patton at Mary Eddy's in 21c Oklahoma City offers down-home favorites, including smoked chicken wings with charred chili hot sauce, and mac-and-cheese made with "numerous cheeses" and Ritz cracker crumbs.

Taken together with the impressive architecture, world-class art, and the luxurious and comfortable interiors, it all adds up to an incomparable feast for body, mind, and spirit. Understanding the people and philosophy behind 21c, and how it all came to be, is no riddle.