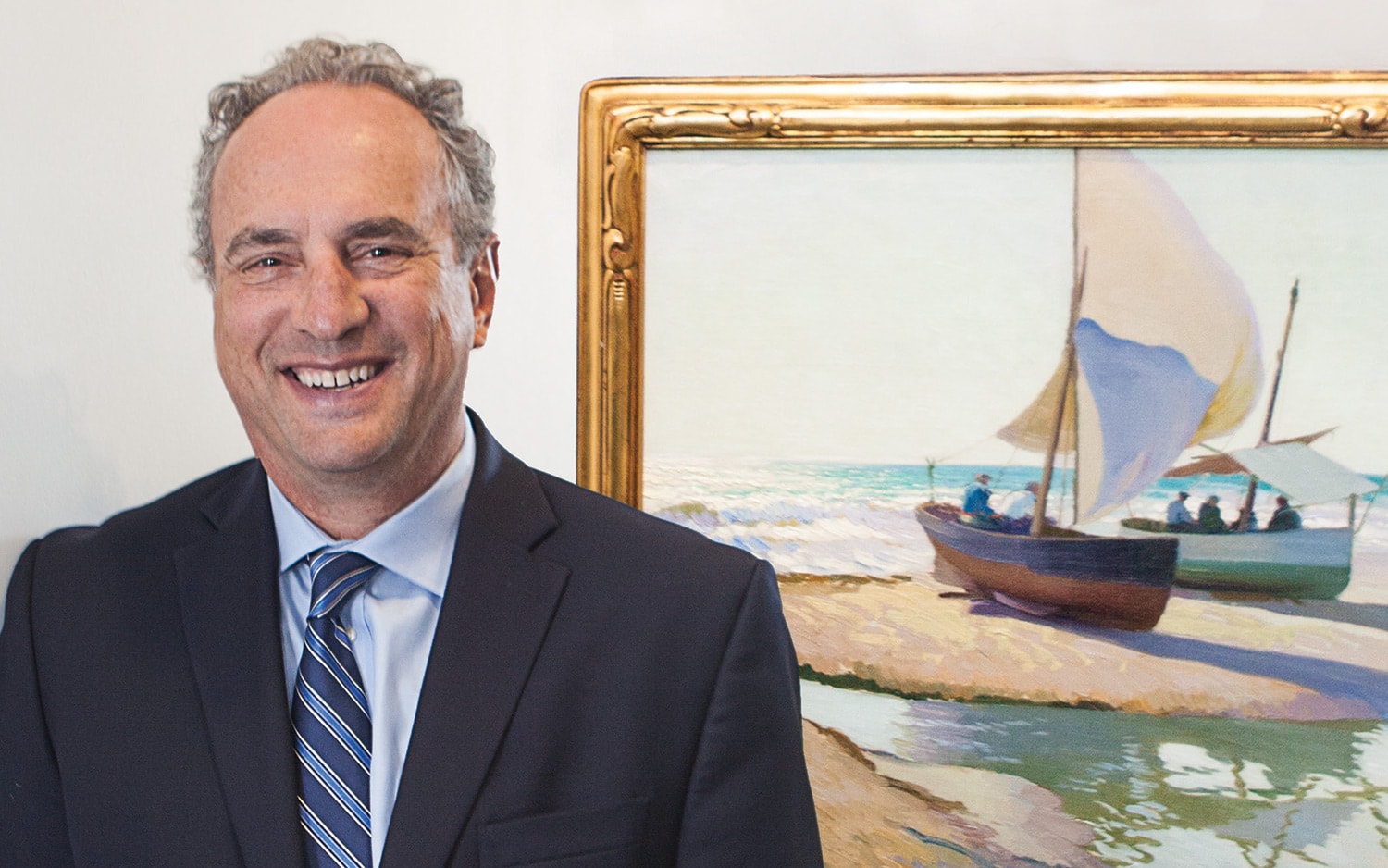 08 Nov

Collector's Eye: A Business and Pleasure

For almost 35 years, Scot Levitt has been collecting, organizing, appraising, and selling art. His position at Bonhams Auction House, as vice president and director of fine arts in Los Angeles and San Francisco, California, provides excitement and satisfaction, with fresh opportunities present every day. Although Levitt enjoys visiting museums with his wife, Erica, he confesses that he's happy that his job is to work with a diversity of art on a regular basis versus the same collection each day, as museum curators must. While his job responsibilities have remained the same, he says, "Every day is a new day. My position is to organize, appraise, and sell art at auction. Then I wake up after an auction and say, 'Where will we find our next material?'" And thus a new and exciting journey begins.

The path to this destination began after graduation from Colorado College in Colorado Springs, where he majored in art history. Looking for opportunities, he attended a course on art auctions hosted by Sotheby's in London. He accomplished that task, and then wondered where he would find employment. New York City seemed like the obvious choice, but the young man from the Midwest felt at odds with the big city. Wishing to return West, he learned of Butterfield & Butterfield, a family-owned auction house in San Francisco that had been in business since 1865. He applied and was hired.

Since that time, Levitt has watched the company change ownership. When Bernard Osher, who bought the business from the Butterfield family in the 1970s, chose to take the company public in 1999, he ended up selling the entire firm to eBay. Then in 2003, an English auction house founded in 1793, Bonhams, purchased the company from eBay and changed its name to Bonhams and Butterfields. Most recently, in 2018, ownership changed to a private equity firm, Epiris, headquartered in London, and the name is simply Bonhams.

Along the way, Levitt has acquired art he finds pleasing and which he hopes will remain with his children, Amy, 27, and Mathew, 23, as family remembrances. His wife, Erica, an attorney in Los Angeles, wasn't acquainted with art when they first met. But after regularly attending previews and learning about the artists, she began to enjoy it. Now, Levitt says he even relies on her eye from time to time. "As a dealer, you appreciate it when there is someone who tells you, 'That's not a good one,' or, 'That's a good one!' She has more of a public eye, and I have the dealer eye. Having the public eye is great for a dealer."

WA&A: What inspires you to collect?

Scot Levitt: For me, it's more the business. Everything is new and exciting in this business; there's always a whole new batch of art to look at, to organize, and to appraise. I approach the pieces as a dealer to facilitate their sale. Certainly I've seen things I love through the years, but there's always more that will come along.

WA&A: What was the first piece you bought and why?

S.L.: The first piece I bought was an East Coast painting, a work by Charlotte Buell Coman, from New York. She died in 1924 and is not a big name, but I've always been attracted to tonalist pieces. This is one of rolling hills in Upstate New York, and it's in its original Whistler frame. I bought it some time ago, it was part of an estate in Los Angeles, and it still hangs over our fireplace.

WA&A: Was there one that got away?

S.L.: Actually the one that got away was a Robert Henri, a Western portrait of a young girl. Someone else bought it, and they ended up selling it for a huge amount of money.

WA&A: When did you discover you were a collector?

S.L.: I don't consider myself a collector, as I don't have the resources. I am a collector as a dealer, technically, but the collecting is without ownership. At work, many of the high-ticket items are like a busman's holiday to me. The art I personally own is mostly California artists. I have a Sierra scene by Edgar Payne, and a Clarence Hinkle, as well as some contemporary Western art because I met some of the artists. I have three of Ray Roberts' paintings, and several from Brian Blood. Also, we have six paintings by an artist who straddles the line — Terry Delapp, a California tonalist and also a friend. For the most part, the paintings we have are under the $10,000 price range.

WA&A: What is your most beloved piece and why?

S.L.: I would say it's a small watercolor by Helen Forbes. It's a simple watercolor of a Monterey landscape in a unique, gold-carved frame that I suspect is valuable. It is in our kitchen, and it holds a special feeling of joy.

WA&A: If you could share dinner with any artists in history, who would they be?

S.L.: I have to say — Marcel Duchamp. I think Marcel was the most "out there," the most "ahead of his time" as an artist. And in my opinion, he put a period on the whole world of 20th-century art."Anything and everything is art," he would say, "and now I'm going to play chess for the rest of my life." He went out on a high note.

WA&A: Where do you see your collection in 100 years?

S.L.: I hope it will continue to be completely unknown and dispersed among my children. Hopefully they will consider it to be sentimental keepsakes of their childhood upbringing in a happy home.