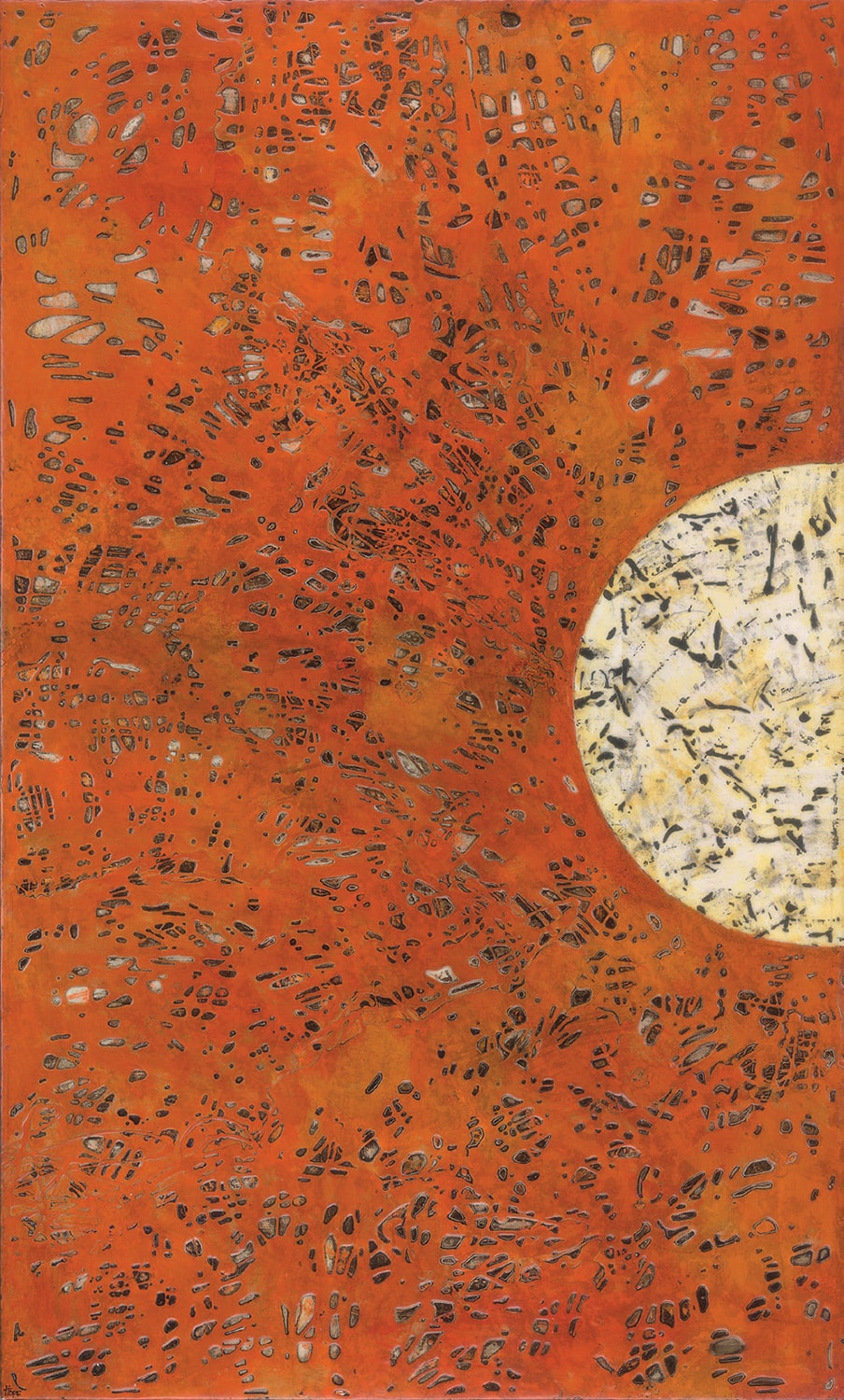 "Bittersweet" | Mixed Media | 36 x 60 inches
08 Nov

Illuminations: Artist spotlights

Mixed-media artist Kathleen Hope approaches her abstract cement paintings from a color perspective. Through the use of industrial construction materials and the aesthetics of abstraction, Hope conveys a contemporary perspective of modern life. Her work speaks to our state of mind as well as our state of being in the world, delivered through the language of color and shape.

With a background in interior design and color psychology, Hope has worked with many architects, builders, and designers, and she understands the effects of color on one's state of mind. Her work combines an in-depth knowledge of color and an intense curiosity of unusual materials to portray our inner lives.

"I feel like my expertise is in color, not only the psychological part," Hope says. "I've always been around construction and construction materials. It was fascinating to me, there was so much out there. So when I started painting, I traditionally began with oils and acrylics but it became boring. I wanted texture."

But she didn't want the regular tricks of the trade, rather she thought about ceramics and the ability to convey a tactile feeling through clay. She discovered the idea of using cement while working on an outdoor art commission. She needed a material that would hold up to the elements and recalled her work with concrete and plaster. After experimenting with various combinations, she found something that was challenging, unpredictable, and astonishing.

"It dries very quickly, and it's hard to work with," she says. "I've been a painter for 22 years and working with cement for 10. It's porous and difficult, but that's why I love it. It can really take paint, and I can make markings that I can't get with other materials. It's not controllable, but that's what gives my work that organic quality. It's industrial, modern, gritty — there are so many aspects of cement that are wonderful."

Hope mixes the cement with other products to create fine, thin layers that are surprisingly not as heavy as one might imagine. She doesn't use a mold but instead hand pours the cement mixture over a wood panel. Through the use of acid stains and patinas, she injects immediacy into the work. Depending on the room temperature, the patinas may not always turn out as planned. It's the serendipitous aspect of her paintings that feels like a conversation. "In most of my paintings there are five layers of cement to paint," she says. "I keep building and building until it feels right. I just know when I'm done. In my bigger pieces, I have to picture it in my mind and make small studies, because if I make a mistake, that piece is ruined."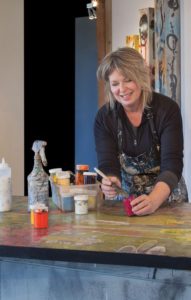 By focusing on the weight of her colors and shapes, she interprets the natural world. Looking for distressed patterns in things such as flowers and trees, or buildings and cityscapes, she pinpoints the aspects of balance as she progresses through the work.
"I take pictures of old buildings and shapes in nature," Hope says. "It's the little details I see, not an overall landscape. I think of those details and put them together to make a whole. It's challenging, because I've got to have a balance of color intensity and shape — and if it's not right, I'll see it right away. It's always changing and super challenging."
Hope will show her work at the Celebration of Fine Art in Scottsdale, Arizona, from January 12 through March 24. She is represented by The Vickers Collections in Vail and Aspen, Colorado; GVG Contemporary in Santa Fe, New Mexico; Wit Gallery in Lenox, Massachusetts; and Grace Renee Gallery in Carefree, Arizona.