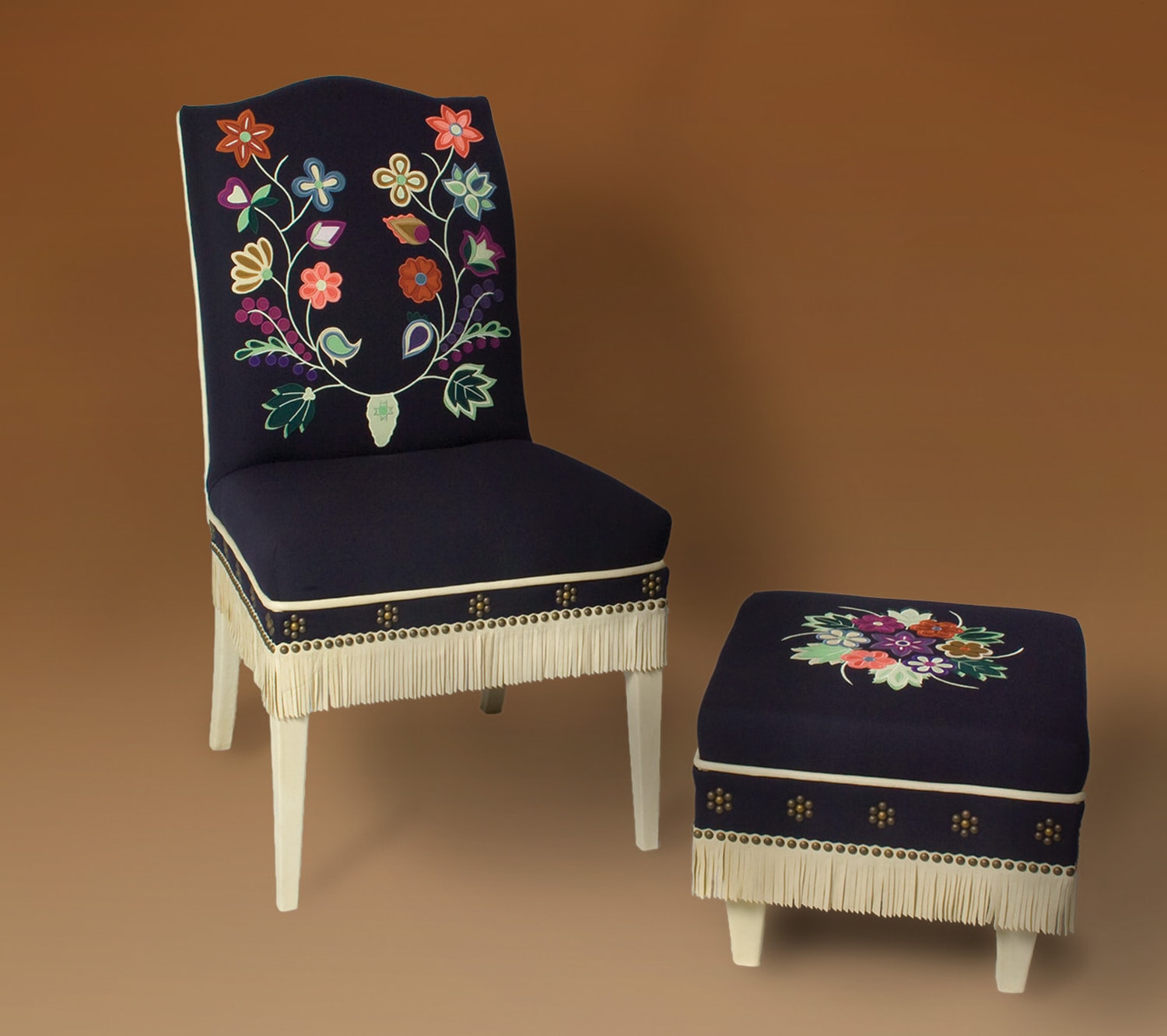 "Ojibwa Flora" | Wool gabardine, appliqued and embroidered occasional chair and footstool accented with decorative nail heads. Leather wrapped welt and legs.
08 Nov

Illuminations: Artist spotlights

Furniture designer Anne Beard finds herself inspired by absolutely everything, from fine art to her garden and her life in the remote high desert of Oregon surrounded by working ranches. Her designs vary from whimsical to ornate, from chic to rustic.

"I began my life doing one-of-a-kind wearables," she says. "Then while showing my fiber clothing at the Western Design Conference, surrounded by all that amazing furniture, I realized [furniture makers] had a larger canvas than I did and weren't restricted by the human form."
"Will You Let Me Paint a Picture" | Wool gabardine appliqued and embroidered three-panel hearth screen accented with decorative nail heads and vintage Ranchcraft hardware, 30 x 48 inches
Going from clothing to furniture opened Beard's eyes to infinite possibilities. In the many years since she began, she hasn't repeated a design. "I have a stack of ideas I haven't gotten to yet, so why should I repeat myself?" she says. "Everyone who places an order has their own ideas, and I enjoy taking a nugget from what they're thinking and turning it into something I like and something that makes them happy."
Beard's brother is a woodworker in Seattle, Washington, so the leap from clothing to furniture seemed like a natural transition. It never occurred to her that it was something she couldn't accomplish. She attributes that to a mother who was a fearless seamstress.
"My sister and I rode horses competitively, and our mother sewed every outfit," she says. "I remember my mother jumping into making chaps for us. For my sister and me, having homemade clothes was a treat. She'd take us to the fabric store, and we would help to pick out fabrics and patterns. She made our wedding gowns. She was intrepid. When I got married, and we moved 20 times in 20 years, my mom wasn't there anymore, if I wanted one-of-a-kind clothing I'd have to do it myself."
Beard's furniture line is composed of soft materials, or as she likes to think of it, "furniture wearing clothes." It's all wool gabardine, the same fabric she used in her clothing and preferred because it's a sturdy, natural fabric. Her style reflects both the West and the landscape.
"Some people might consider it kitsch, which is fine," Beard says. "But I also just finished a coffee table ottoman that is designed with the white trunks of aspen and a few leaves. It's interpretive. … I consider it 'of the West,' but that landscape would probably also fit a lot of other places."
Beard sketches her ideas when they come to her and then puts them in a folder, knowing she'll get to them all. Coming up with an idea, drawing it out, finding the fabric, selecting the colors, figuring out her template, and coming up with the frames are all part of her process.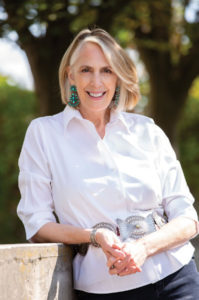 "I'm not a woodworker. I have collaborated with my brother on a lot of pieces, but otherwise I source [wood] locally or manage [its construction] myself," she says. "There are a lot of steps in just the mechanics of going through the process. For me, it's form first; I pick the form to comply with the artwork. I conceive of a piece of furniture that will best fit the form, then I try to find the function."
Each piece resides in her studio for about three months, from concept to completion, as the process is labor intensive. For that reason, she carries a backorder list that can go up to a year or more.
This winter, Beard will be part of the By Western Hands Design Center's 2019 opening. The center is an educational resource for apprentices in the field of furniture making. It also houses a gallery that exhibits guild members' furniture as well as a gallery for historical Western furniture.