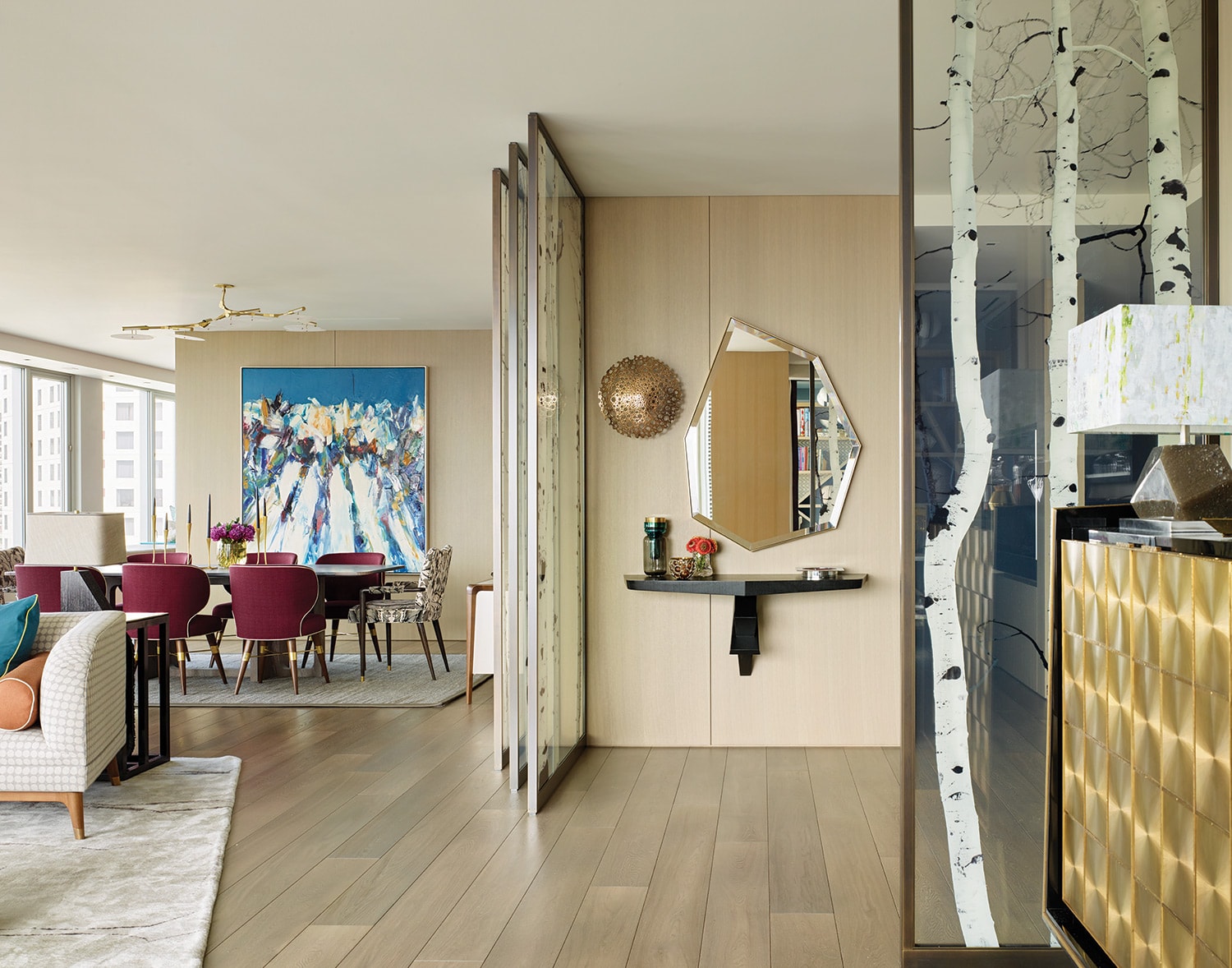 Aspen trees, painted on glass panels by Amanda Weila, are displayed at the front entry to create a sense of nature in a bustling city. A Jean-Louis Deniot mirror by Pouenat is perched above a console by Heijden Hume and next to a Jonathan Browning Studio sconce. An oil painting by John diPaolo hangs in the dining room.
08 Nov

San Francisco's Enchanted Forest

ALTHOUGH THE ARCHITECTURAL STYLES of San Francisco vary greatly, the image that no doubt pops into most people's minds is that of the decorative and colorful Italianate row houses and Victorian- and Edwardian-style buildings lining the city's classic neighborhoods. But as with any cultural hub with a growing population, the next hip neighborhood and the architectural styles that exist within it continue to evolve.

Transformed through an urban redevelopment project, the luxury high-rise apartments towering over the Yerba Buena Gardens neighborhood in the SoMa District are a good example. It is here, in the St. Regis Residences, that a writer who travels a lot but works from home decided to settle. "The building was a pioneer in high-rise residential living when it was built," explains Jay Jeffers who designed the interiors. "And in the last 10 to 15 years, there's been more of a desire for this type of living, more luxury urban."

After the homeowner bought two neighboring apartments, she hired architect Houman Sharif, founder of MEM Architecture, to not only join them together but to also completely reconfigure the interior spaces. "We started by looking at options for connecting the apartments," Sharif says, explaining that with high-rises there are mechanical systems and structural components that can't be moved. "But the client program was exciting; we went from four bedrooms to a two-bedroom, 3,700-square-foot apartment, so it allowed us to free up certain spaces."

As a writer, one of the core requirements was an office that was open and bright, looking out over the views. She also wanted a kitchen that was closed off from the other spaces. With those constraints, Sharif was given freedom to design the layout.

"Anytime you work in a high-rise, the challenge is working with the windows that you have," he says. "It's a driving factor for how things are laid out." To capture the most natural light, Sharif and his team created a corridor along the windows to flood light into the living room, dining room, master suite, and office. All of the utilities and more intimate spaces, such as the TV room, kitchen, and library, were set toward the back.

When the homeowner hired Jeffers for the interiors, she requested a streamlined apartment in which she could formally entertain but also host casual get-togethers. Jeffers created both: A living room and dining room with sophisticated furnishings and accents, and a "cuddle puddle" library room complete with a floor cushion and mounds of pillows for low-key hangouts.

"She loves modern design and likes everything to be in its place," Jeffers says. "But she also has a bohemian spirit and loves colors and patterns. At one point, we revised the schemes because she didn't feel like we had enough color."

The project became known as the Enchanted Forest for the images of aspens placed between glass panels, an artistic touch commissioned by Jeffers. "As a high-rise in one of the busiest parts of town, we wanted to create an illusion as you walked in the front door that you're in the trees," he says.
In the master bedroom and office area, a custom vanity by Tom Sellars and SF Metalworks sits below a custom mirror, also by SF Metalworks. The corner chair is by Marc De Berny upholstered in fabric by Osborne & Little. The drink table is by Jay Jeffers for Arteriors, and the vintage floor lamp is from Jacques Adnet. The painting "Synaptic" by James Kennedy hangs on the wall.
One of the more challenging elements for Jeffers was the lighting design. "She's very particular about lighting, and the ceiling height in the St. Regis is not high," he says. With the help of a specialist, they came up with a mix of functional and accent lighting to achieve an open and spacious feel throughout.
Jeffers also took the homeowner to galleries to help choose the artwork, and selected new furnishings that suited her style while mixing in existing pieces from her other homes. "She was definitely involved, but once we had the design aesthetic established and the language of the home, we could run with it a little more," he says.
Some of the most memorable touches for Jeffers include the master suite and storage solutions in various rooms. "I love her master bedroom," he says. "It's a long, thin room with plaster walls and lamps that look like little yetis, adding a fantasy theme that she loved. I also like the shelving we created in her office, master bath, and bedroom; they're all magical."
For Sharif, the ability to work with a good amount of space made all the difference in creating this urban oasis. "We had the luxury of working with open spaces that flow into each other and make it very airy and light," he says.
In the light-filled master suite is a custom platform bed by Hardesty Dwyer, Mon Yeti table lamps by Hubert Le Gall, and a Katy Grannan print, Michele, b. 1977, hangs in the background.
The end result is a sophisticated yet serene home, a peaceful enchanted forest in its own right that looks out to the hustle and bustle of one of San Francisco's most happening urban areas.