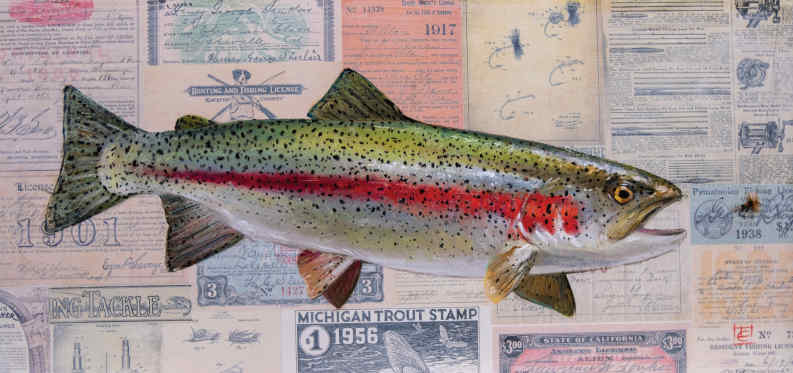 Rainbow Trout 2 | Pastel on Collaged Ephemera | 14 x 24 inches | 2021
08 Nov

Artist Spotlight: Lisa Gleim

Lisa Gleim has loved portraying the natural world's denizens for as long as she can remember. "When I was 6, I drew a picture of a clown with a lion, and it won a ribbon at the county fair. I still have it framed on my wall 44 years later," she says. Today, her work has gone on to far wider recognition. She won both the Western Art & ArchitectureAward and the 2020 Purchase Award during Making Their Mark, an exhibition that celebrated the 25th anniversary of American Women Artists at the Booth Western Art Museum.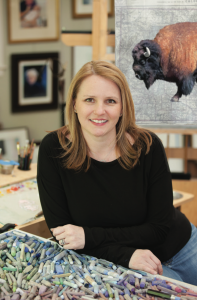 Gleim works almost exclusively in pastel, and initially, the Atlanta, Georgia, native primarily painted portraits — "a very Southern tradition," she notes. She graduated from the Pennsylvania Academy of the Fine Arts in Philadelphia and studied privately with Maryland-based portraitists Cedric Egeli and Joanette Hoffman Egeli before eventually returning to her hometown for her husband Bill's medical residency. In 2001, after their dog Bonnie passed away, Bill suggested that she soothe her grief by painting the golden retriever's portrait. Word soon spread of that beautiful tribute. "Now I'm pretty well known in Atlanta for my pet portraits," Gleim says.
She turned to wilder subjects almost six years ago after the couple and their daughter Libby acquired a second home in Big Sky, Montana, where she discovered the Grizzly & Wolf Discovery Center, an animal sanctuary in West Yellowstone."I took a bunch of photos and did my first paintings of a bear, a bison, a wolf, and an elk," she says. Seeking a way to distinguish such realistic depictions, her longtime interest in maps came into play. "I wondered what it would be like if I mounted a map on a gatorboard and painted in pastels directly on that," she says. The results quickly won favor with galleries and collectors.
Eventually, the concept gained even greater complexity and depth. Gleim will select materials for the collage indigenous to her subjects, such as the Grand Canyon maps behind the donkey inI'll Listen, But We Go When I Say. She assembles and mounts the background, coating it with gesso for a textured surface ideal for pastels. Next, she blocks out the subject in a water-based ink or watercolor wash. Finally, she builds up the image in pastels, with broader strokes to establish the under-coat, then finer overlapping marks to detail the fur's top layers.
The paintings possess a lifelike presence, typified by All Wet, featuring a close-up of a bear's head emerging from a pool. "That's Coram at the Grizzly & Wolf Discovery Center," she says. Flat strokes convey his matted fur, with finer lines for the dry hair atop his head. As a final embellishment, she dipped a toothbrush in rubbing alcohol, rubbed it on a white pastel, and flicked it at the painting to create the dazzle of sunlight on water droplets. Considering the results, Gleim overbrims with enthusiasm. "Right now, I'm really in love with bears," she says of this latest expression of her lifelong passion.
Gleim is represented by Montana Trails Gallery in Bozeman, Montana; McLarry Fine Art in Santa Fe, New Mexico; Paderewski Fine Art in Beaver Creek, Colorado, and Nashville, Tennessee; Cheryl Newby Gallery in Pawleys Island, South Carolina; Beverly McNeil Gallery in Birmingham, Alabama; and Atlanta Artist Collective in Atlanta, Georgia.