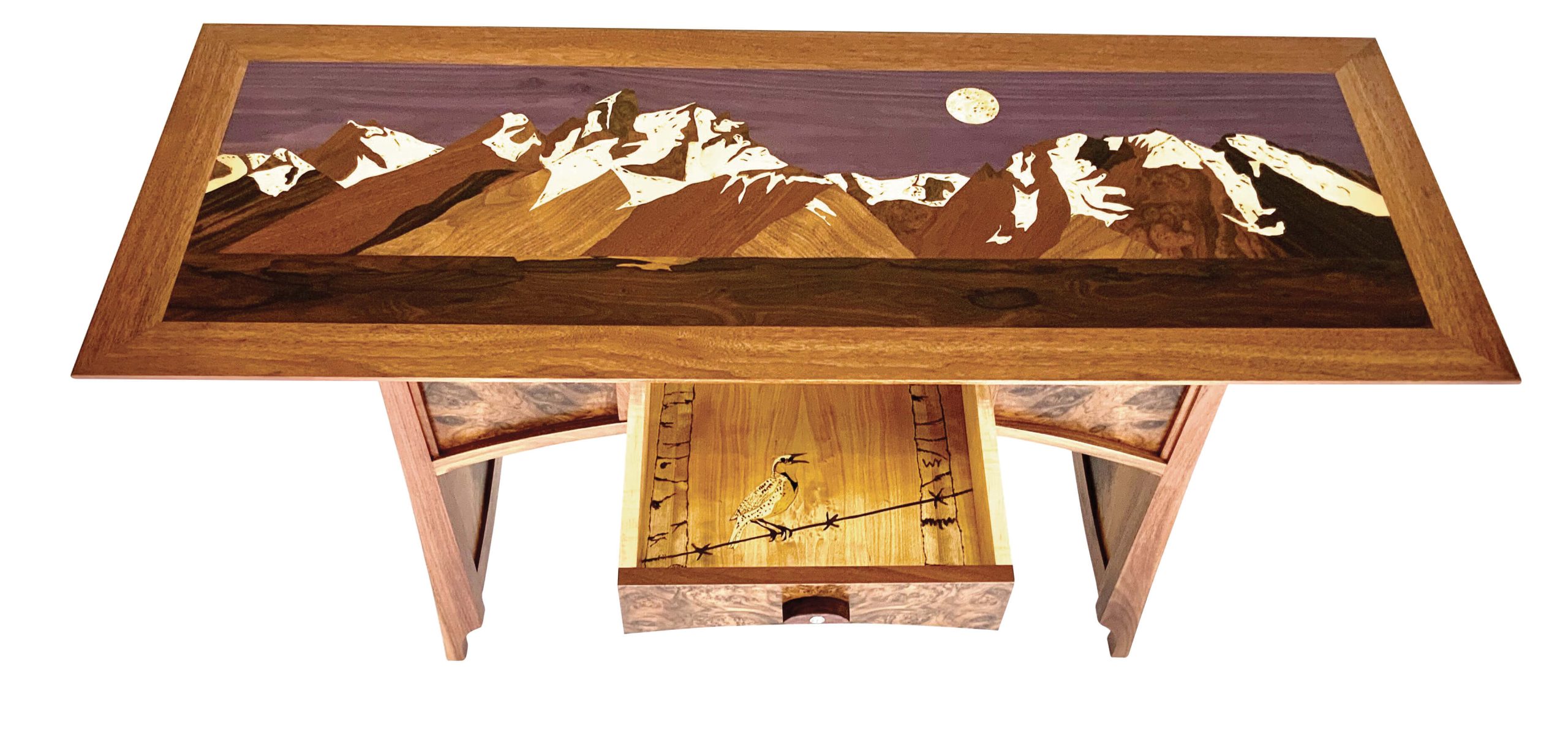 Teewinot Desk | Black Walnut, Rare Wood Marquetry, and 1929 Santa Fe Railroad Date Nail | 23 x 60 x 30 inches | 2021
08 Nov

Artist Spotlight: Wayne Delyea

How perfectly apt that Wayne Delyea, maker of heirloom-quality Western contemporary furniture, should live and work in what was once the largest pecan orchard in Texas, in the community called Pecan Plantation, southwest of Fort Worth. About 80 of those trees still grow on his and his wife Karen's 3-acre parcel. "I've made rocking chairs and other pieces from some that had died or were cut down to clear the land for our house," he says. "It's a kind of hickory, a beautiful hard wood."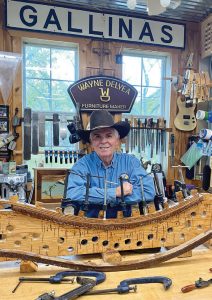 Another feature of Delyea's home also speaks to his creative calling: the Brazos River, which flows not far from the property. "The Spanish named it Brazos de Dios, the arms of God. And I feel like I live in God's arms," he says. Indeed, Delyea's works, though mostly secular in their style and decoration, nonetheless express a deeply spiritual connection to his materials, the forms into which he shapes them, and their purposes. "When I build furniture, I say prayers all the time, trying to figure out what I want to make. I just talk to God and ask him to show me a way. Then, all of a sudden, it'll come to me," he says.
The resulting furniture could well be called divinely inspired. Take the desk he calls Teewinot, which is the Shoshone word for "many pinnacles" and describes the tribe's ancestral homelands in the Teton Mountains. Primarily made of black walnut, it features a marquetry top of intricate decorative inlays depicting the glory of those mountains before daybreak, fashioned from a wide assortment of woods including cherry, Australian walnut, North American holly, Makassar ebony, and African wenge; a purple-dyed poplar sky; and a moon of mappa burl. Inside the single drawer, he added a marquetry design of the Western meadowlark, Wyoming's state bird. Delyea showed the table this past September at the Western Design Conference in Jackson, Wyoming, where it won Exhibitor's Choice and then Best of Show. "When they called my name out that second time, I almost fainted right there on the spot," he says.
Such marks of distinction might speak to a successful lifetime of work for the 68-year-old artisan. Yet, in fact, furniture is Delyea's second career. For 37 years, the Arizona native worked for the Santa Fe Railroad and then, after a 1995 merger, the Burlington Northern Santa Fe, rising to superintendent of network operations. Over that time, his love of woodworking progressed from simple pine boxes and picnic tables to more intricate projects. "When we moved to Texas in '97, I set up in a bay of our garage, and then built a separate shop in 2005," he says. Along the way, he took classes from such master woodworkers as Frank Strazza and marquetry master Paul Schürch. "I took to marquetry like a duck to water," Delyea says.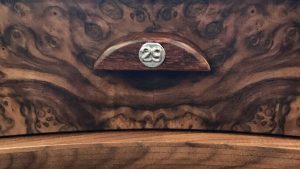 Artistic skill plus faith have added up to a powerfully winning combination for the woodworker. "I try to put meaning into everything I do," he attests. "If there's no meaning, then you never really enjoy it. And if you don't, how can anyone else?"
Delyea's furniture will be exhibited in the annual Texas Furniture Makers' Show at the Kerr Arts & Cultural Center in Kerrville, Texas, through December 17; and in the Master Woodworking Artist of the Year exhibit from March 7 to May 8, 2022, at the Forest Heritage Center Museum in Beavers Bend State Park, Oklahoma.