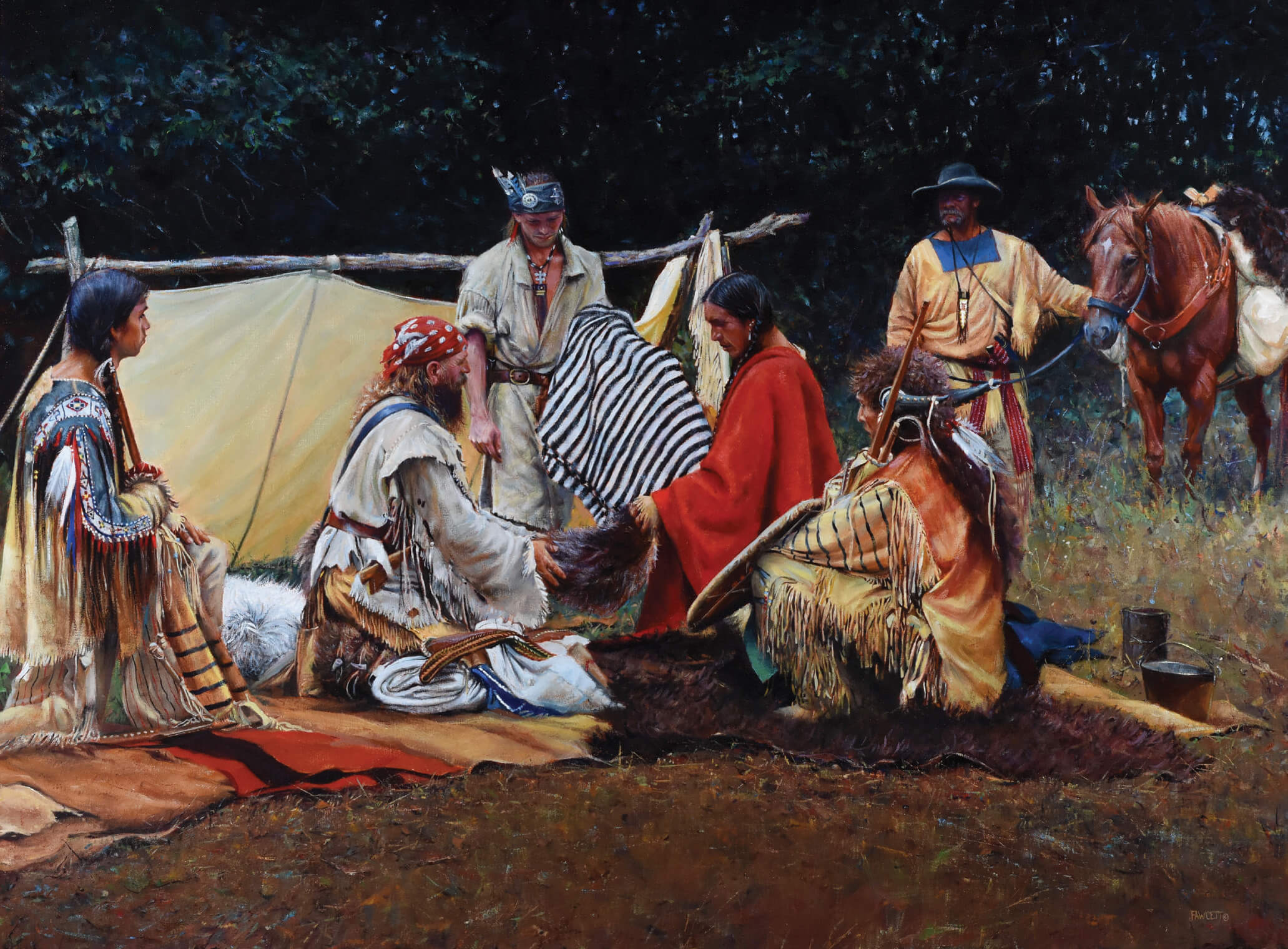 John Fawcett, Trading at Pierre's Hole | Oil | 30 x 40 inches | Sold: $18,000 | Courtesy of Eiteljorg Museum of American Indians and Western Art
08 Nov

Auction Block: Spurring Sales

Collectors showed enthusiasm for a return to in-person gatherings at art auctions this fall. Events brought together painters, sculptors, and buyers with pandemic safety precautions in place and virtual options for those who preferred them. And sales indicated that all is well on the Western art front.

Events tied to the Jackson Hole Fall Arts Festival experienced notable success. A much-admired painting by Howard Terpning led the Jackson Hole Art Auction, which also saw 40 percent of lots exceed predicted prices and set auction records for 24 artists. The National Museum of Wildlife Art's signature show, Western Visions, surpassed last year's sales total. And rounding out the fall festival, the Western Design Conference Exhibit & Sale displayed fashion, furniture, arts, and accessories before many items were carried away by buyers.

In October, the Traditional Cowboy Arts Association was back in the saddle at the National Cowboy & Western Heritage Museum, with artists creating works that pair beauty with utility.

And Quest for the West at the Eiteljorg Museum of American Indians and Western Art proved that contemporary and traditional Western and wildlife art continue to achieve both tidy amounts and growing admiration.
99th Annual Santa Fe Indian Market
August 21 – 22
Total: Undisclosed
In late August, the Southwestern Association for Indian Arts (SWAIA) hosted the 99th annual Santa Fe Indian Market. As the world's largest intertribal art market, it returned to in-person events following a virtual presentation in 2020. Highlights included a fashion show, live auction, and works by nearly 1,000 Native American artists from around the globe.
Best of Show for 2021 went to Rhonda Holy Bear (Cheyenne River Sioux) for her carved and beaded doll titled Lakota Honor-Sees the Horses Woman. The exquisitely detailed doll took more than a decade to construct and was inspired by the artist's grandmother, who lost her father, a Lakota warrior, in the Battle of the Little Bighorn. The piece also won in the beadwork and quillwork category.
Additional award-winning artists included Denise Wallace (Chugach Sugpiaq) in jewelry for Origins, Roots and Sources; Robert Patricio (Acoma Pueblo) in pottery for Raining Dawn to Dusk; Thomas Tapia (Tesuque Pueblo) in visual arts for Buffalo Elk Dance; Arthur Holmes Jr. (Hopi) in wooden figurative sculpture for Broken Arrow; Raymond Chee Sr. (Navajo/Diné) in sculpture for Healing into the Night; Tyler Glasses (Navajo/Diné) in textiles for Poncho for Days; Dana Warrington (Menominee/Potawatomi) in diverse arts for Defending the Homeland; and Jeremey Frey (Passamaquoddy) in basketry for Malsom (Wolf).
Western Design Conference Exhibit & Sale at the Snow King Events Center
September 9 – 12
Total: Undisclosed
The 29th edition of the Western Design Conference in Jackson, Wyoming, saw more than 100 artists present works ranging from contemporary to traditional and spanning everything from furniture to fashion. The one-of-a-kind pieces were open for early viewing on September 9, which also featured a preview party, runway fashion show, live auction, and designer showcase.
The event distributed design awards totaling $20,000. Honors were awarded on September 10, with Best of Show going to Wayne Delyea. The artisan demonstrated his woodworking expertise in marquetry, winning him $5,000 in prize money. He also gained Exhibitors' Choice and an additional prize of $1,500. Delyea presented an intricately worked desk with a mountain scene that wowed observers and judges.
Tres Outlaws Boot Co. took Best Artist in the art-to-wear fashion category for a pair of boots. The award brought a $1,000 prize. The same amount was given to Ewa Kielczewska, of Santa Fe, New Mexico, for her hand-painted suede collection, which won Best Collection in the fashion show.
Additional awards went to: Emily Janak Interiors and Fighting Bear Antiques for Best Interior Design ($3,000); Andrew Parent with the Sonny Tuttle Spirit Award ($1,000); Keoni Wood Fine Art for Best Artist in Woodworking ($1,000); and Many Tears (designer Supaya Gray Wolfe) for Best Artist in Accents ($1,000).
Quest for the West at the Eiteljorg Museum of American Indians and Western Art
September 10 – 11
Total: $1.236 million+
Painter Mark Kelso is on a winning streak. His oil painting, Snow Angels, took three of the top awards during Quest for the West, the showcase auction of the Eiteljorg Museum in Indianapolis, Indiana. Kelso's use of values is flawless in the portrait of two swans in water and snow. It won the Henry Farny Award for Best Painting, the Patrons' Choice Award, and the Artists' Choice Award.
John Fawcett's Trading at Pierre's Hole garnered the Harrison Eiteljorg Purchase Award and will be added to the museum's permanent collection. The painting depicts a multi-cultural gathering of traders, with a central figure in a red robe.
The Victor Higgins Work of Distinction went to Brett Allen Johnson for the artist's body of work, while Gerald Balciar received the Cyrus Dallin Award for Cactus Perch, a bronze sculpture that makes the most of curves. Denis Milhomme was named the Artist of Distinction for the annual event, which will entail a future solo exhibition at the Eiteljorg for the artist.
The show sold nearly 200 works by 51 of the nation's leading Western artists during opening night. The weekend events, which included a miniature's sale, brought more than $1.236 million, the bulk of which goes to the artists, with the remainder funding museum operations.
Western Visions Art Show + Sale at the National Museum of Wildlife Art
September 16 – October 3
Total: $400,000+
At the National Museum of Wildlife Art in Jackson, Wyoming, Western Visions opened in September and brought more revenue and participation than last year's event. The 2021 auction saw a sell-through rate of nearly 70 percent.
William Alther won the Trustee Purchase Award with Her Elegancy, a charming 16-by-19-inch oil depicting a doe against an autumn forest. The painting was purchased for $3,800 and is now part of the museum's permanent collection.
The Red Smith Award went to Thomas Aquinas Daly for Still Life with Wood Ducks and Blue Magic. Participating Western Visions artists voted for Daly's painting, which sold for $9,000. The small-sized oil is reminiscent of 19th-century American artist Alexander Pope with its detailed depiction of waterfowl, save for a brightly colored shotgun shells that implicate the birds' demise.
Bruce Lawes received the People's Choice Award with an action-oriented painting of a bald eagle arcing through the air over a river with a fish in its beak. The raptor's outstretched wings create a horizontal line that contrasts with the tall conifers and towering mountains. The picture, Freedom on High, sold for $6,800.
Birds, overall, appeared to excite enthusiasm among collectors, earning top-selling lots. An oil depicting snow geese flying through wintry skies, White Night Flight by T. Allen Lawson, went for $11,500. And Leo E. Osborne's Moonlit Swan, an acrylic on gold leaf with Post-Impressionistic characteristics, sold for $10,000.
40th annual Buffalo Bill Art Show & Sale at the Buffalo Bill Center of the West
September 17 – 18
Total: $1.75 million+
More than $1.75 million worth of art was sold when the gavel dropped for the last time during the 40th annual Buffalo Bill Art Show & Sale in Cody, Wyoming, in mid-September. The Buffalo Bill Art Show & Sale benefits the Cody Country Chamber of Commerce and the Buffalo Bill Center of the West. The event was held in conjunction with By Western Hands' exhibition of Western craftsmanship during the week-long arts celebration known as Rendezvous Royale.
The live auction's highest-selling work went to Tucker Smith for his iconic mountain sheep entitled Glacier Carved, which sold for a total of nearly $75,000 with fees.
Awards for outstanding artistic merit were given to select artists from among the more than 100 who participated in the show and sale. Mark Kelso was awarded the Spirit of the Buffalo Bill Art Show & Sale Award for his oil painting South Fork Wanderers. T. Allen Lawson was selected for the two-dimensional award for The Fence Inspector. Joshua Tobey's sculpture Stepping Stone won for best three-dimensional work. And four additional artists were also recognized for their excellence in design and execution: Campbell Dosch for Apsaalooke; Dolan Geiman for Midnight Moonlight; Paul Rhymer for Chicken Hawk in Repose; and Kyle Sims for Glider.
Attendees at this year's event voted for Heide Presse's oil painting Tall Tales for the People's Choice Award. And the Gilly Fales Fine Art Scholarship Award, a scholarship provided to artists ages 18 to 30, went to Olivia Christensen for her oil painting Heart of Wyoming.
The judges praised this year's selections overall, with juror Bruce Eldredge stating that "the show is of exceptional quality" and stands out especially for the works of art on paper, which "show a mastery of working in watercolor, pastel, charcoal, and collage."
Jackson Hole Art Auction presented by Trailside Galleries and Gerald Peters Gallery
September 17 – 18
Total: $8.9 million
Howard Terpning's Vanishing Pony Tracks made a tangible impression on collectors assembled at the Jackson Arts Center in mid-September for the Jackson Hole Art Auction. The large, vertical painting from the collection of T. Boone Pickens sold for $1.424 million, compared to pre-sale estimates of $700,000 to $1 million, and was the top-selling lot. The painting was among the 40 percent of works that achieved higher than expected prices. And the 2021 auction set records for 24 artists, according to officials.
The work of Bob Kuhn is always sure to mesmerize audiences — and so it was for Stuff of Legends. The painting of a wolf trio in the snow excited bidders before ultimately achieving $480,000 instead of the predicted $100,000 to $150,000.
The U.S. West's historical conflicts between its Indigenous peoples and white settlers were on full display in a John Clymer work. The painting depicted a standoff between the two cultures over the carcass of a bison. We Take All brought $480,000 to tie with Kuhn's painting for the second highest-selling lot. The oil had been expected to bring between $100,000 and $200,000.
A strongly angled and striking picture of mountains and mountain goats, Above the Treeline by Carl Rungius, sold for $324,000, within estimates. And the popularity of animal paintings continued, with Clymer's Buffalo Hunt selling for $240,000 to become the fourth top-selling item.
Traditional Cowboy Arts Exhibition & Sale at the National Cowboy & Western Heritage Museum
October 1 – 2
Total: $342,000+
A tooled leather saddle with spare touches of silver embellishments brought the top amount during the Traditional Cowboy Arts Exhibition & Sale at the National Cowboy & Western Heritage Museum in Oklahoma City. The saddle by Salmon, Idaho, artist Cary Schwarz sold for $39,450.
The Traditional Cowboy Arts Association (TCAA) is dedicated to preserving and promoting the skills of saddle making, bit and spur making, silversmithing, and rawhide braiding. Their annual show includes a fixed-price draw that, this year, raised nearly $300,000 the first two days of October, with purchases continuing through January 2.
Other top-selling lots included an ornate silver cross by Beau Compton from Tombstone, Arizona, which sold for $34,500. And The Longhorn, a saddle by Troy West of Azle, Texas, brought $31,450; the floral-stamped leather piece featured small, stylized longhorns. A one-half scale Wade saddle by Pedro Pedrini from Pendleton, Oregon, was the fourth-highest selling lot at $19,425, followed by Cowboy "Quaich," a pair of silver-worked bowls on a handcrafted tray, which sold for $17,600. The item was fashioned by Canadian artist Scott Hardy.
The museum's president and CEO, Natalie Shirley, said the event was a highlight for art admirers. "The saddle makers, bit and spur makers, silversmiths, and rawhide braiders who comprise the TCAA are among the most skilled artists working today, creating extraordinarily beautiful art that evolved from the tools of the working cowboy," Shirley says.
WA&A's senior contributing editor Laura Zuckerman lives and writes in Salmon, Idaho. Her work has appeared in such publications as The New York Times Magazine.