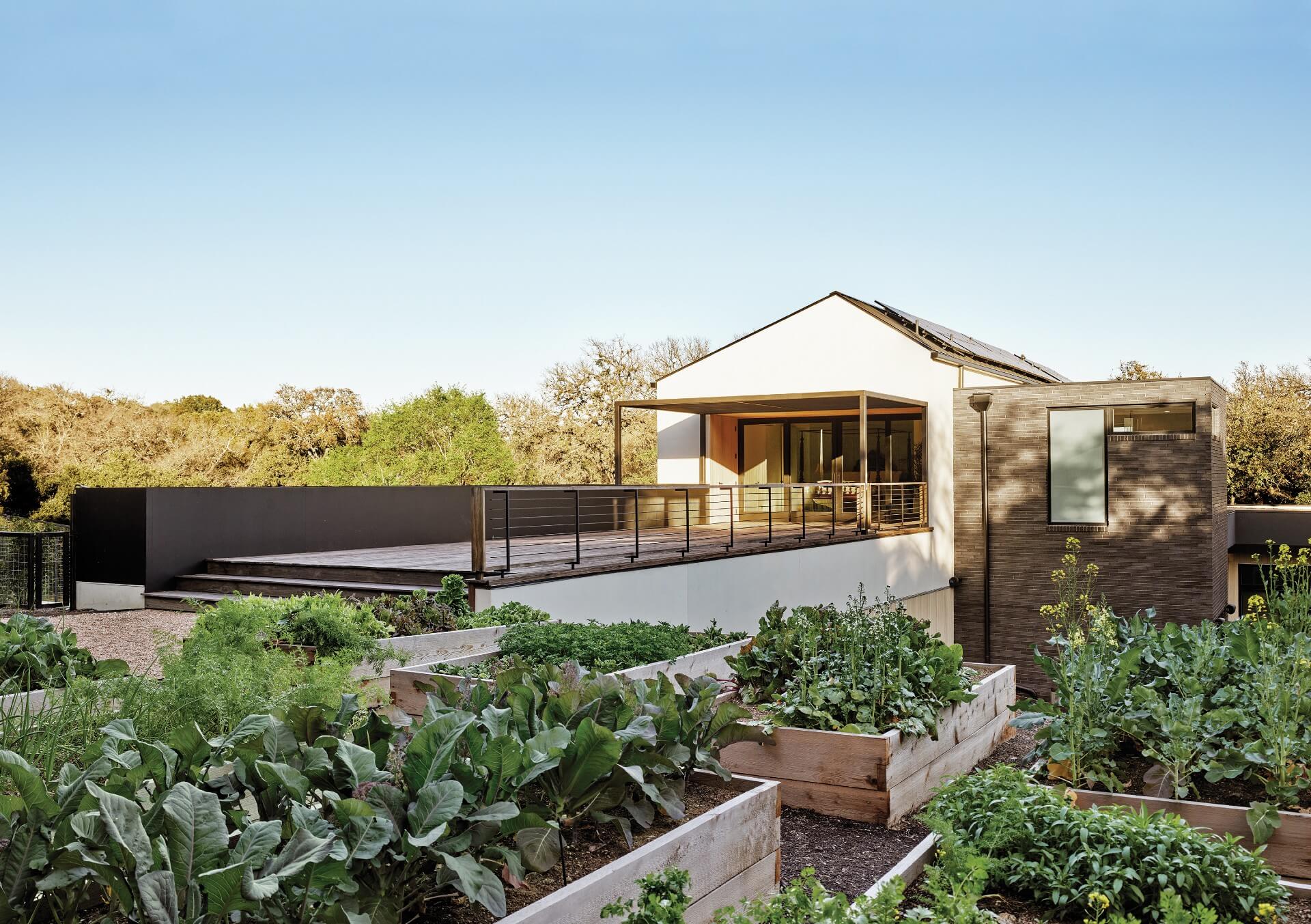 Descendant House opens to an organic garden and orchard, which are enjoyed by all three generations who live here.
08 Nov

Rendering: Negotiating an Environment

Matt Fajkus doesn't recall any "aha" moments on his path to architecture. Similarly, he can't point to specific designers who inspired his career choice. But the founder of the award-winning Matt Fajkus Architecture does remember road trips across Texas with his parents, and being fascinated by the towns and cities — their structures and feelings. He absorbed a little from it all.

As a child, Fajkus had a stutter that left him excruciatingly shy, and drawing became his way of expressing himself. As he grew older, he found he was less interested in fine art than in structure and volume. Architecture made sense.

If he had a role model, it was his thesis tutor at the Harvard Graduate School of Design, the Pritzker prize-winning architect Rafael Moneo, whose life work has been a combination of his much-lauded architectural practice and being an educator and theoretician. "It was so graceful," Fajkus says. "It didn't seem like a strain; he was able to create a great synergy between the two roles, and it was clear that what he was doing professionally energized his teaching, and then conversely, the energy that he got from teaching would feed into the practice and drive the work."

While working in London at Foster + Partners, the firm of famed architect Norman Foster, Fajkus found his first teaching job to be deeply satisfying. It entailed a commute to Sweden, balanced with being actively engaged in his day job, which provided an opportunity to work on projects worldwide of all scales. He gained valuable insights into the machinations of a firm as large as Foster + Partners, which, during the time he was there, grew from a staff of 400 to 1,000. In fact, he laughs, he'd gone from working with Dallas-based Max Levy Architects, essentially a one-person operation, to the largest firm in the world. "There were pros and cons to each," he says.

Like his mentor Moneo, Fajkus found his calling was a combination of academia and practice. He returned to Texas, where he joined the faculty at the University of Texas at Austin School of Architecture and in 2010 opened his firm in the city. "I figured it would take at least a year of teaching before I'd consider projects and about 10 years before I'd have much momentum at all," he says. But projects immediately presented themselves. "I said yes to every opportunity, however small or not feasible it was," he adds.

Fajkus' first move was to hire architect Sarah Johnson, and together they built a team. Their motto was, "We'll do anything! Nothing is beneath us." And, as Fajkus says, someone took them up on that. One of their early projects was a fashion show installation. "It was really nerve-wracking," he says. "It was clear we were going to lose money, and it could've been a flop in front of thousands of people."

In fact, the installation brought in three new residential projects. And the set design, like everything, connected to the firm's ethos. "It embodied a lot of what we believe in with architecture: resourcefulness with material, managing light in clever ways, thinking about function and form and how all those work, but in a very pared-down, minimal scope," he says.

The firm has received numerous awards, including being selected twice for the national AIA's Emerging Professionals exhibition and again for AIA Austin's. These days Matt Fajkus Architecture has passed the 10-year limit to qualify as "emerging," and Fajkus is now 44, so he's out of contention for the "Under 40" accolades he's won in the past. Though the awards may have changed, they continue to come, including a 2019 AIA National Healthcare Design Award and recognition from the Urban Land Institute and the Texas Society of Architects.

At present, there are 12 employees at the firm, but the number can fluctuate a bit with projects. Fajkus and Johnson have their hands on every design, but everyone on the team contributes. Office charrettes are an opportunity to give each project the benefit of the team's collective intelligence.

Fajkus says the most important thing he can impart to his students at UT Austin is to think holistically, and that can be said about the practice as well. Everything relates to something else, the scale rippling out. "Nothing that we do is without consequence," he adds, explaining that a room relates to both its human scale and to the larger structure, which relates to its site, the neighborhood, the city, and so on. Sustainability ripples out from green practices. Aside from minimizing the impact on the environment from a building's construction and use, it must last. To last, the design must aim at timelessness while being original, but not so of the moment that it will be torn down when trends change.

Homes are shelters, but they should also provide a connection with nature. "Architects are the negotiator and mediator between humans and the environment," he says. "How can architecture be a frame or a lens to understand or connect us to something else?"

Fajkus believes that people should avoid choosing an architect solely because they admire their portfolio. Instead, he says, "It should be based on rapport. It's very much a relationship. We're going to work through things together, so it's important we have enough chemistry to work through all the problem-solving that's required. It's not just design-solving. There are plenty of logistics and things that pop up."

Some clients aren't able to articulate what they want, while others arrive with a detailed list of desires. During early conversations, the firm delves into how the clients envision life in their new house. "But we do find there's a limitation to that before putting pen to paper," Fajkus says. "At some point, you have to take a stab because you can do spreadsheets of wants and needs forever. Some of those will contradict each other. So you start designing, laying out the composition, or you can't really advance."

They generally present clients with several options, which may or may not become the final design, but they provoke more fruitful discussion. "We don't show them one scheme and say, 'Here, we've solved it. You're welcome,'" Fajkus says, laughing.

Originality has to spring from restrictions ranging from budget and site to city regulations. "There are certain conventions that don't make sense to challenge," Fajkus says. "We're not looking to reinvent the wheel in every single aspect of every project. We try to think about finding at least one variable that challenges our assumptions. That could involve the use of materials or challenging what an infill house or a country house is supposed to look like."

In a project titled Inverse House, the expected use of public and private areas is reversed. At Descendant House, he says, "The house is about blending three generations of a family, but also about descending down a steep hill and allowing the form of the house to make that step effectively, and the material logic to accompany that."

Awards are gratifying, but for Fajkus and Johnson, the best recognition is a client who remains excited by their house. And along the way, there are wonderful events that add meaning. For the Mount Sharp Residence, the clients didn't tell the architects they'd been visiting their 22-acre site for five years, imagining different placements for their new house. They'd settled on one, and were thrilled when the firm chose the same site. For Descendant House, it was the triumph of pleasing multiple generations with different tastes and needs. The owners of Inverse House were so excited by the final design, they wanted to showcase it during the 2021 AIA Austin Homes Tour.

As for the future, Fajkus hopes they can take on some interesting, medium-sized institutional, civic, or cultural projects while maintaining the firm's boutique size. "We don't want to grow for growth's sake," he says. "Let's just say we've been doing this for a decade now, and we've had some talks about what we've done and where will we be 10 years from now. It's an ongoing discussion."

One we'd love to be in on.