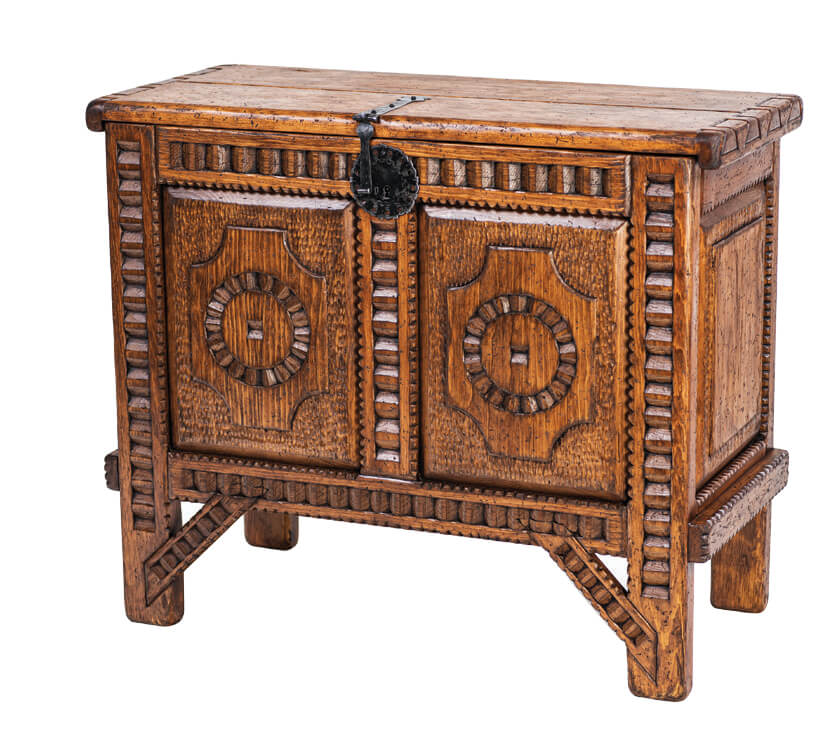 08 Nov

Things We Love
Carved Chipped Chest by Anthony E. Martinez
The landscape depicted in popular paintings of Northern New Mexico is where Anthony E. Martinez grew up, with a knife in his pocket, roaming the bosques, whittling wood. Living around carpinteros creating furnishings, combined with his childhood experiences, inspired him to work with wood. We love Martinez's Carved Chipped Chest, where he has taken the art of carving beyond the ordinary — the depth of chiseling in the pine exceeds 5/8 of an inch in some areas, which, when stained, makes for profound definition. The hand-hammered hardware, an antique from South America, completes this chest, which is fully finished, inside and out. His expertise in craftsmanship has distinguished him; he's an honoree of Phoenix Home and Garden Magazine's "Southwest Treasures."
$35,000
39 x 32.5 x 18 inches
anthonyemartinez.com
Architectural Backsplash from GLASSplash
We love the concept of artwork appearing in an unexpected place. With backgrounds in design and photography, John Patterson and Jeff Valdez are the creative minds behind the latest innovation in architectural backsplashes. Their Santa Fe, New Mexico-based company, GLASSplash, integrates original art onto tempered glass panels using ceramic ink. Artist Jonathan Juanico from Acoma Pueblo created this design, and his contemporary take on traditional Acoma pottery will enliven any kitchen or bar.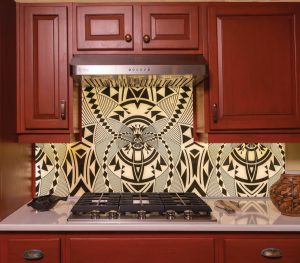 Starting at $175 per square foo
glassplash.us
Sculptural Wall Ties by William Matthews Studio
Fans of fashionable menswear will delight in this collection of large ties by artist William Matthews. Sculptural in form and rich in personality, the three-dimensional ties are painted on canvas and are whimsical, often humorous, and thoroughly dramatic. Sure to make a statement that's both playful and artistic, they also capture the signature style of this beloved Western painter.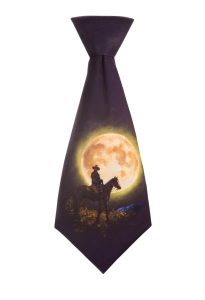 84 x 32 x 8 inches: $11,500
49 x 18 x 5 inches: $4,800
williammatthewsstudio.com
Pakurigo Wave Basket from GOODEE
Design enthusiasts and twin brothers Byron and Dexter Peart believe companies that choose to leave the world a better place are worth recognizing. That's why they established GOODEE, a business that curates quality home goods made by artisans and companies who make a positive impact. We love these expertly woven Pakurigo Wave Baskets from Baba Tree, which employs villagers from Bolgatanga, Ghana. They are hand-woven from vetiver grass in shapes difficult to master, with intricate patterns and bright colors. Part of the proceeds from the Pakurigo Wave Baskets supports sustainable causes and the artists who made them.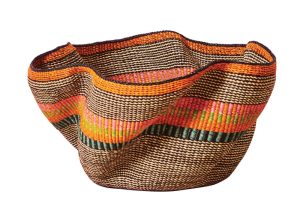 $200
17 x 12 inches
goodeeworld.com
Antler Christmas Tree by Fish's Antler Art
We love this wild and rustic Christmas tree made from elk antlers. Fish Fisher is an avid outdoorsman based in Bozeman, Montana, with over 30 years of experience creating home goods from antlers. He and his son, Riley, work together to transform antlers shed by moose, elk, deer, and caribou into practical works, such as chandeliers, wall fixtures, tables, lamps, and other items. Fisher purchases most of his inventory from locals, known as shed hunters, who diligently search for them in the backcountry. He also buys them from game farms and ranchers who collect the antlers left by wildlife grazing on their land. They keep about 20,000 pounds of antlers in their studio, each awaiting just the right placement. This 8-foot-tall tree is illuminated with 100 lights, and the wiring is carefully concealed in the central sandblasted cedar post. Each one-of-a-kind tree is created by commission.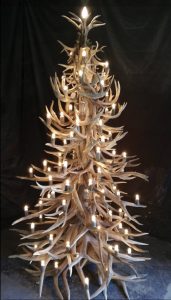 $20,000 – $25,000, with lights
$6,000 – $15,000, without lights
fishsantlerart.com
Velvet Floor Cushions from Knots Studio
From a studio in Tel Aviv, Israel, Neta Tesler creates elegant textiles for the home. We love this nautically inspired take on a floor cushion that's crafted in rich velvet. The aesthetics of the Mediterranean Sea are felt in the bright royal blue, which will make a luxe statement in any room. The beechwood rings can be stained, if preferred, to walnut or black. Knots Studio also offers accompanying pieces, such as woven velvet benches, bar stools, and pillows in colors including lightning yellow, glowing rust, and mango.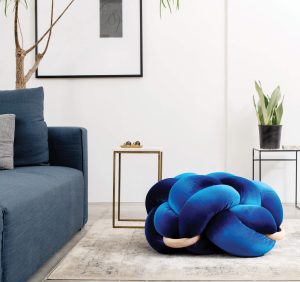 $520
30 x 30 x 14 inches
knots-studio.com
Musui-Kamado Cookware from Vermicular
Gastronomy makes a leap with this cast iron induction cooker from Vermicular. Named Musui-Kamado, this appliance blends cast iron with the high-powered method of induction cooking, allowing for even heat distribution and exacting temperature control. Chefs praise the intense flavors they achieve when cooking in the Musui-Kamado, a high-tech machine that's precision-engineered to ensure performance. The Musui-Kamado is a sleek addition to one's kitchen that can sear, steam, roast, braise, and cook sous-vide from one clean design.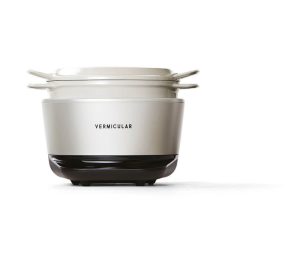 $670
12.2 x 11.7 x 8.2 inches
vermicular.us
Knot Lamp from Dvelas
We love the innovation that comes with recycling materials, particularly when they're made into artistic products, such as these Knot Lamps. Designed by award-winning architect Enrique Kahle from Pamplona, Spain, each one-of-a-kind lamp is made from recovered sails, capturing the unique patterns and markings from the stripes and numbers. The Knot Lamp is lightweight and moisture-proof, making it ideal for outdoor use on a dining table, pathway, or even a sailboat. Its LED system comes with variable intensity and a rechargeable battery that can last up to five hours at full power. An inscription on the bottom of each lamp provides details about the port of origin, the type of sail, and the original ship manufacturer.
$550
12 x 7 x 7 inches
dvelas.com
Circa Lounge Chairs by Bensen
Bensen, a design and manufacturing company, built the Circa Lounge Chair for comfort. Each model from the series utilizes a curved backrest for support, while its ergonomic seat invites one to relax. Simple and honest, the tailored appearance of the Circa chairs will bring functional style to any room.

$1,420 – $3,980
bensen.com