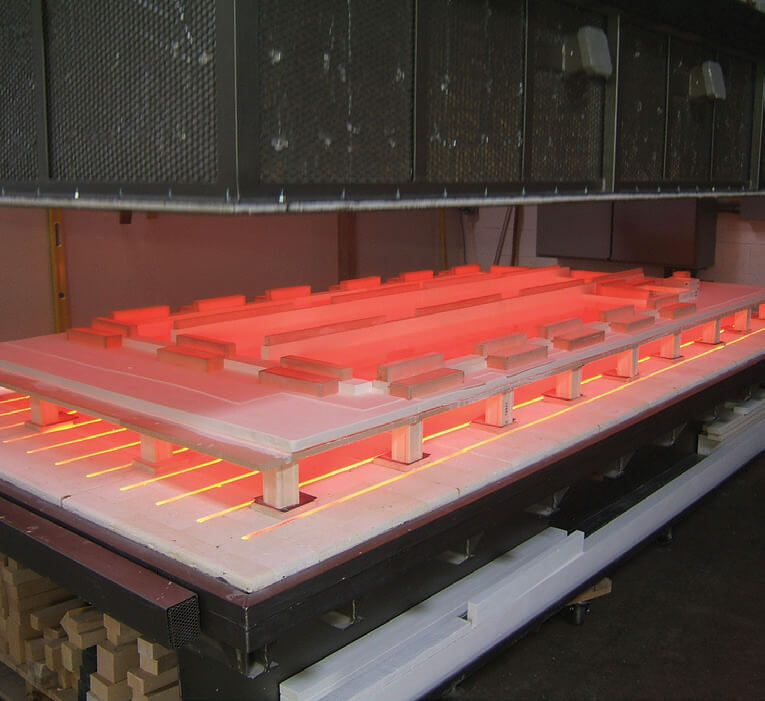 07 Nov

Artist Spotlight: Bullseye Studio

The cylindrical glass coffee table fabricated by Bullseye Studio seems magically lit from within. Yet, the sculptural object contains no internal source of illumination. Instead, any trace of natural light sets the elegantly streamlined, amber-hued structure aglow. The one-of-a-kind object, made for a private client in Manhattan and costing upwards of $100,000, is composed of four thick pieces of kilnformed glass. No rods or screws hold together the table, with the structure secured solely by the weight of its precision-made pieces. Three textured arcs form the circular base, and the thick slab top has a polished edge, "so you can see the interior life of the glass," says Dawndae Hamilton, the studio's development manager.

Such stunning creations are hallmarks of Bullseye Studio, the custom-fabricating division of Bullseye Glass Company. Founded 45 years ago in Portland, Oregon, the parent company has grown to cover multiple square blocks of the city's booming Eastside Industrial District. Another division, Bullseye Projects, works directly with glass artists from across the nation and around the world to promote their creations in kilnformed glass — that is, glasses of various colors that are fully and permanently fused together in the intense heat of a kiln. The goal, says Hamilton, "is to help support and advance that movement in studio art."

Bullseye Studio, meanwhile, focuses on the challenges inherent in custom interior design or architectural glass projects that combine fine art and practical purposes. One of its most recent, largest-scale projects debuted in 2020 in the lobby of Portland's newly built Multnomah County Central Courthouse: a 71-foot-long, 25-foot-tall fused-glass artwork designed by Chicago-based artist Lynn Basa and composed of 120 individual 5-by-3-foot panels. The abstract composition — with hot colors and turbulent swirls on the left giving way to cooler, calmer tones and forms on the right — represents both the progression from crime to justice and the Pacific Northwest's unique combination of geothermal activity and pastoral beauty. "Designers and artists come to us with their designs," says Hamilton, "and we can help them translate those into glass on a large scale."

This fall, Bullseye Studio played a key role in the Portland Museum of Art's current exhibition They Come From Fire, an immersive, site-responsive installation by Native American artist Jeffrey Gibson, who worked with members of the city's Indigenous, Black, people of color, and LGBTQ+ communities. Given prominence in the exterior windows of the building's main façade and its two-story interior sculpture courtyard, the exhibit includes suspended, vividly colored fused-glass panels proclaiming messages like "They Protect the Land" and "Our Bodies Our Rules." Once the show closes, some of these art pieces will be available to collectors through Gibson's galleries. It's yet one more example, Hamilton says, of Bullseye's continuing dedication to "exploration, progression, innovation, and evolution" in the artistic capabilities of the glass medium.

Bullseye Studio is located in Portland, Oregon. Jeffrey Gibson: They Come From Fire is on display at the Portland Art Museum through February 26, 2023.

Based in Los Angeles, Norman Kolpas is the author of more than 40 books and hundreds of articles. He also teaches nonfiction writing in The Writers' Program at UCLA Extension.