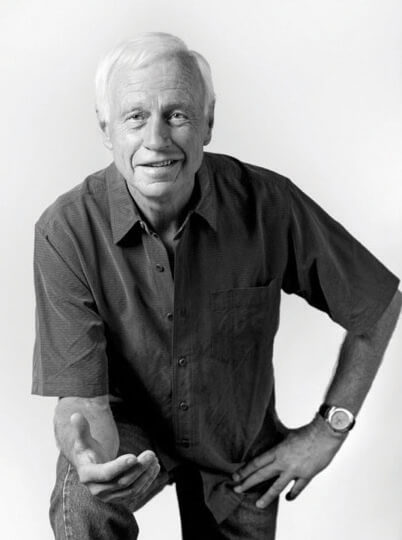 07 Nov

Artist Spotlight: Larry Yaw

Larry Yaw has always found his art to be an avocational outlet and also a dynamic creative tool, working as he does in architecture, a field in which most ideas "begin with a series of thumbnail sketches." As one of the founding partners of the nationally acclaimed Colorado-based firm CCY Architects in Aspen, over the past eight years Yaw has delved ever more deeply into a passion for oil painting, following a lifelong love of stimulating his creativity through mediums including first charcoal and pen-and-ink sketches, then more recently plein-air watercolors executed on his hikes through the backcountry of the Rocky Mountains and other wild places.

In the architect's art studio that occupies a wing of the home he designed for himself and his wife, Phyllis, in the Roaring Fork Valley town of Basalt, Colorado, Yaw explores "found discoveries, observed and exhumed to canvas from nature but expressed in a personalized version of Abstract Expressionism. My creative disposition, in painting as in architecture, is to create almost irreverent, unexpected work."

In the 1960s, when Yaw was in high school, his family moved from Montana to Florida, where the teen found acceptance for his interest in the arts. "I took all the art classes I could at Sarasota High School," he says, and he went on to study as an undergraduate at the University of Washington and then in graduate school in architecture and urban design at Columbia University, before heading West and starting CCY in Aspen 50 years ago.

Yaw's interest in Modern art has always fed into his unexpected yet entirely logical and human-centric architectural designs. "American Abstract Expressionism is a deep, core influence on me," he notes, citing such luminaries as Robert Motherwell, Mark Rothko, and Richard Diebenkorn. Equally influential has been the early, more abstract work of Russell Chatham, widely admired for his landscapes from the years he spent in Montana. "I'd followed him for a long time," he says, "and we became friends for the last 20 years before he died." An eloquently spare scene by the artist — a gift from Chatham for Phyllis' 50th birthday — hangs beside the window in the Yaws' primary bedroom.

Many of Yaw's painted works are inspired by "spending a lot of time in the high country, discovering geomorphic earth forms." Back home in his studio, "I do a lot of sketching, and when I find one that has purpose and interest to me, I'll put it on canvas, often laying out the shapes in monotone hues to better understand their interactive effect. Then I finally back off and let the dialogue between myself and that painting tell me what it wants to be. The painting is talking to me all the time, and an intuitively directed process takes over until the piece is finished."

And the results feel every bit as dynamic, balanced, harmonious, and satisfying as the buildings Yaw creates.