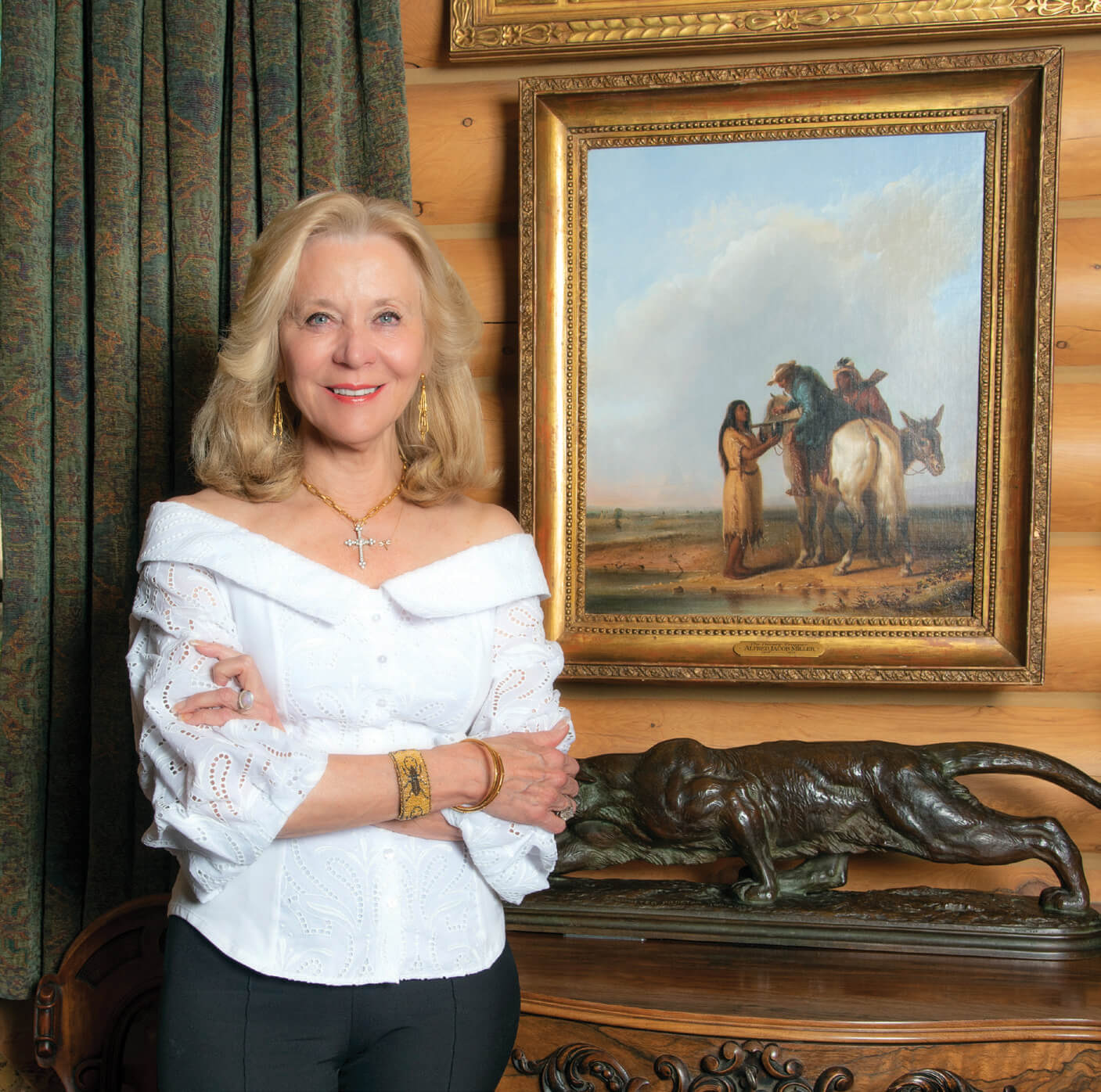 One of Naoma Tate's favorite paintings from her Western art collection is The Thirsty Trapper by Alfred Jacob Miller, which hangs on the wall behind her in her Cody, Wyoming, home.
07 Nov

Collector's Eye: Becoming a storyteller

Eighteenth-century Irish poet Oliver Goldsmith never knew Naoma Tate. But one of his most famous lines nonetheless perfectly describes her: "And still they gazed, and still the wonder grew, / That one small head could carry all [she] knew."

Following college at the University of Utah, where she earned degrees in history and art, Tate worked at O.C. Tanner, a fine jewelry store in Salt Lake City. Eventually, she became certified by the Gemological Institute of America in several areas, including diamonds, colored stones, and pearls. She also studied with Christopher Hartop, a senior director at Christie's from 1984 to 1999 and head of the Silver Department at Christie's in New York for 10 years.

From an early age, Tate was interested in collecting a variety of artistic genres. And while her late husband, Harold "Hal" Tate [1925–2003], had commissioned a few paintings by Utah and Wyoming artists for his office, the couple began collecting Western art in earnest after moving to Cody, Wyoming.

The Tates first came to Cody in 1981, when a friend invited them to attend the annual art sale and show at the Buffalo Bill Center of the West. Four years later, Hal was serving on the museum's board, commuting from their home in Salt Lake City. "My husband fell in love with the town," says Tate, adding that this led them to purchase the Big Hat Ranch in 1998 and fill the walls with Western artworks that reflected their love for the region.

Since Hal's death in 2003, Naoma has continued to build on that collection. And she shares her knowledge about fine art and business broadly, holding positions with numerous organizations, including serving as the chair of the advisory board for the Buffalo Bill Museum (one of five museums under the umbrella of the Buffalo Bill Center of the West). She also serves on the boards of the National Trust for Scotland Foundation, the Utah Symphony, the Utah Opera, the Utah Museum of Fine Arts, the Leakey Foundation, the Berkeley Geochronology Center, American Friends of the Louvre, the American Heritage Center at the University of Wyoming, the Smithsonian National Board, and the Smithsonian National Museum of Natural History.

In 2009, Tate received the Wyoming Governor's Award for the Arts in recognition of her involvement in the arts in Cody and statewide. Among those supporting the nomination were former Wyoming U.S. Senator Alan Simpson and former Wyoming Governor Michael Sullivan. The Governor's Proclamation includes clause after clause praising her efforts as a lover of Western history and art, her extensive board services, her fundraising prowess, and her personal support of individual artists.

"The Buffalo Bill Center benefits from Naoma's passionate leadership on many levels," says Jeremy Johnston, a curator and endowed chair of Western history at the Buffalo Bill Center of the West. "She is a generous donor, a collector who shares her treasures, a sage advisor, a trustee with great foresight, a 'friend-raiser,' and our most vocal promoter. … At times it is hard to keep up with her, but, as she always reminds me, it takes a lot of hard work to have this much fun!"

WA&A: When did you become a collector?

N.T.: When I was a little girl, we lived on a farm. I had an uncle who was a geologist, and he would bring me pretty and unusual rocks. So I ran around collecting rocks. When I was in the second grade, we went on a tour of the Utah Museum of Fine Arts, and I saw all those beautiful paintings, furniture, and all sorts of things I'd never seen before, and I decided I wanted to learn more about art. When I was 14 or 15, I bought a little watercolor of a mineshaft. It was my first piece of original art. I still have it. When I was probably 17, my fascination with the history of Tiffany & Co. led me to buy one of my first really nice objects, a porcelain plate from Tiffany's in New York City. It was $85, on sale for $35. It had little chateaux hand-painted around the rim. When I was 29, I bought a Venetian painting at auction at Sotheby's. From then on, I started buying European art.

WA&A: When did you begin collecting Western art?

N.T.: When my husband and I bought the ranch in 1998, we started a Western collection. My husband had some Western paintings in his office. They were nice, but not the caliber of the pieces we bought later. That year we bought two works by Frank Tenney Johnson, an Edgar Payne, and a painting of the Grand Canyon by Chris Jorgensen. After Hal passed in 2003, our good friend Forrest Fenn [the late Santa Fe gallerist] challenged me to consider a more serious and focused collection. I bought an illustration of a Herbert Buck Dunton bear. From that point, I went to as many auctions, museums, and galleries as I could, and I studied auction catalogues. There was and is a lot of Western art, and I wanted to focus not only on what I liked but on a cohesive collection that tells a story.

WA&A: Do you have a particular area of interest in Western art?

N.T.: Some of my favorite paintings are by early Western artists, such as The Thirsty Trapper by Alfred Jacob Miller. He came to Wyoming in the 1830s and painted the rendezvous of the Native Americans and trappers. He painted scenes in real time. Today many Western paintings are of an imagined, earlier time. I also enjoy paintings by early 20th-century magazines and book illustrators. They are genre paintings and tell wonderful stories. Artists W.H.D. Koerner, Herbert Dunton, Philip Goodwin, and Frank Tenney Johnson all come to mind; and Johnson lived just across the mountain from our ranch. I especially like to buy paintings from this region, scenes from Montana and Wyoming. During the annual migration, elk herds travel through the ranch, and so do bear, bobcats, and other animals. I enjoy wildlife art, and I'm particularly interested in the greats like Bob Kuhn and Carl Rungius.

WA&A: What other art genres do you have in your collection?

N.T.: My collection contains gemstones, mineral specimens, pottery, porcelain, 18th-, 19th-, and early 20th-century silver jewelry — including an interesting collection of memorial pieces with the earliest examples — and late 17th-century textiles, furniture, and bronzes. Virtually anything that human beings tried to do really well.

WA&A: If you could save one piece from a fire, what would it be?

N.T.: I've got to tell you that in 2016, we had a fire that came within 100 yards of the ranch house. About 650 acres of the ranch were burned to a crisp. When they evacuated me, I got on the telephone and rented a moving van. The Buffalo Bill Museum generously sent 30 people, including curators, to remove all the paintings. One hundred and thirty-eight paintings were taken to Cody (in a window of a 3-hour mandatory evacuation), and the museum watched after them until we were allowed to come back to the ranch five days later. I'd have a hard time picking one, but The Thirsty Trapper is perhaps the most unusual and historically valuable, so I'd probably grab that.

Based in Edmond, Oklahoma, Elaine Warner is a member of the Society of American Travel Writers and the author of two books, including More than Petticoats: Remarkable Missouri Women.

Kathy Singer Photography has specialized in wedding and portrait photography in Cody, Wyoming, for over 30 years, kathysingerphotography.com.