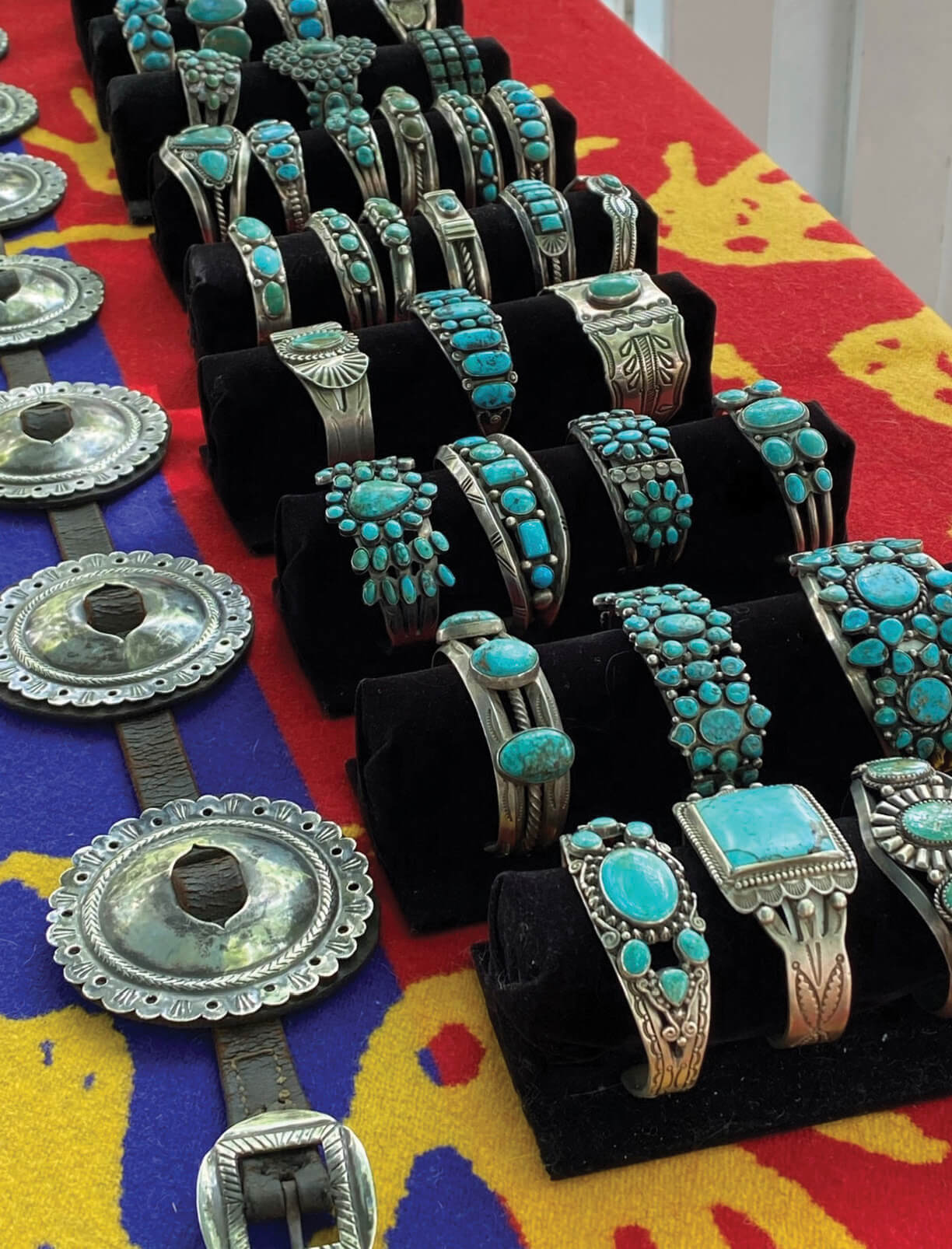 Chipeta Trading offers an assortment of Native American-made wearable art dating from the 1880s to 1940s, including silver and natural turquoise cuffs and a rare Navajo concho belt from the 1880s. Photos courtesy of Chipeta Trading Company
07 Nov

Designing the West: Treasure Trove

Don Siegel has spent his life surrounded by the beauty and elegance of historic Native American art, first as a collector and now, after opening his own private space in downtown Santa Fe, as a dealer. His specialty has always been vintage Navajo and Pueblo jewelry from the 1880s to 1930s, specifically when jewelers used ingot silver rather than sterling.

As a collector working from his home in Denver, Colorado, Siegel had to rely on a few choice dealers, art fairs, and auctions to find such a specialized type of jewelry. But he was never quite satisfied with waiting for others to source materials for him. Vibrant and personable, Siegel was uncomfortable with such a passive connection to what he loved. So, in 2005, he decided to take the next step and become a dealer himself, opening Chipeta Trading Company, which focuses on the appreciation, respect, and tradition of historic Native American art.

After living part-time in Santa Fe for more than 20 years, Don and his wife, Liza, moved there permanently in 2017, relocating the company to the mecca of Southwest art and culture. However, instead of opening a brick-and-mortar location on Canyon Road, Siegel created a more personal approach by working as a private dealer and seeing clients by appointment just two blocks from Santa Fe's historic Plaza. He established a concierge experience for his customers, finding the right pieces for their collections.

"We work carefully with each client to create an understanding and appreciation of the time period these pieces were created. We personalize each experience in our Santa Fe gallery by appointment or in each and every phone call or discussion. Once we understand what our clients want, how it fits within their budget, and their passion for the period, we offer a few suggestions based on size, price, and design. We work hard to create a one-of-a-kind 'Chipeta experience,'" he says.

While Don and Liza both had an interest in Western art, their passions aligned after they were married and began collecting historic Plains beadwork made by members of the Crow Nation in Montana. The couple loaned a significant portion of their collection to the exhibition Apsáaloke Women and Warriors when it opened at the Field Museum of Natural History  in Chicago, Illinois. The exhibition traveled to the Museum of the Rockies in Bozeman, Montana, where it's on view through January 2, 2023, and will then appear at the Carnegie Museum of Natural History in Pittsburgh, Pennsylvania, February 3 through May 29. The groundbreaking exhibition received praise in both the Indigenous and academic communities, as it was curated from the perspective of the Crow people.

In the world of Native American art, there can exist a schism between the dealers of historical material and the lives of actual Indigenous people. Most dealers interested in historic material do not take the time to engage contemporary artists or try to participate in their communities. Not Siegel, however. As soon as he began working with artists and individuals from the Navajo and Pueblo communities, he embraced their lives and stories, sharing what he's learned with his clients.

Over the many decades Siegel and Liza have been collecting, they've formed close bonds with individuals from tribes across North America. "A number of years ago, we created Chipeta Cares to give back all our profits to Native higher education scholarships, social justice causes, and non-profit organizations. In this way, we honor those who came before us, provide incentives for the next generation, and help to heal the planet," Siegel says, adding that Chipeta Cares provides more than $100,000 annually and scholarships for 15 Native American students.

One recipient is Melonie Houston (Navajo) from Gallup, New Mexico. After a prestigious high school experience with a 4.0-grade average and being elected student body president, she is a first-year student at the University of California at Los Angeles (UCLA), studying pre-law and political science. Her plan is to return to Gallup and run for public office. Another Chipeta Cares scholarship recipient is Elena Mylroie (Navajo and Hopi), a high school chemistry teacher in Chinle, Arizona, who is using the money to finish her master's degree in chemistry from Grand Canyon University in Phoenix.

"For us," says Siegel, "historic Indigenous a-r-t represents 'appreciation, respect, and tradition.'"

Joshua Rose is the Santa Fe Art Auction's senior vice president. Previously, he was the founding editor for American Art Collector, Western Art Collector, American Fine Art, and Native American Art Magazine.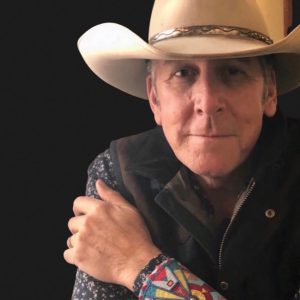 Q&A with Don Siegel of Chipeta Trading Company
How do you source your unique inventory?
We purchase our historical period pieces of Native American art from families and individual collections, auctions, and dealers across the country. Living in Santa Fe provides a great base of operations to work and study.
Tell us a little bit about quality. How do you know what to look for in historic Native American jewelry?
There is a broad range in quality, from the silver and turquoise used to the amount of wear and patina a particular piece will show. Since we specialize in Southwest Native jewelry from Navajo and Pueblo silversmiths from circa 1880s to 1930s, we pay particular attention to the silver used and choose those with ingot silver rather than sterling which appeared later. We only purchase and resell jewelry with natural turquoise stones that have not been treated, stabilized, or synthesized. Most of our early pieces do not have hallmarks or signatures of the makers. Hallmarks began to appear decades later. We specifically look for surface wear and patina on good old pieces that tell a story of who may have created it, owned it, wore it, and loved it.
What sort of jewelry is in demand today?
Clients today are looking for older, historical pieces and one-of-a-kind examples. Back in the 1960s and '70s, costume turquoise jewelry was more of a fashion statement. Today, our clients want to know more about how it was made, the history behind each piece, and the back stories surrounding an item. Navajo silver and turquoise squash blossom necklaces are highly sought after, particularly pieces made in the 1920s and before. These pieces of amazing art are handcrafted and exhibit an incredible amount of workmanship with limited tools and resources. Bracelets of ingot silver with simple hand-cut natural turquoise stones from the turn of the 20th century are also in high demand and quite difficult to obtain.
How does one tell the well-made squash blossoms from the tourist varieties?
The individual beads and blossoms on early squash blossom necklaces were made by hand, each being slightly different and not machine produced. The turquoise was hand cut, as were the bezels that held the stones in place. Today the demand for squash blossom necklaces certainly outpaces the supply. Many tourist destinations and curio shops deal in machined silver beads of sterling or sheet silver with stabilized or synthetic stones. Many of the less expensive necklaces are imported from overseas and not made by Native American silversmiths. The Indian Arts and Craft Act of 1990 makes it a crime to misrepresent, market, and sell a craft product as "Native made" if, in fact, it is not. If the piece seems too good to be true, it usually is.
What sort of art do you collect?
I began collecting the works of Edward S. Curtis during my college years, as he did his best to photograph and document the traditional life of Native American tribes in the early 1900s. We then began to focus on collecting and studying historic Plains beadwork and were drawn to Apsáalooke-Crow designs, as they were innovative, eye-dazzling, and beautifully created. Over the years, we have also enjoyed Pueblo pottery, and, of course, historical Navajo and Pueblo jewelry. Recently, we have been enjoying early pre-1900 weavings with a focus on Navajo and Spanish Rio Grande blankets.
What are your rules for building a collection of any type?
I have four. First, be a collector and not an accumulator. More is not better; better is better! Second, find someone you can trust who has already made their mistakes and will share them with you. Third, buy the best you can afford. Do not buy art only as an investment; buy it because you love it. And fourth, read, study, and devour as much information as you can about the genre.