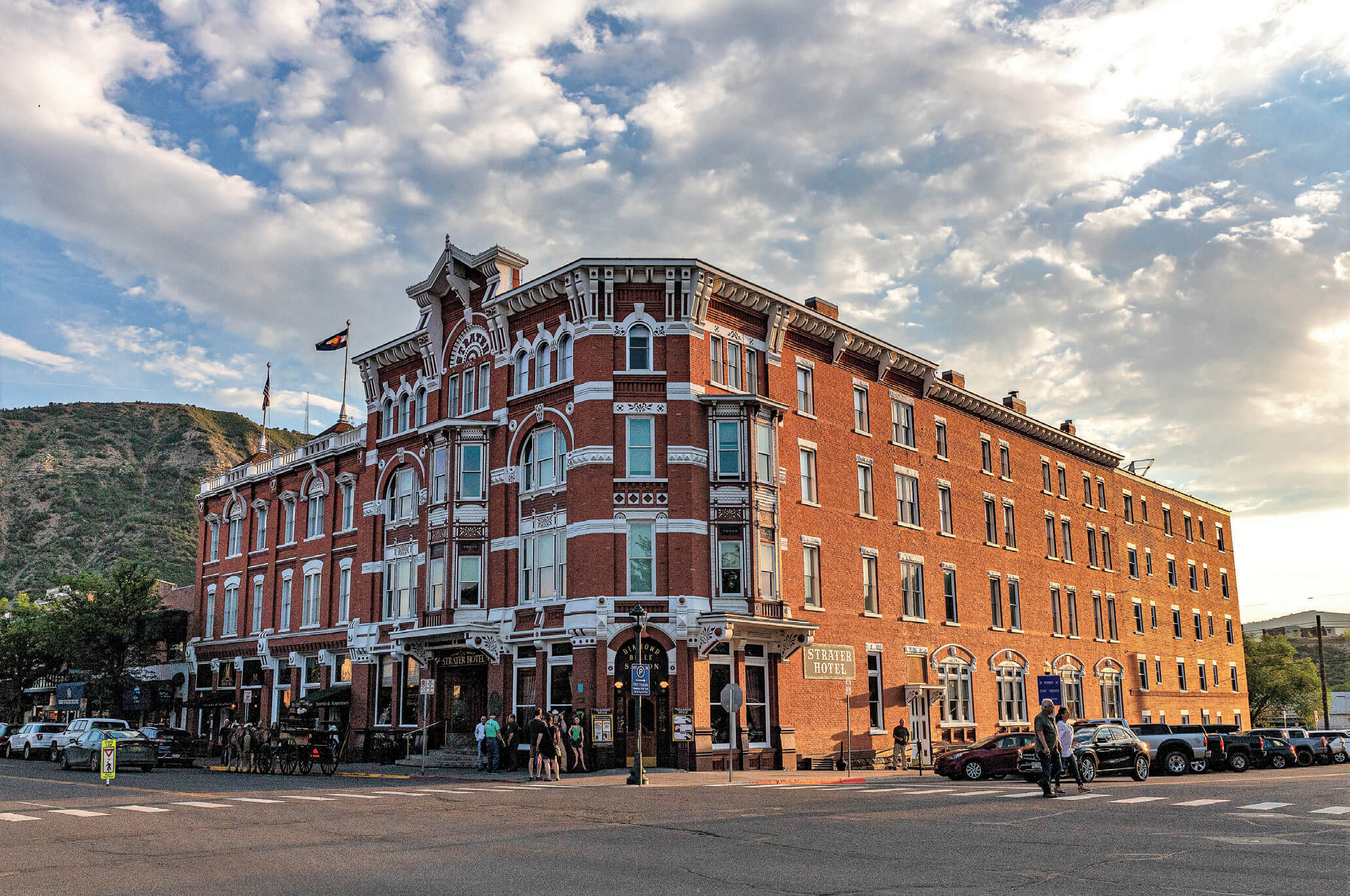 With its eye-catching brickwork and white sandstone, the iconic Strater Hotel sits in the heart of Durango, Colorado.
07 Nov

Western Landmark: The Strater Hotel

If the walls of room 222 at the Strater Hotel in Durango, Colorado, could talk, overnight guests might hear tales of writer Louis L'Amour, who spent many days there, inspired by the gaiety and music emanating from the saloon directly beneath his room, fixated on his typewriter, scripting stories about the American frontier. Or they might hear legends from room 323. This is where, in 1891, Gustaf Nordenskiöld, a Swedish scientist and explorer, spent his month-long house arrest for collecting seven train car loads of artifacts — including a mummified corpse — from the cliff dwellings at nearby Mesa Verde and shipping them back to a Scandinavian museum.

These notorious characters represent a snippet of the Strater Hotel's storied past. To preserve these and other histories, more than 30 guest rooms honor former significant occupants with their names affixed to the doors, including vaudeville performer Will Rogers and former President Gerald Ford, who was a partner in a couple of local radio stations.

Famous or not, walking into the Strater Hotel's lobby is akin to entering a time capsule from the Victorian era, when beautiful woodwork, crystal chandeliers, fine wallpaper, and the best materials defined craftsmanship that is rare to find today. The welcome area, guest rooms, and other interior spaces throughout the four-story, red-brick building are decorated with items from one of the largest collections of American walnut furniture in the world.

"We get calls weekly from people looking to donate artifacts," said Tori Ossola, the hotel's general manager. "We receive books, sofas, hutches, and much more. We even had a couple from Arizona who brought in an original keychain from the Strater House, which predates the hotel. There's an entire warehouse full of antiques we use to replace damaged items or to refresh a room."

Nestled in southwestern Colorado's Animas River Valley near the San Juan Mountains, the Strater was built in 1887 amidst Durango's mining landscape, two blocks from the railroad depot, during the height of the Gilded Age when architects were combining design styles. The landmark hotel is characterized by its eclectic Victorian and Italianate Romanesque features with Renaissance details.

Since 1926, the Strater was under the proprietorship of three generations of the Barker family (Earl Sr., Earl Jr., and his son, Rod), all with Colorado roots. But in May 2021, Ross Garrett and his business partner Karen Hutcherson purchased the hotel while vowing to uphold the Victorian ambiance and legacy of this living museum, which is listed on the National Register of Historic Places.

"At 135 years old, there's a real need to get deep into the walls to improve the plumbing and the way some of the pipes are strung," says Ossola. "We're a fortress. Our walls are at least 18 inches thick, so Wi-Fi can be an issue, but our focus now is providing the appropriate amenities for today's traveler."

As comfortable and elegant as the rooms are, the Strater's jubilant energy is never far away. Inside the hotel, the Diamond Belle Saloon is often bustling with patrons who are entertained by ragtime piano; and the Office Spiritorium provides a retreat for sipping cocktails. When dinner time comes, one of the town's finest meals can be savored at the Mahogany Grille, with ingredients sourced from local farms and ranches.

With the Strater flanked by restaurants, art galleries, cultural attractions, and boutique shopping up and down Main Avenue, it remains an irreplaceable part of history where guests can feel nostalgic about the good old days.

Robert Kaufman is an internationally published writer and award-winning photographer based in Marin County, California; pictureparfect.com.